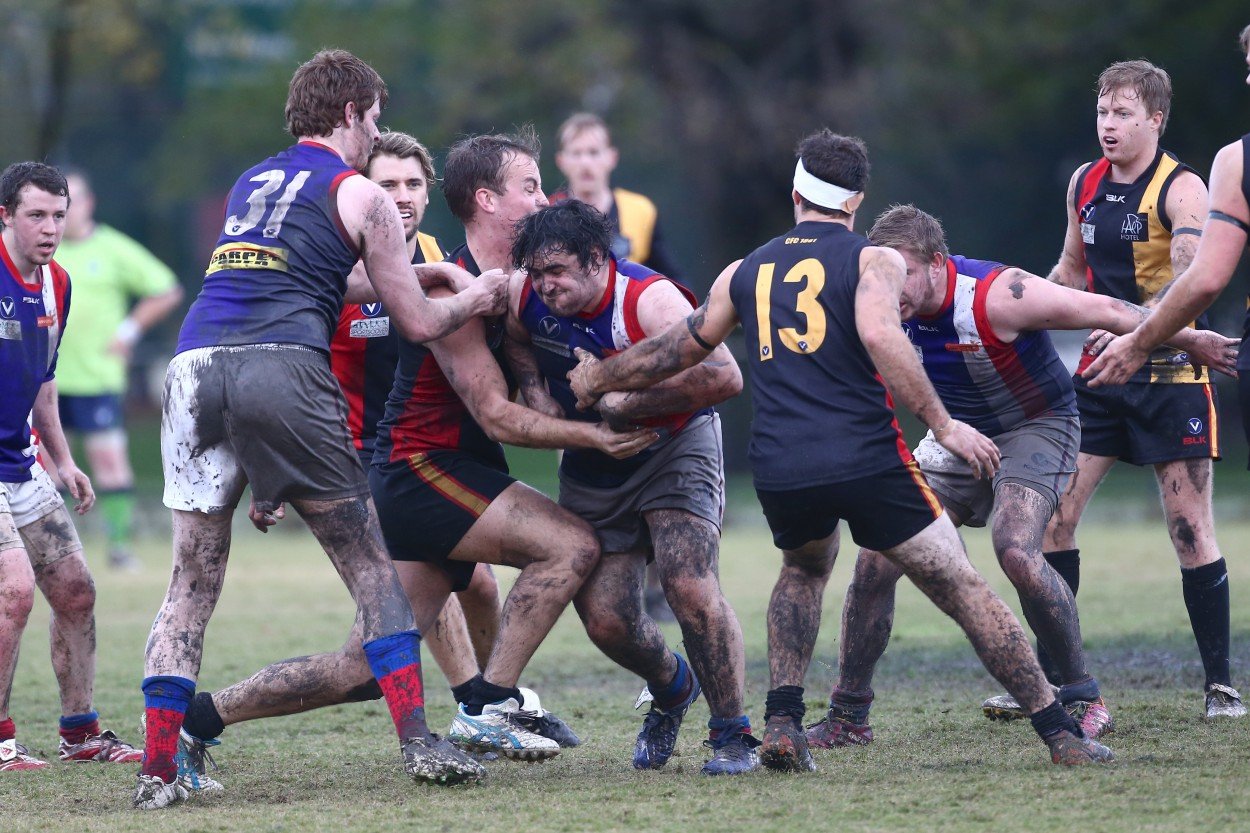 By Richard Hummerston
For the few unfamiliar with the term 'The perfect season', it's a universal term applied to presumably every sport across the globe and infers a club, team or individual has gone through the season undefeated. In the AFL, perfect seasons are as rare as hen's teeth. Collingwood did it in 1929, but it was an 18-game season, and Essendon got mighty close in 2000, only to have the honor cruelly stripped from their grasp from a Chris Grant snap in the dying stages of their round 21 clash with the Bulldogs.
With seven rounds still to go, it might be an early crow, but after notching up another comprehensive victory against another premiership contender on the weekend, it's going to take either a mighty effort or a capitulation of mammoth proportions to rob Canterbury of their perfect season.
The Range Rovers were fuelled up, the Mercs loaded with thermoses and North Face puffer vests as the Canterbury faithful headed out to the Wild West. But unlike the usual meander up the Princess Highway for a summer at Point Lonsdale, the travelling party would pull up a few km's to Point Cook, for the game of the season.  The breeze that plagues the majority of games at Saltwater Reserve was punctual as always and Canterbury was first to capitalise, heading into the main break with a hand five goal lead. The flashy Andrew Baker was in phenomenal form and Scotty Fitzgerald was, once again, relishing his new role. After the break, Canterbury, as they have so many times before, pulled away easily, running out victors by 50-points. Rowan Walmsley was instrumental in the absence of skipper Ben Peel for the touring side, and for the hosts it was Mason Kip, Matt Rocco and Matty Volk who were up to their usual best.
After a minor hiccup in their remarkable resurrection, Mount Lilydale is back in familiar (albeit just as unfamiliar for those who have followed their fortunes for a while!) territory again after trouncing the much maligned Masala by 147 points. The game was over moments after it began, Mount Lilydale slotted an incredible 14, first term goals, Maxxy Hampton the benefactor of Mount Lilydale's resurgence, slotting 11 majors for the day. After Masala were given a much deserved spray at the first break, they rallied, keeping Mt. Lilydale to a miniscule three goals in the 2nd term, but that joy would be short-lived. Normal transmission resumed after the long break, and Mount Lilydale made light work of their (perhaps too)  friendly hosts. Sam Newell joined Max Hampton in the best for Mount Lilydale, while Matty Green tried hard all day for Masala.
Although not to the same dizzying heights of Mount Lilydale, South Mornington has shown great improvement in recent weeks, and while a clash against premiership contenders Old Westbourne was always going to prove too big a challenge, the Tigers held themselves remarkably well, especially given Dale Collins was back in frightening form after a brief hiatus. Westbourne lead from pillar to post, and the aforementioned Collins was sensational again, kicking nine majors, and Timothy Rogers was treated for a case of leather poisoning after the game. For the Tigers, most of the side deserve accolades, but Brendan Bryant and Jack Nisbet stood above the rest.
Predictably, the joy for Chadstone was short lived after their drought breaking win last week, Box Hill North making, the sleeping giants of the competition, made very light work of their lowly placed opponents. Carrying on from their victory last week, Chadstone started well and went into the first break only a couple of goals down. But Box Hill, who are desperate to join the premiership race, flexed their figurative bicep and got to work, piling on the goals at will, running out winners by 130 points. Leon Desmond slotted six majors for Box Hill and for Chadstone, it was the Farrugia brothers who stood tall again.
A fortnight ago, after a crippling defeat at the hands of Canterbury, I put my confidence in Manningahm. Despite being pillaged by injury at trips to Bali, I backed Jock McDonald and his merry men to turn it around and scrape through for the last positon in the finals. Well, it appears my confidence was misguided. After an emotional week where they tragically lost one of their club greats, Ben Cookson, Manningham's finals chances are in tatters after another disappointing loss, this time at the hands of Parkside. Like so many times before, Manningham competed for a quarter, before running out of legs and losing all momentum. As always, the hard work was carried out by Brendan McHugh and Laynton Allan, but they didn't have nearly enough support. Clint Virgona led an inspired Parkside whilst Shane Potter, who took home a 'Michelle', and Timmy Wise were among the vote getters.
Looking to this week, Canterbury make the long trip to Noble Park to take on Masala, however the game itself will no doubt be a mere formality, no surprises here. Box Hill North host North Brunswick in the game of the round, and I'm tipping Box Hill to get the job done again. Point Cook travel to Chadstone and will bounce back with ease and Westbourne will continue to inflict pain on Manningham.
Round 12 tips:
Masala v Canterbury
Box Hill North v North Brunswick
Chadstone v Point Cook
Manningham v Westbourne Grammarians
Mt Lilydale v South Mornington