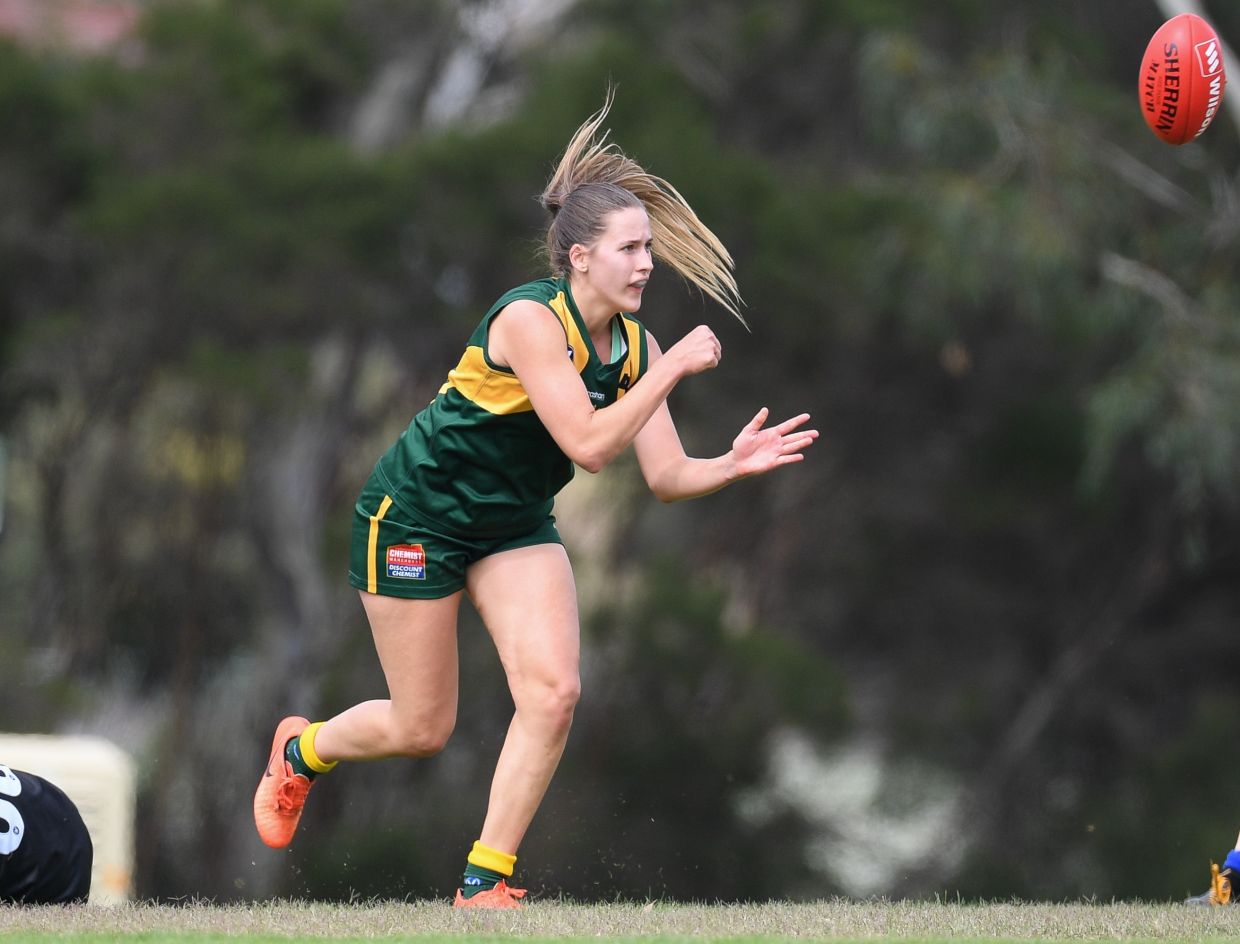 Alisha Min
It's five wins in-a-row for Old Trinity following their 10-point Round 8 victory over Fitzroy-ACU at Daley Oval. With only solitary goals scored by both teams come the main break, a competitive second half ensued which saw the Roy Girls hold ascendancy in the third, and walk into the final term with a two-point buffer, before the T's kicked two goals straight and kept the Roys Girls scoreless to secure the premiership points. Notching a remarkable 35 disposals and 10 tackles, Vanessa Murphy was Old Trinity's best for the afternoon, while teammates Melissa Poulton (21 disposals, 13 tackles) and Danika Di Santo (22 disposals) were standouts in their own right. For the fighting Fitzroy-ACU, Teresa Zampaglione was again critical around stoppages, highlighted by her 32 disposals, 12 tackles and five forward 50 entries, while Tash Ross-Harris (44 hitouts), Jessica Hays (24 disposals) and Jane Kasby (20 disposals) all excelled.
In a hard-fought contest at Ferndale Park, it was the home side in St Mary's Salesian who came away with the win over a streaking Marcellin by two points. In what was an even opening term, so even in-fact that both sides scored 2.2 apiece, it was a ball-hungry Saints side, epitomised by their 41 tackles to the Sheagles 27, who created a one-goal buffer at the half thanks to a superior efficiency inside 50 (38% v 31%). Entering the third with a spring in their step, the Sheagles, through Laura Robertson (1) and Annaleise Xanthos (2), were able to add two goals to their tally and head into the final term with five-point advantage. In an impressive fourth quarter, the Saints managed to hold Marcellin goalless, while adding a major through Eliza Matheson (1) to make this game theirs. For the victors, Jennifer Lew (26 disposals, 8 i50s), Matheson (1 goal, 16 disposals) and Stephanie Lawrence were fantastic, while Xanthos (2), Olivia Getson (58 hitouts) and Laura Robertson (19 disposals, 8 tackles) shone in the Sheagles first loss since Round 3.
With the only draw in our William Buck Premier Women's competition coming all the way back in Round 1 between West Brunswick and Kew, their second clash at Victoria Park this weekend was destined for big things. In a result which certainly was not a draw, the Westies grabbed this contest by the horns and steered their way to a 27-point victory in what is (so far) the biggest winning margin of the round. Though, statistically, West Brunswick controlled most passages of play in the first two quarters, their 17% efficiency from 12 forwardline entries, as compared to the Bears' 100% efficiency from six forward entries, is what gave the home team a nine-point lead going into halftime. Making the most of their plethora of opportunities in the second half, West Brunswick kicked away with 5.7 through the means of Mel Lindsay (2 goals, 17 disposals), Donna Yeatman (1), Matilda Hubbard (1), and Isabella Gietzmann (1), all while keeping Kew scoreless to nab the win. For the Bears, Eilish Boyd (1) was their sole goalkicker for the afternoon, while Esther Potts and Tara Donnan provided able support.