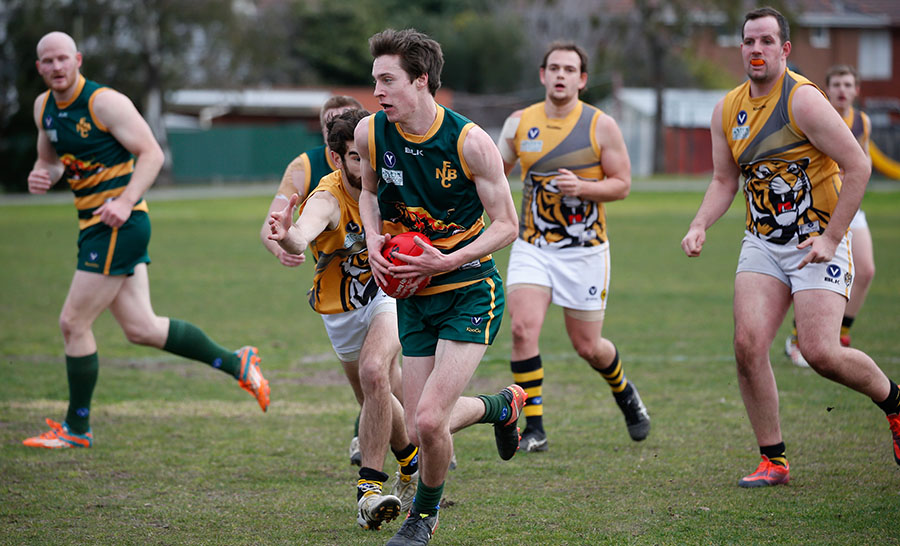 46 scoring shots to 17 showcased the dominance of North Brunswick as they defeated Masala by 124 points at Allard Park. 11 goals to three in the first half set up the win and the top two fancy continued their form over the course of the match. Jake George led the onslaught with 10 goals for the Bulls, while another six teammates kicked at least two. Young gun Phillip Solomon stood tall for the Tigers with four majors but it was too steep a hill to climb for the eighth-placed side against a top two team.
Two five-goal hauls from Haydn Judge and Sam Williams helped Aquinas to a comprehensive 97-point victory over Elsternwick at Aquinas College. The Bloods skipped out to a 33-point lead at the half and added another 13 goals to four in the second half. Philip Dyck joined Judge and Williams with a standout display for the Bloods, while Justin Hunter returned to form with four goals for the Wickers. Neither side's ladder position changed with the Bloods maintaining top spot and the Wickers in sixth.
Mt Lilydale kept their finals chances alive with a much-needed 34-point win against Eley Park Sharks. Leading by 26 at the main break, the Rams maintained their lead with eight goals to seven in the second half. Jesse Lehmann booted three goals in a BOG display for the Rams and Sean Gibson top-scored with four. Joshua Balon continued his outstanding form for the Sharks as they maintain fourth spot on the ladder but lead the Rams by less than 10 percent.
A seven-goal haul from Kane Maghamez led Manningham Cobras to an emphatic 71-point win over Parkside at Pitcher Park. The Cobras booted eight unanswered in the first term and never looked back as they piled on another nine goals to five in the ensuing three quarters. Jason Stephens was best afield for the second week in a row for the Cobras, while Shane McLaren starred for the Red Devils.