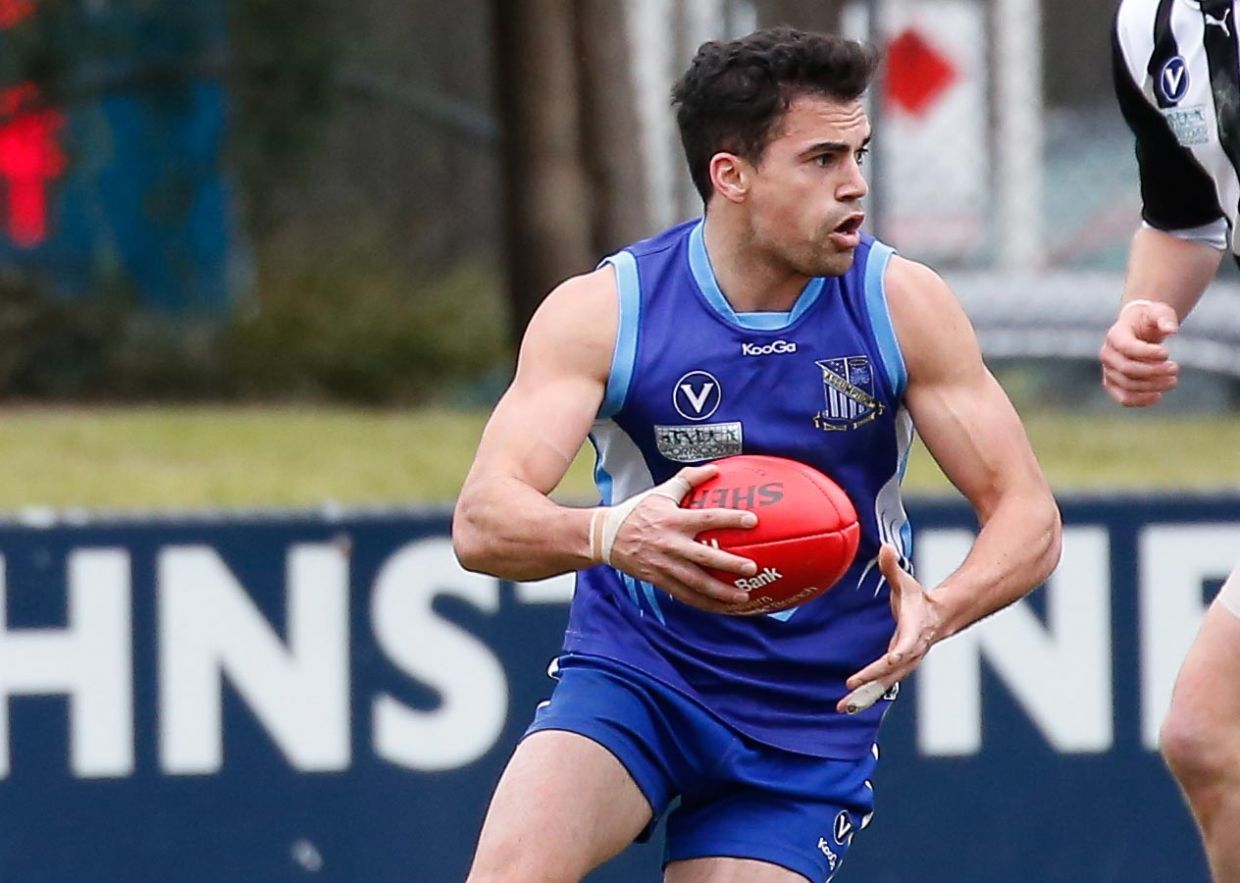 Four players were announced fairest and best of their respective sections last night during the Divisions 1 – 4 vote counts on 96.5 Inner FM.
Dean Calcedo (Preston Bullants), James Musster (Prahran Assumption), Chris Hudson (Westbourne Grammarians) and Adam Baltruweit (Manningham Cobras) were each named winners after outstanding individual seasons.
Calcedo secured the Division 1 LS Pepper Medal with his fourth three-vote performance in Preston's 26-point victory over St John's in Round 17 taking him to 20 votes, edging out Aaron Cloke (Oakleigh) on 17, Brad Jones (PEGS) and brother Sean Calcedo (Preston) on 16 each. It is the second time Calcedo has received a competition Best & Fairest Award after tying with MHSOB's Tim Harper for the Division 2 Jack Fullerton Medal in 2015.
Musster is also a two-time VAFA medallist after he first claimed the Hutchinson Medal in 2011 on 26 votes. However, he far exceeded his performance this time around, polling 33 votes and 16 more than his closest rivals, Matt Harris (Glen Eira) and James Tran (MHSOB), on 17 apiece. Musster polled three votes on nine occasions throughout the season and was on 28 after Round 12. He has the chance to double his medal tally this weekend when the Two Blues face off with West Brunswick in the Division 2 Grand Final at Sportscover Arena on Sunday.
Hudson's outstanding year in the ruck for Westbourne Grammarians did not go unnoticed by the umpires as he polled 22 votes on his way to his first Hutchinson Medal. He edged out Canterbury's Tom Lowden (19) and teammate Michael Culliver (18) with six BOG performances; including, four three-vote matches in the first seven rounds. Hudson's agility is elite for a man of his size & he played a leading hand in the Warriors' run to this year's preliminary final.
Earlier in the night, the Division 4 OJ Meehan Medal commenced proceedings, with Baltruweit (18) polling an incredible nine votes in the last three games of the season to take out the award five votes ahead of Masala young gun Phillip Solomon and North Brunswick's Adam Densten on 13 votes each. Baltruweit did not have a vote until Round 7 whereby he polled another six times in the second half of the year. The first-year Cobras will play off in the Division 4 decider this weekend when his side takes on Aquinas at Garvey Oval on Saturday.