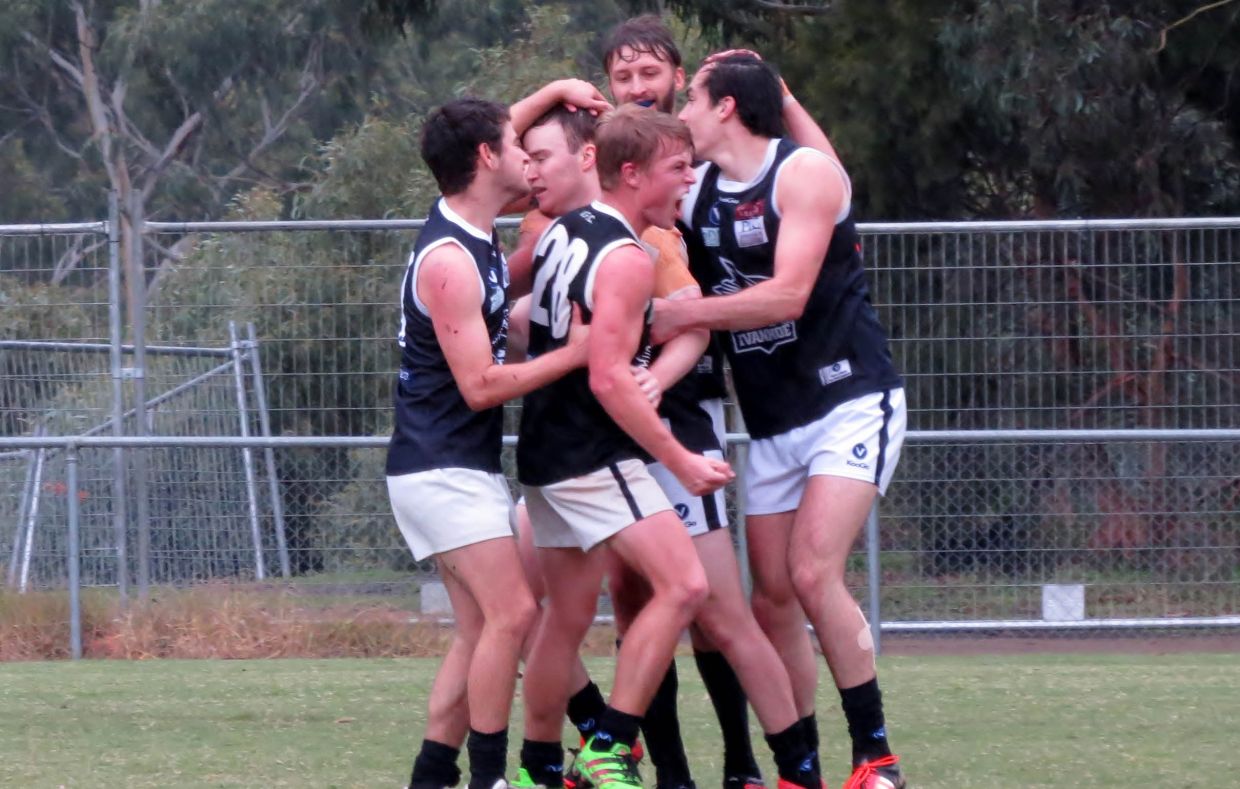 Ivanhoe made it three wins in a row and climbed to sixth spot on the Division 1 ladder after they defeated Brunswick NOBSPC by 39 points at Alec Gillon Oval. Trailing by two points after a tight first term, the Magpies kicked 10 of the last 15 goals with Reuben Blackmore-Moore's three goals the most of the 10 individual goal kickers. He was also named best afield alongside William Cuthbert for the Magpies, while George Hartney and Chris Ford shone for the NOBS. Brunswick remain eighth and a game clear of ninth.
St Mary's Salesian registered an important victory in their quest to solidify a top two position as they defeated Ormond by 26 points at Gunn Reserve and moved to top spot on the ladder. Despite having just one more scoring shot than the Monders, 28-27, the Saints proved a more accurate unit as Manny Dolan lit it up with six majors. Nicholas Alexopoulos kicked four in a BOG display for the Saints while Luke Duthie bagged five and took his four-game tally to 19 for the Monders. While the Saints went up a spot, the Monders fell below Preston into fourth and are now on the same number of wins as Oakleigh in fifth.
Seven goals from Corey Bannister and a BOG performance from Jarrod Egglestone to a convincing 51-point victory over St John's at John Pascoe Fawkner Reserve. After a low-scoring opening term whereby the Lions trailed by five points, they managed to kick clear with 14 of the ensuing 20 goals. Both Egglestone and Bannister were outstanding for the Lions while Joshua Mourant and Laurence Kazinoti were named as the JOCs most impressive players.
Oakleigh came closer to snatching a top four position as they knocked off the top-of-the-table PEGS to the tune of 10 points at Scammell Reserve. It was the Trevor Bromley and Aaron Cloke show up forward as the goal kicking duo kicked 14 between them, with Cloke's eight earning him BOG honours.  Trent Skurrie nailed five for the Bombers and Brad Jones was their best around ground but it wasn't enough as they gave up top spot to the Saints.
Preston Bullants regained third spot on the ladder after they defeated Whitefriars by 33 points at Whitefriars College. Trailing by four points at half time, the Bullants lifted for a 10-goal second half while allowing just four to the valiant Friars. Damon Marcon and Lachlan McRedmond kicked three goals each for the winning side while Michael Nitas kicked four of the Friars' goals alongside a super effort from the in-form Angus Hands.
Photo: Phil Skeggs