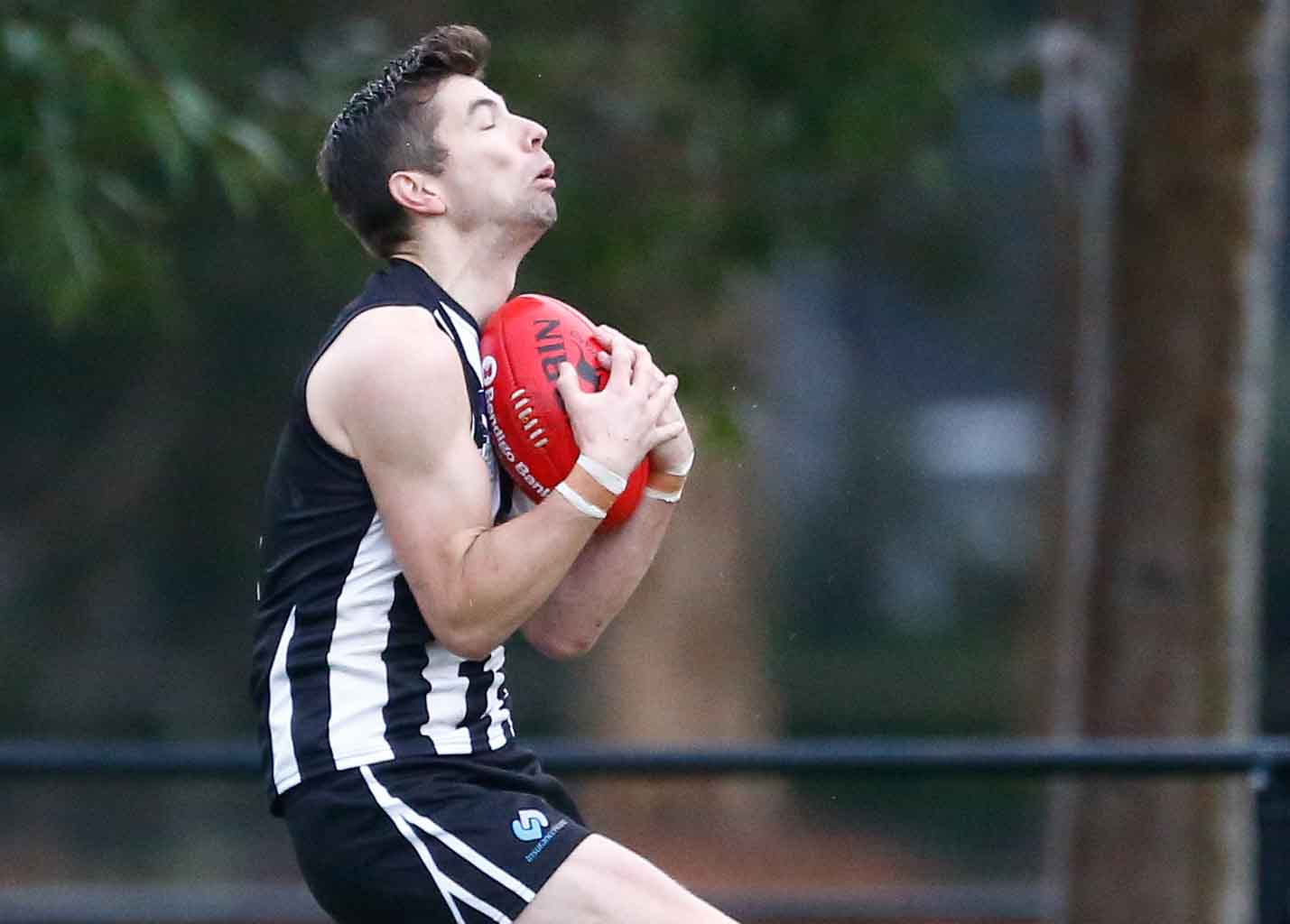 Jarryd McGuane – @JMcGuane
West Brunswick has maintained their spot atop the Division 2 ladder after Round 5 and for the third week in a row a game was decided by the slimmest of margins.
For the second time in three weeks, Bennettswood Sports Ground played host to a game decided by one point with Emmaus St Leos coming out on top of Eltham Collegians. Both sides started on even footing with the Animals taking a two-point lead into quarter time. Emmaus St Leos would take control after the first change, slamming through five goals to the Turtles one to lead by 32 points at halftime. Eltham Collegians reduced the margin to 21 points to set up the grandstand finish. Both the Animals and Turtles had enough opportunities to reduce the last minute nerves. Emmaus St Leos 1.4 was enough to hold off Eltham Collegians 4.6. Miguel Hawa was the Animal's best on ground with Lawrence Virgo did the damage up forward with three goals. Tim Woods did absolutely everything to try and get the Turtles over the line with four goals.
Old Paradians couldn't maintain their round four form as Yarra Old Grammarians came away from Garvey Oval with a 31-point victory. Yarra Old Grammarians jumped out the gates with a three-goal-to-one first quarter to lead by 13 points. The Raiders would add three of their own in the second quarter but allowed four goals as they trailed by 20 points at halftime. After half time, the Bushrangers would extend their lead at each break; 21 points at three quarter time and then 31 points at the final siren. Michael Gazeas and Nicholas Chamberlain kicked three apiece for the Bushrangers, while Jackson Moloney was best on the ground. Anthony Sheehy was the Raiders best, with Matthew Biviano kicking three for the second straight week.
Hawthorn's poor start to the season continued as they fell to undefeated West Brunswick by 66 points at Rathmines Road Reserve. It could have been uglier had it not been for the Westies first half inaccuracy. West Brunswick kicked 3.15 to Hawthorn's 2.1 as they only led by 20 points at halftime. The Westies straightened up with 4.2 to the Hawks 1.0 as their lead would be 40 points at the final change. Hawthorn could only manage two goals in the final quarter as West Brunswick cruised to the win. Coby Mitchell maintained his strong form to be named best on ground, with big man up forward, Bill Irving, kicking three goals. David Upton battled hard in defeat as they could only muster five solo goal kickers.
Inaccuracy would cost Bulleen Templestowe as they fell to Glen Eira by 17 points at Ted Ajani Reserve. Despite having two more shots to half time, the Bullants would trail the Gryphons by seven points. The game would be won by three quarter time for Glen Eira as their 4.4 pushed the margin out to 29 points, after Bulleen Templestowe could only manage six behinds. The Bullants were able to win the final quarter but not enough to threaten Glen Eira. Julius Waras Carstensen and Alex Erwin-Ross each put through four majors for the Gryphons, with Tom Strudwick the best on ground. Brodie McLaughlin was valiant in defeat, as Kristian Cherbakof added three goals.
At Toorak Park, Prahran Assumption remained in touch of the top of the ladder as they defeated MSHOB by 21 points in a low scoring affair. The Two Blues did most of their damage in the first quarter as they put through four goals to the Unicorns two to lead by 16 points at the first break. The margin would be reduced to 15 points at halftime, before MSHOB was able to bring the margin to 11 points at three quarter time. Despite final quarter inaccuracy, Prahran Assumption was able to overcome the valiant Unicorns and secure the victory. Jonathon Simonetta was the Two Blues best, as Brett Dickinson was their leading goal kicker with three goals. Kane Smith and Jarrod Sherwin would put through two goals each and Dylan Hamilton-Ho was everywhere for MHSOB.
Round 6 opens with undefeated West Brunswick travelling to face one-loss Yarra Old Grammarians at Doncaster Reserve. Old Paradians remain at Garvey Oval as they take on Eltham Collegians, who can jump into the top four with a dominant performance. MHSOB plays against Bulleen Templestowe with both teams hoping to keep up with the pack as the race for the top four heats up. Glen Eira returns to Packer Reserve to face Emmaus St Leos, and the winner will be nipping at the heels of the top three. At Toorak Park, Hawthorn will be up against it again as they travel to face second-placed Prahran Assumption.
Tips
Yarra Old Grammarians vs West Brunswick
Old Paradians vs Eltham Collegians
MHSOB vs Bulleen Templestowe
Glen Eira vs Emmaus St Leos
Prahran Assumption vs Hawthorn