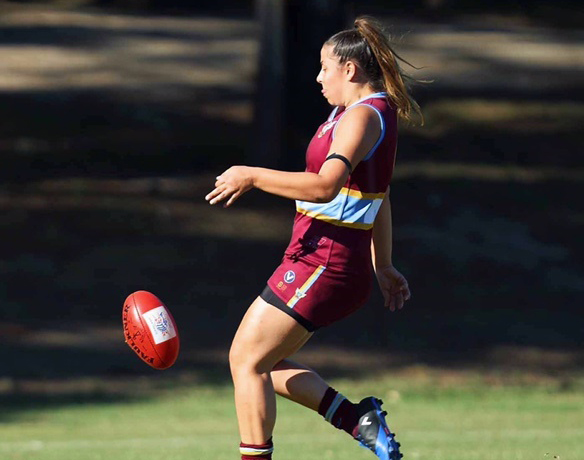 The VAFA congratulates the first-ever women's rising star nominee, Chiara Moretta of Marcellin, after she recorded six goals in the Sheagles' Round 1 victory against Bulleen/Templestowe.
What the club said:
"Chiara had never played football before this season, in fact the first time she had any involvement in football was during the November and December pre-season training at Marcellin.
Chiara was invited to play football by friends who had joined the Sheagles after they met with Chiara from playing basketball with her.
Chiara plays like Sarah "Tex" Perkins (Chiara "Tex" Moretta) from Adelaide. She has enormous strength and courage, yet with a really soft touch and gentle hands she is a very strong mark of the football. She is always chatting away and is known for it down at Marcellin with her outgoing and gentle personality.
Having never played football before, Chiara comes from a basketball background which has been a great asset in her ball handling skills and ability to mark, control the football and protect the ball drop zone. Her kicking skills drills from the Marcellin coaching staff of Tom Stafford, Luke Boyd and Tim Money will make Chiara a strong target up forward for Marcellin in the inaugural year of the VAFA Women's Competition."
Marcellin