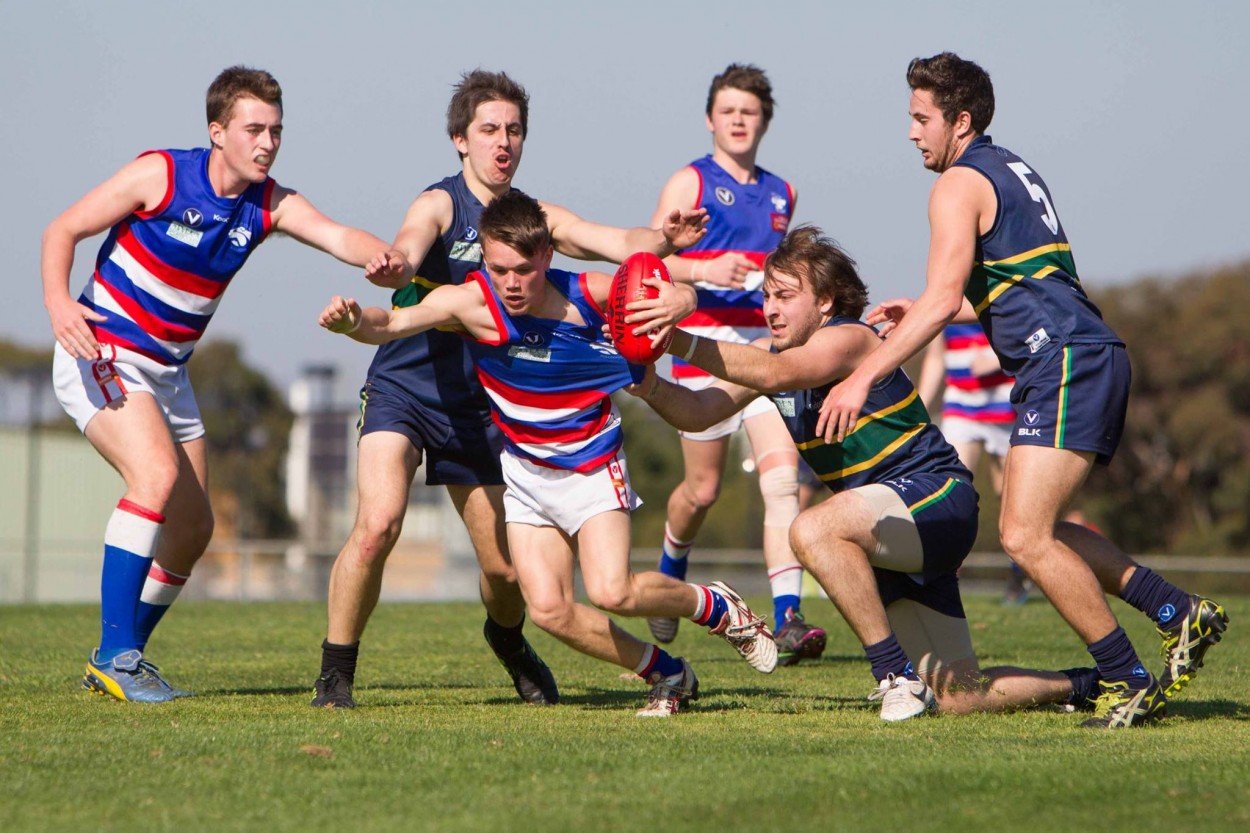 2015 Most Improved Non-Relegated Clubs
Posted on -
De La Salle
,
Old Trinity
,
Whitefriars OC
,
St John's OC
,
North Brunswick
,
Westbourne Grammarians
,
Latest News
,
Premier Men's
,
Division 1 Men's
,
Division 4 Men's
,
Featured
Senior football clubs who struggle to string wins together often find themselves holding up the rest of the league for a number of years.
It's the way of our great game; ebbs and flows, high and lows.
If you fall toward the bottom of the ladder one year, you're likely going to struggle the next while you work to rebuild.
However, in a league with the promotion/demotion system, it gives teams a chance to improve upon their previous years' shortcomings and garner success in a lower section without necessarily having to make too many changes.
But what about those clubs who suffer less-than-ideal seasons and yet don't fall far enough to be relegated? What about those clubs who finish on the middle-lower rungs of the ladder and need to rely on natural progression and a potential change in personnel, structure and game plan to improve?
This is a shortlist looking at which non-relegated clubs made the most ground in 2015, with a poll on the VAFA.com.au home page encouraging you to have your say.
Point Cook (Div 4) – Point Cook were left in a precarious position at the end of 2014, finishing seventh with seven wins from their 18 matches – not too bad but still three wins outside the top four. However, astronomical improvement ensued in 2015 as they formed part of the Division 4 trio (Canterbury, Westbourne Grammarians and Point Cook) who lost just six matches between them for the home and away season. Unfortunately, when history was created with the top three sides losing in the first week of finals, it left an impressive Bulldogs outfit stranded at first base.
De La Salle (WB Premier) – Where to start. De La struggled mightily in 2014 and narrowly avoided relegation by less than seven percentage points to Old Brighton. A similar fate looked destined for 2015 when they were lingering at the bottom of the William Buck Premier ladder with one win and eight losses at the half way point of the season. Then something clicked. Coach Paul Satterley instilled a belief in his chargers and they responded by running harder and faster than they had all year. Led by co-captains, Jacob Gotch and Matt Fieldsend, the De La train started to roll into one victory after another, until they had strung together nine rounds without losing a match – including a tie with Old Carey. De La's magnificent run of wins allowed them a shot at a fairy tale grand final appearance when they flew into the top four in Round 17, but it wasn't to be as University Blues put an abrupt end to their dream run with a 22-point semi-final win at Sportscover Arena.
St John's (Div 2) – JOCs were solid in 2014, without being spectacular. They finished sixth on the back of 10 wins for the season but could not manage to gain a hold of ladder leaders, Kew, St Mary's Salesian or Old Eltham – not that many could. However, the boys from Thomas Carroll Reserve lifted a gear in 2015, compiling 14 W's and ending the home and away fixture in second position on the Division 2 ladder. Despite their outstanding performance throughout the first 18 rounds, JOCs were unable to maintain their form throughout finals as they were bundled out in straight sets by eventual grand finalists, Ivanhoe and Old Paradians. With Aaron Thornton leading from the front with 82 goals this season, JOCs look like the team to beat in 2016.
North Brunswick (Div 4) – Of all shortlisted teams, North Brunswick ranked lowest in 2014 after they scrambled to ninth spot on the ladder with just four wins for the season. Fast forward 12 months and Bulls fans had the pleasure of watching their side play off in the preliminary final after knocking off the number one team and eventual premiers, Canterbury, in the previous week's semi. It was a fantastic rise from the depths of Division 4 for the Bulls, who will now look to build on their preliminary final appearance heading into next season.
Old Trinity (WB Premier) – Despite narrowly missing finals in 2014 when they finished fifth, the T's make this shortlist based on how well they ended this season. Winning 14 of their 18 home and away matches, the T's spent multiple weeks atop the William Buck Premier ladder when it was not occupied by eventual premiers, St Bernard's. They were quick, clean and exercised a game plan perfect for the wide expanses of Daley Oval. After producing a stunning comeback to defeat St Bernard's in the second semi-final, the T's earnt a spot in their first-ever Premier section grand final, before going down to the Snowdogs by eight points in a modern day classic at Ikon Park.
Whitefriars (Div 1) – It was a narrow escape for the Friars in 2014, after they finished in eighth positon with five wins, 13 losses and just half a game from relegation. Reverse their position with their number of wins and the young Friars unit were the best outside the top four in Division 1 this year, finishing fifth with eight wins to their name. A Round 18 win against eventual premiers, Kew, was the highlight of the Friars' season as the young lads look to build and threaten the top four next year.
Westbourne Grammarians (Div 4) – Similarly to Old Trinity, the Warriors improved upon their 10-8 win/loss record and fifth placing at the end of 2014 as they registered four more victories throughout the home and away season and finished second heading into finals. Unfortunately, the strength of the Division 4 finals line-up meant their tenure was short-lived as they went down to eventual grand finalists, Parkside, by 22 points in the first week of finals. The addition of power forward, Dale Collins, from the WRFL paid immediate dividends as he kicked 108 majors for the season, outscoring every player from every division in the VAFA.