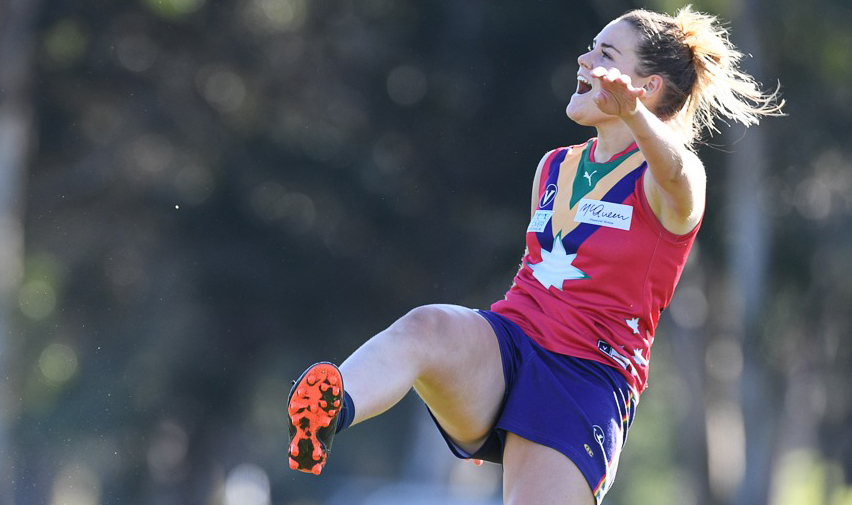 | | | | |
| --- | --- | --- | --- |
| FB | Mia Cowan (OS) | Morgan McGregor (OB) | Sarah Collins (Beau) |
| HB | Maxine Wells (OS) | Sarah Delbosc (Haw) – VC | Stephanie Castagnini (LTU) |
| C | Annie Grant (OB) | Lily Goss (OS) | Sasha Long (Beau) |
| HF | Claire Weiss (OH) | Cat O'Brien (OB) – C | Anna Hayes (OS) |
| FF | Samantha Greene (LTU) | Jordan Shanks (OH) | Lucy Grant (OB) |
| RUCK | Siena Visentini (OB) | Madi Capsalis (OM) | Georgia Scarce (Ivan) |
| I/C | Kate Bond (LTU) | Rachel McLean (Ivan) | Chelsea Frawley (OH) |
| | Paris Penny (Haw) | | |
| COACH | Ryan Duke (OS) | Brad Jenkinson (OS) | |
Division 1 women's best & fairest winners, Lily Goss and Siena Visentini, capped off sensational individual seasons with selection in the Div 1 Women's Team of the Year.
The star ruck and onballer led a host of Scotch and Brighton representatives, with the two grand final sides boasting five each. Ryan Duke and Brad Jenkinson were named co-coaches after leading the Stars to a comprehensive 68-point grand final victory.
Fellow finalists Old Haileybury were well represented with Claire Weiss, Jordan Shanks and Chelsea Frawley, while La Trobe also had three with Stephanie Castagnini, Samantha Greene and Kate Bond. Old Mentonians young gun and Women's Rising star winner Madi Capsalis was named ruck rover in a star-studded midfield.
Brighton and Big V star Cat O'Brien received the captaincy after a season of 15 goals despite playing at both ends of the ground. Hawthorn's Sarah Delbosc is vice-captain as one of the standout leaders in the competition.
Coaches were given the opportunity to nominate their own players for consideration while also choosing players from opposition teams. This, in conjunction with VAFA Media nominations, formed a more rounded selection committee.