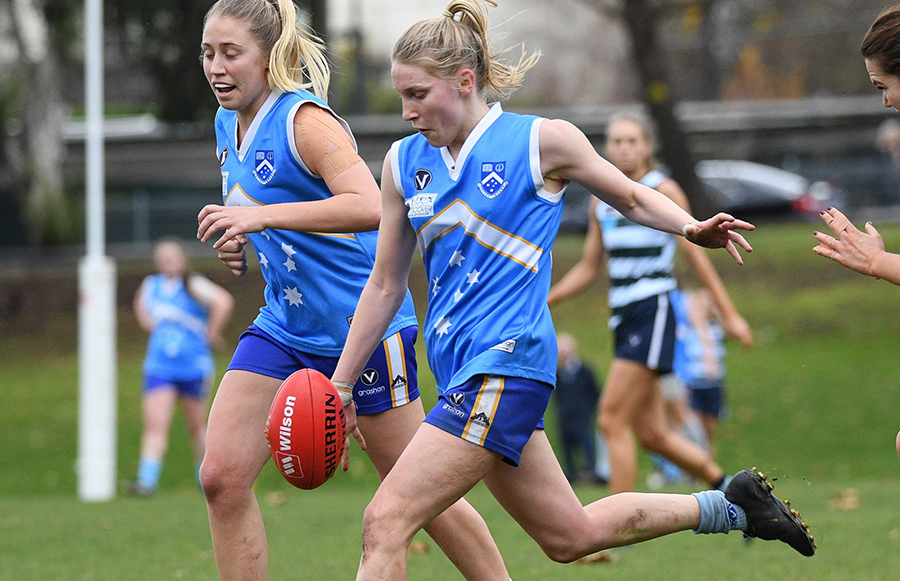 Nick Armistead
| | | | |
| --- | --- | --- | --- |
| FB | Hannah Singleton (Coll) | Montana White (CG) | Abbie Hansen (MB) |
| HB | Kathleen Dunn (OG) | Georgia Wilson (OX) | Rachel Rodger (Coll) |
| C | Rhiannon Green (OC) – VC | Gabby Golds (OX) | Olivia Steinfort (SBMT) |
| HF | Maggie Wilson (OC) | Kate Macqueen (CG) | Indiarna Ellis (OX) |
| FF | Jessica Harley (CG) | Ella Stephenson (MB) | Eloise Defina (OC) |
| RUCK | Caitlin Hickey (OX) | Xanthea Dewez (MB) – C | Irena Malliaras (CG) |
| I/C | Meg Geschke (SBMT) | Danielle Trott (OG) | Rebecca Rothfield (Coll) |
| | Chelsea Fisher (CG) | | |
| COACH | Mitch Dupljanin (CG) | | |
The first-ever Premier B Women's Team of the Year has been released with Caulfield Grammarians boasting five representatives.
After claiming the Premier B flag against Old Xaverians, the Fields have Kate Macqueen, Jess Harley, Irena Malliaras, Chelsea Fisher and Montana White selected, with Harley resting forward as one of the two top-ranked rucks alongside Old Xavs' star Caitlin Hickey.
Hickey is one of four Xavs alongside Georgia Wilson, Gabby Golds and Indiarna Ellis. Golds polled 13 votes for Xavs and is one of the top eight vote-getters to be named in the side.
Old Camberwell's Eloise Defina capped off a sensational individual season with a spot in the team after claiming the competition B&F while her Wellers teammates Rhiannon Green and Maggie Wilson were also selected after polling 10 votes each and finishing in the top seven.
The top four goal kickers were all named including leading goal kicker Ella Stephenson after she finished on 36 and 10 goals clear of second place.
Stephenson's teammate and Big V star Xanthea Dewez received the captaincy alongside fellow Big V player Rhiannon Green as vice.