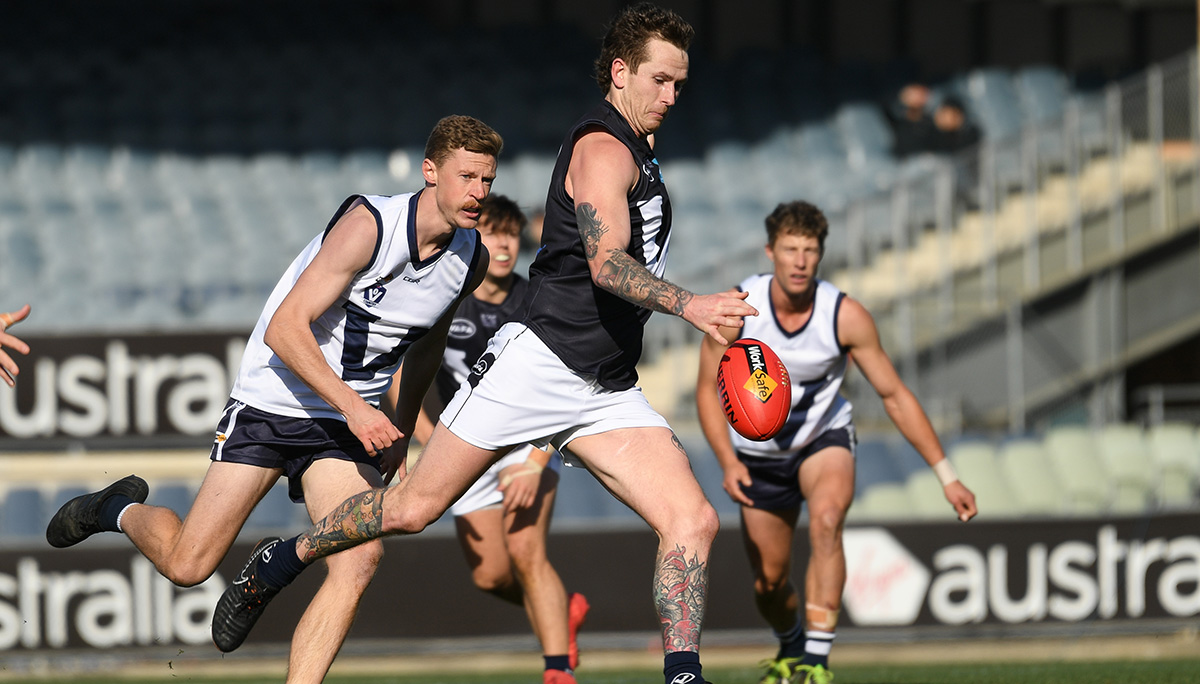 Sam Confait – General Manager, Football Operations
Win, lose or draw, the VAFA Big V representative program provides both men and women opportunity. The opportunity to build relationships, share unique experiences and compete at the highest standard of community football. Bottle it all, take it back to clubland and the result is an improved person, player, club and association.
58 clubs were represented in 2019 across four representative squads, whether it be just attendance at training sessions or the final 22, each member was highly valued and contributed to the overall success of the program. The U19 and Women's programs successfully defeated AFL Victoria Country and AFL Goldfields, respectively, at Elsternwick Park over the Queen's Birthday long weekend (June 8), followed by a triumphant Premier B – Division 4 tour to Perth on the weekend of July 6. The program concluded last Saturday (July 13), as the Senior Men's were outclassed by a strong AFL Victoria Country line-up at Ikon Park by 17 points.
They key message is to highlight the importance of nomination forms and clubs should reflect on what impact the program had on their own. If involvement was non-existent, it's an opportunity missed and whilst each experience differs, the evidence suggests that complete buy in from player and club achieves a return on investment:
'Having not experienced VAFA footy before, I can now tell why not many blokes leave. It's a great community'.
'I am happy for my club to have several players involved and one in the final 22'.
'It is certainly the highlight of my football career and loved every experience of it and hungry for more. Have also met the most awesome bunch of people'
'I still feel very new to footy and a lot to learn but this experience will stick with me for a very long time'.  
'I was always expecting it to be a great experience, but it exceeded all of my expectations'.
'It allowed me to meet new people, develop new skills and most importantly it was seriously fun. I had a blast'.   
Though the 2019 VAFA Big V playing program has drawn to a close, the 13th Annual Big V Club Luncheon still awaits us on Friday August 2 at the RACV Club. The Big V Club celebrates individuals who have played in or contributed to Big V representative matches on behalf of the VAFA, and the lunch holds much promise with the induction of three Big V "Champions" in Bryce Thomas (Old Melburnians), Michael Yeo (Old Carey & University Blues) and Simon Lethlean (Old Xaverians). Tickets can be purchased through https://www.trybooking.com/BDKQY.
It would be remiss of me not to mention two hugely influential individuals who will now hang up their "Big V boots" following Saturday's conclusion. From retiring representative star Tom Paule (Old Melburnians), who etches himself in Big V History with 10 of the finest, to Senior Men's Coach, Stuart Powell, who departs the program with a legacy built on commitment and player rapport, we sincerely thank you for your contribution and service to the Big V. You leave the program in a remarkable state.