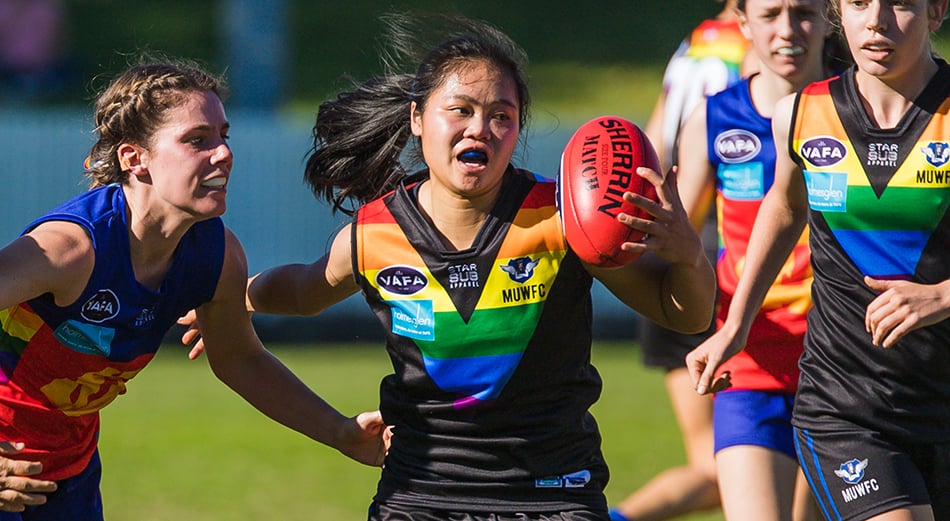 Congratulations to MUWFC forward, Eve Sheehan, who has been named the Anytime Fitness Women's Rising Star for Round 4.
Sheehan was a standout for the Mugars during their 39-point victory over Fitzroy-ACU in their Pride Match on Sunday, kicking three goals in a best-on-ground performance. She helped set up the win for the Mugars with two sensational goals in the opening term.
What the club said:
"Eve started playing footy with MUWFC in our Under 18s in the WRFL in 2018, playing in 15 games that season. In 2019, she played in 13 games and featured in the best in 11 of them. She took out League Best and Fairest in the WRFL Under 18s and MUWFC Best and Fairest for the Under 18s in 2019 to top off her incredible season.
In her three games with MUWFC Seniors this year, she has been instrumental within the midfield and forward line and has elite ball handling skills below her knees. Aside from being an incredible footballer, she has been a state representative in cricket since 2015 and played through the summer just past with the Carlton Cricket Club in the VCA Premier Women's Firsts.
Eve began playing footy after a friend got her interested and because she wanted to try out another sport. Her favourite player is Emma Kearney because "she is clean with the ball and she used to play cricket as well". Her goals in football, when asked, are "to play in a great team of MUGARS and enjoy premiership success." She is a passionate Geelong Cats supporter in both the AFLM and AFLW, is incredibly hard working and is softly spoken, despite being a fierce competitor on the field.
Head Coach, Erini Gianakopoulos had the following to say on Eve; "This is Eve's first season of senior footy after coming through our juniors. We love her in our side but hopefully she'll end up on a VFLW list next year so we'll enjoy her while we can! She's a one-touch player and full of class whether it be by hand or foot. Has a bit of Prespakis about her but hopefully she doesn't read this and get a big head."