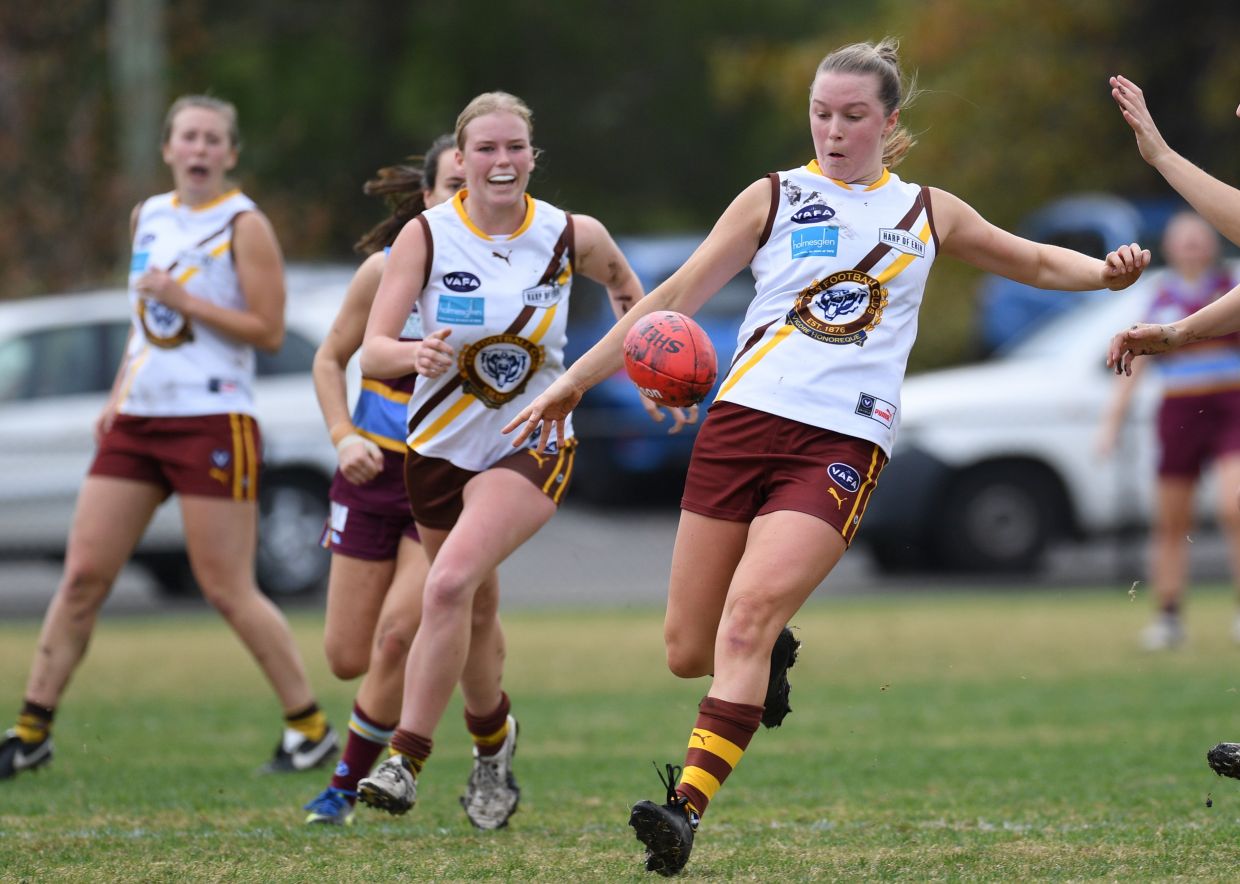 Alisha Min
Four consecutive wins later, and Marcellin (4th) have thrust themselves into finals contention with their latest 79-point win over Melbourne University (8th). Dominating from the opening siren to the final, the Sheagles harboured the ball in their forward 50 for the majority of the encounter (57 inside 50's to the Mugars 10), consistently adding to the scoreboard through the avenues of Shaylee Taylor (4), Teah Stepan (3), Laura Robertson (2) and Tessa Zagontinos (2). In what was another tough blow for the reigning premiers, Phillipa Harrison (19 disposals), Steph Comelli (23 disposals), Lucy Lechich (26 disposals) and Maria Salafia (20 disposals, 14 tackles) stood firm for the Mugars as they continue to search for their first win of 2019. In addition to the aforementioned goal kickers, Marcellin's Alana Pane was again a standout with her 24 disposals, seven i50's and 11 marks.
As we move past the halfway mark of the 2019 home & away season in William Buck Premier Women's, we now have some exciting re-matches to look forward to. For Marcellin, Round 8 holds their second match-up against St Mary's Salesian (5th), but this time at Ferndale Park. Conversely, Melbourne University will front at the Uni Oval on Sunday morning against SKOB Saints (6th).
With hardly anything separating Old Trinity and West Brunswick in their Round 7 tousle, the T's came through with a three-point victory to retain top spot and continue their winning streak (four in a row). Both sides hit the scoreboard in the opening half with two majors apiece, before the T's extended with a 10-point lead come 3QT whilst keeping the Westies scoreless. Led by Yolanda Jones, Isabella Gietzmann (2) and Donna Yeatman (1), West Brunswick managed to turn the tide and hold the T's scoreless in the fourth quarter, however their 1.1 just wasn't enough to get them over the line and seize the premiership points. With the able support of teammates Ruby Anderson and Amanda Fogarty (2), Vanessa Murphy was deemed best on for the victorious T's with her 18 disposals.
Looking ahead, Old Trinity will host a battling Fitzroy-ACU in Round 8, whilst both West Brunswick and their Round 8 opponent, Kew, will look to go one better from their Round 1 draw this weekend.
St Mary's Salesian have earnt back-to-back wins in Round 7 after accounting for Fitzroy-ACU to the tune of 15 points at Ramsden St Oval. The Saints were impactful early, only allowing the Roy Girls to score two points all while managing 2.3 themselves through single majors to Joelly Firmin (2) and Stephanie Lawrence (2 goals, 18 disposals). Though Elizabeth Olney (1) and Teresa Zampaglione (1) managed to find the big sticks in the second half, sourcing other outlets to hit the scoreboard is proving an ongoing issue for the Roy Girls this year. Madeleine Stanley and Rachel Gill were named in the Saints best for the afternoon, while super star Tash Ross-Harris was lively yet again with 72 hit-outs and 23 disposals.
With only 13.58% distinguishing St Mary's Salesian (5th) and Marcellin (4th), their Round 8 clash on the Saints home turf will be a telling sign as the competition looks more seriously towards finals. For Fitzroy-ACU, who have not attained those elusive four premiership points since Round 3, a duel with ladder-leaders Old Trinity awaits in Round 8.
Kew re-joined the winners circle in Round 7 thanks to a 20-point winning margin over SKOB Saints at Righetti Oval. In the same vein as their Round 6 performance, the Saints had a comparable possession and inside 50 count to the Bears this week, but their ability to convert down forward only came about in the final term through Big V stars Margaret Gleeson (2 goals, 20 disposals) and Sarah Cameron (1). For Kew, Gemma Triscari top scored with three majors and teammate Eilish Boyd chimed in with two of her own, while the importance of SKOB's Bree Doyle's defensive pressure (9 tackles, 20 disposals) was obvious.
After two straight losses, the Saints would be looking forward to their Round 8 encounter with Melbourne University given their 30-point win over the University side in Round 5 was their most recent victory for 2019. Elsewhere, Kew (3rd) will take on West Brunswick (2nd) in what is potentially a finals insight for our William Buck Premier Women's competition in 2019.