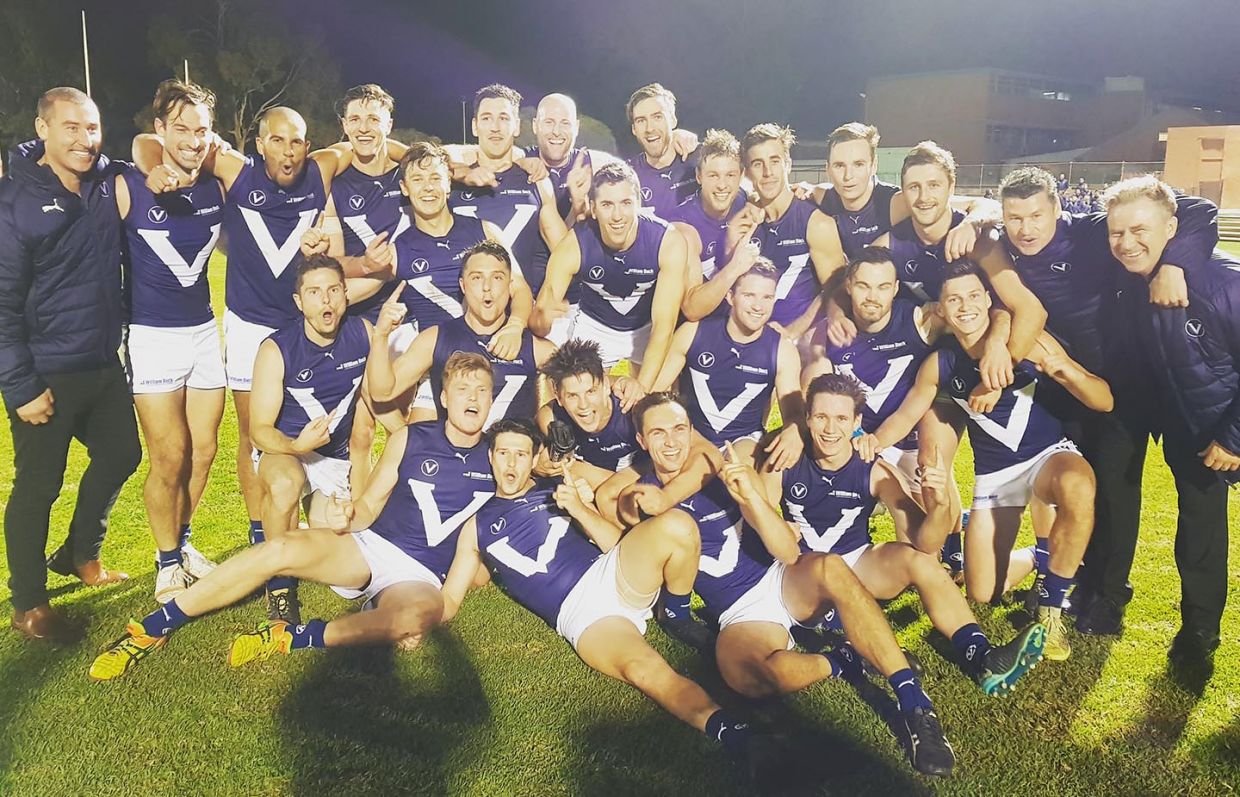 The senior Big V men's side proved too strong for the Adelaide Footy League on Saturday, running out 50-point winners at Aldi Arena. Leading by nine points at half time, the Big V accelerated in the third and fourth with 14 goals to eight and finished with 40 scoring shots to 20. 13 players shared the spoils in front of goal with captain George Burbury (Collegians) and St Kevin's OB sharp shooter Billy Kanakis top-scoring with three goals each. Viv Michie (Collegians) starred in a best-on-ground performance as he racked up disposals at will through the midfield, while Josh Freezer (Old Melburnians), Anthony Scott (Old Trinity), Antony Forato (De La Salle) and Harry Hill (Old Brighton) were named the Big V's best players. After losing to the SAAFL two years ago, this year's performance was a credit to the representative programme and all players, coaches and support staff involved.
Score: 20.20 (140) vs 14.6 (90)
Best: Michie, Scott, Freezer, Forato, Hill
Spirit of the Big V: Josh Freezer (Old Melburnians)
Best VAFA Player: Viv Michie (Collegians)
Adelaide Footy League Best VAFA Player: Anthony Scott (Old Trinity)
Earlier in the day, the VAFA women's Big V side commenced proceedings in emphatic fashion, defeating their South Australian opponents by 30 points. Despite kicking an inaccurate 5.12, the women's side led from start to finish, with Sarah Cameron (SKOB Saints) booting three goals in a dominant display. Taylor Padfield (Marcellin) was unstoppable in the ruck and gave our midfielders first use all day, while Nat MacDonald (Marcellin) seemingly had the ball on a string across half back and was deservedly rewarded with the Spirit of the Big V. Ruby Grounds (MUWFC) and Dani Calautti (Kew) were outstanding through the midfield, while Caitlin Greiser (MUWFC) provided a target up forward all day. It was the first time our women's team had travelled interstate and their performance could not have been more impressive across the board.
Score: 5.12 (42) vs 2.0 (12)
Best: Padfield, MacDonald, Cameron, Grounds, Calautti
Spirit of the Big V: Nat MacDonald (Marcellin)
Best VAFA Player: Taylor Padfield (Marcellin)
Adelaide Footy League Best VAFA Player: Danielle Calautti (Kew)