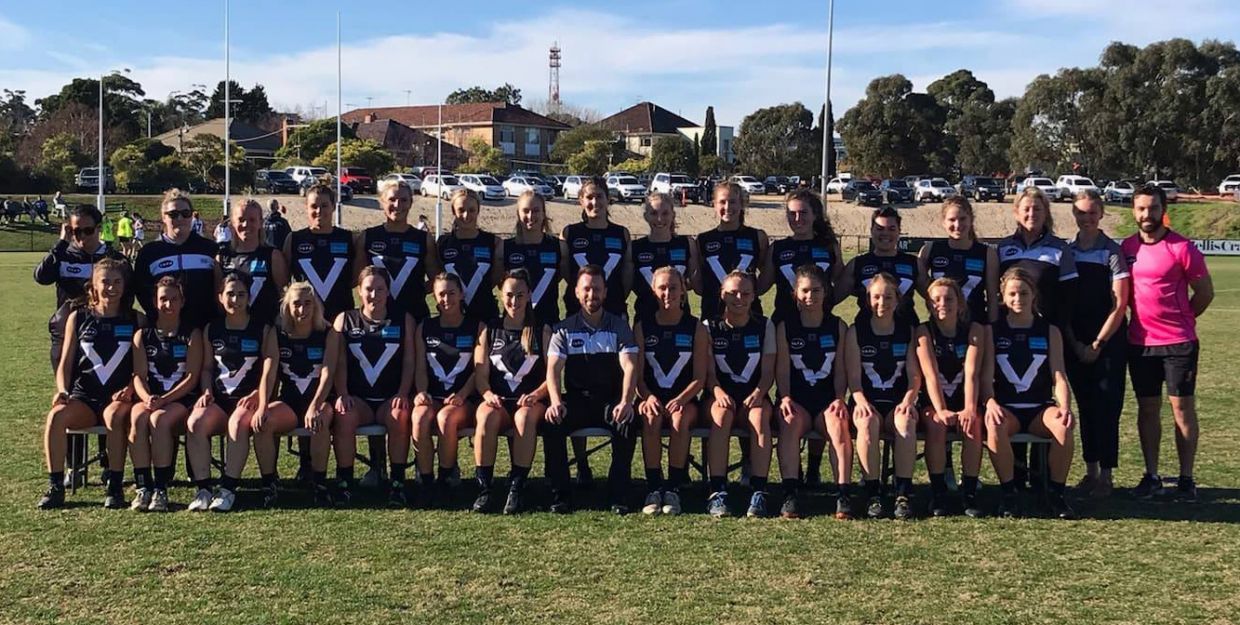 Nick Armistead
The Big V commenced its 2019 representative program with two victories, running out winners in both the U19's and women's matches yesterday.
The women's team, who played AFL Goldfields for the second time since 2017, proved far too strong with a 151-point victory.
Eight goals from 16 scoring shots in the opening term set the scene for the Big V women's demolition job as they went four quarters without allowing the Goldfields to register a score.
Teresa Zampaglione (Fitzroy-ACU) and captain Vanessa Murphy (Old Trinity) racked up possessions at will and were rewarded with the two BOG medals on offer post-game. Imogen Barnett (Old Trinity) gave the Big V midfielders first use of the ball all day with her elite ruck work after coming off an injury concern, while Steph Lawrence (St Mary's Salesian) and Sarah Cameron (SKOB Saints) top-scored with four goals each.  Lawrence, who was on debut at representative level, gave a lesson in contested marking while Cameron has now kicked 10 goals from her three Big V appearances.
Ellen Werts (Redan) was named the VAFA's best AFL Goldfields player after her standout game in defence.
The Big V women's team have now recorded three wins from their three games since 2017.
VAFA: 22.19 (151)
AFL Goldfields: 0.0 (0)
Earlier in the day, the Big V U19's made it two wins in a row against AFL Vic Country as they ran out 38-point winners.
Kicking against the breeze in the opening term, the Big V trailed by just two points at quarter time after booting five first quarter goals. Despite how hard fought the remainder of the game panned out, the Big V dominated the scoreboard with 12 goals to six thereafter.
Geordie Nagle (De La Salle) and Cam Hodges (St Kevin's OB) were sensational for the Big V, while Bailey Wraith (Old Carey) proved he's a ruckman to watch with a standout performance. Lachlan Farrugia (St Kevin's OB) was a picture of composure across half back and Hamish Dick (Old Brighton) continued his own outstanding form from club level. Aaron Trusler (De La Salle) backed up his three goals from last weekend with another three yesterday.
VAFA: 17.15 (117)
AFLVC: 11.13 (79)