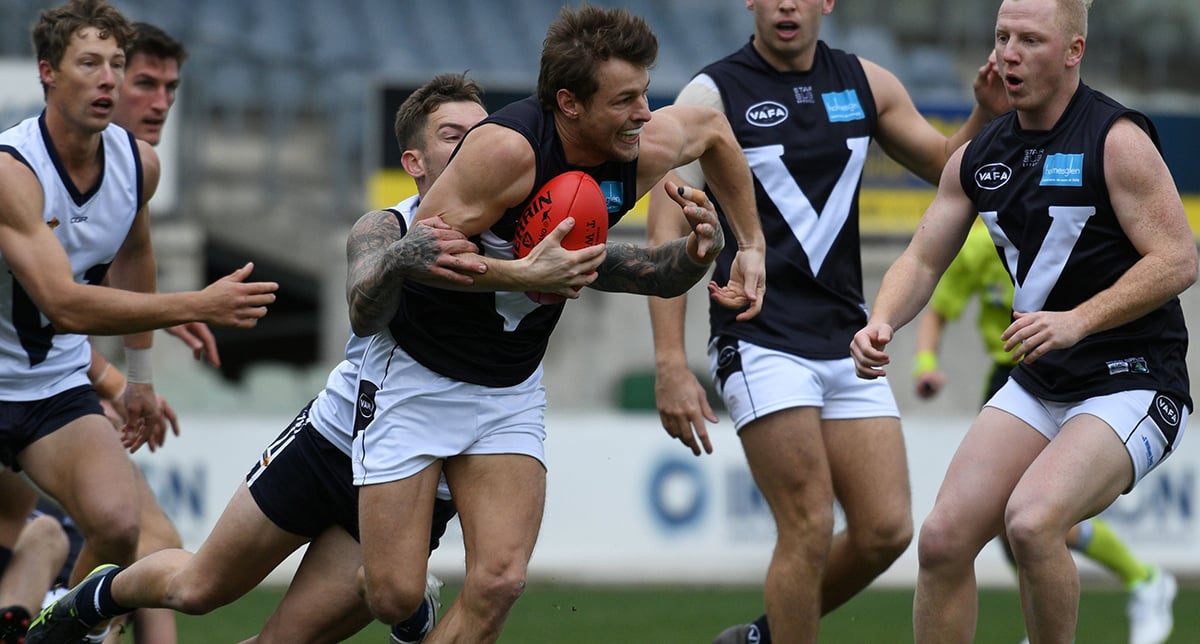 Nick Armistead
The standard of football was at an all-time high in today's Brian Molony Cup clash at Ikon Park as AFL Victoria Country ran out 17-point winners over the senior Big V.
Trailing by 11 points at half time, the Big V fired in the third term with five goals to two and took a seven-point lead into the final break. Tom Paule (Old Melburnians), who was later named the best VAFA player in his 10th and final Big V game, starred through the midfield with his clearance work giving the Big V forwards a multitude of opportunities inside 50.
The Big V's lead grew again when Corey Cassidy (Collegians) finished with class early in the fourth but the hard-running Country boys well and truly ignited with five goals to Marcus Thompson (Leopold), Andrew Boseley (Tatura), Kayne Pettifer (Kyabram) and James Hayes (Euroa) who kicked two of his three.
Uni Blues pair Cam O'Shea and Josh Green were a cut above their opponents in the first half while Nick Pavlou (Old Brighton), who averages 29 disposals per game in 2019, continued his incredible club form as he racked up possessions at will across half forward.
Vice-captains Harry Hill (Old Brighton) and Sam Critchley (SKOB) were the Big V's leading goal kickers with two each. Critchley's performance was particularly impressive given the two-time premiership defender had not kicked one goal at club level in 2019.
Critchley's club captain, Nick Wood (SKOB), received the Spirit of the Big V Award for his sensational performance through the midfield and Josh Freezer (Old Melburnians) led a courageous defence alongside Sam Crocker (Old Carey), Conor Ross (SKOB), Elliot Le Grice (Old Brighton) and Connor Lappin (Uni Blues). Ross was tasked with manning former Richmond FC forward Kayne Pettifer on the back of 414 goals from 93 games for Kyabram and kept him to just two for the game.
Ruckman Sam Michael (St Albans) was named BOG for the Country alongside standout performances from Hayes, Lachie Smith (Kyabram), Nathan Horbury (South Bendigo), Alex Cincotta (Newtown) and Zac Keogh (Seymour).
While today's game ends the 2019 representative program for the Big V, it was also the final game for senior coach Stu Powell. Powell, who commenced his tenure in 2016, oversaw two of the greatest victories in Big V history against AFL Vic Country (82 points) and the Adelaide Footy League (50 points) over the past two years and will leave the program with a lasting legacy based on an incredible rapport with his players and support staff.
BEST
VAFA: Paule, Crocker, Wood, O'Shea, Ross
AFLVC: Michael, Smith, Hayes, Horbury, Cincotta
GOALS
VAFA: Hill 2, Critchley 2, Pavlou, Paule, O'Shea, Harper, Cassidy
AFLVC: Hayes 3, Pettifer 2, Thompson, Dobson, McCarthy, Whiley, Boseley, Michael
Spirit of the Big V Award: Nick Wood (St Kevin's OB)
Best VAFA Player: Tom Paule (Old Melburnians)
Best AFL Victoria Player: Sam Michael (St Albans)