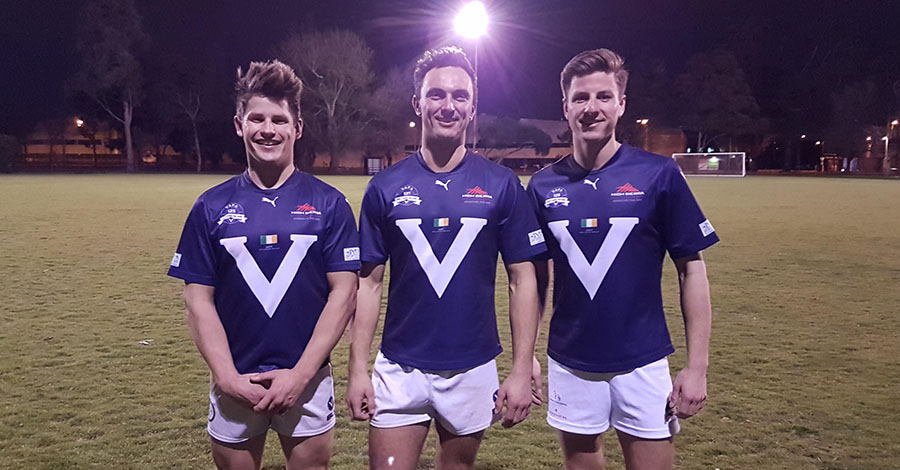 Old Geelong midfielder George Burbury has been named captain of the Big V for the upcoming tour of Ireland from October 1 – 18.
Burbury, who is the current Old Geelong and senior representative captain, led the Big V during their record-breaking 82-point Brian Molony Cup victory over AFL Victoria Country in July.
He joined the VAFA when he debuted for Ogs in 2016 and represented the Big V for the first time against the South Australian Amateur Football League last year.
Burbury will lead an all-star cast leadership group consisting of Al Armstrong (Old Melburnians), Sam Hibbins (Collegians), Denis Symeopoulos (Old Xaverians) and Lochy Dornauf (Uni Blacks).
Armstrong will assist Burbury as vice-captain after starring in the July match with seven goals up forward.
The selected squad (below) contains representatives from every section in the VAFA as per the 2017 season with St Bernard's boasting the highest number of players with three.
The team leaves this Sunday and is scheduled to play Irish county sides, Bishoptown, Tuam Stars and Donaghmore Ashbourne before taking on AFL Europe in London.
Tune into VAFA Media as we bring you every moment of the tour.
| | | |
| --- | --- | --- |
| George | Burbury (c) | Old Geelong |
| Alexander | Armstrong (vc) | Old Melburnians |
| Liam | Whelan | Aquinas |
| Brodie | McLaughlin | Bulleen Templestowe |
| Sam | Hibbins | Collegians |
| Christian | Carnovale | Hampton Rovers |
| Alexander | Mastromanno | Old Brighton |
| Jock | Grimshaw | Old Geelong |
| Nicholas | Reeves-Smyth | Old Ivanhoe |
| Thomas | Cameron | Old Melburnians |
| Denis | Symeopoulos | Old Xaverians |
| Louis | Denton | Old Xaverians |
| Nicholas | Nagel | Powerhouse |
| James | Musster | Prahran Assumption |
| Christopher | Hughes | St Bernard's |
| Luke | Di Lizio | St Bernard's |
| Edyn | Sibbald | St Bernard's |
| Thomas | Jok | St Kevin's OB |
| Michael | Dolan | St Mary's Salesian |
| Lachlan | Dornauf | University Blacks |
| Tyrone | Bean | University Blacks |
| Michael | Culliver | Westbourne Grammarians |