Geoffrey Reilley, last night was welcomed as the 55th Life Member of the VAFA at the Sportscover Season Launch.
Reilley's assocition with the VAFA stretches back to 1960 when he was a boundary umpire for E S  & A Bank whilst still at school at school commencing a 55-year love affair with amateur football that has him more well known to today's supporters as the excellent scribe of the Retrospective column in the Amateur Footballer.
Reilly played first game with Old Brighton in 1961 where he unfortunately broke his arm on debut. He returned to E S & A Bank in 1962, ran the boundary for their seniors, and started playing with their reserves when they commenced a few seasons later, playing in 1 premiership.
Following the theme, Reilley returned to Old Brighton this time to play reserves and run the boundary for their seniors for a few seasons.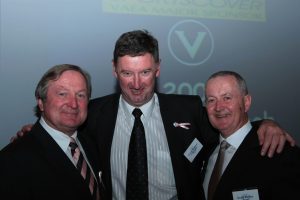 (Reilley, pictured right with Kevin Sheedy and Simon Madden)
At the end of his playing days, Reilley took up umpiring with the VAFA for five seasons before he was invited to commence an illustrious coaching career in the VAFA.
His first appointment wasn't necessarily in the VAFA, but the role as Ormond U15's coach for two seasons, allowed Reilley to do some extra support work for their U19's in the afternoons. A stint as to Ormond Reserves Coach was followed by three seasons as their U19 coach.
Reilley was to become part of the famed coaching panel at Ormond under Mike McArthur-Allen when as Senior Assistant/Reserves Coach, premierships seemed to come as a matter of course.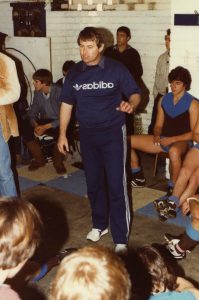 Still the fire burned to take on a senior role on his own, so Reilley was appointed senior coach of Whitefriars in 1992. The Monders came a calling in 1995 and Reilley became their senior coach for two seasons.
In 1997, Reilley took up coaching at his third and final club, as he was appointed senior coach at Caulfield Grammarians. A couple of seasons in that role before he subsequently coached Caulfield's reserves and U19's when the positions could not be filled.
Reilley's overall coaching record comprised 486 games (including more than 20 finals and 4 premierships). This of course does not include his time spent as part of the coaching team for the representative program where Reilley was assistant coach of the rep team and also was at varying times a selector and served as Chairman of Selectors for the U19 team. To complete the off-field roles at state level he also served as the Team Manager and Selector for the Victorian Carnival team that travelled to Perth in 1991.
However, his contribution to the VAFA did not end there. Reilley was appointed to the VAFA Executive where he spent five seasons on the Board, including one term as Vice President. Reilley has also been former VAFA Ambassador a role which he relished.
Reilley's other notable contributions and achievement include: being a long term member of VAFA Australian Football Coaches Association including time as President; he is a current scribe for The Amateur Footballer and is about to enter his 10th season writing the enormously popular Retrospective columne; he is a current match day official of Caulfield Grammarians; Reilley is a Life Member of both the Ormond and Caulfield Grammarians Football Clubs; he received the 2010 AFL Recognition Award for services to Amateur Football; he now serves on the VAFA Cultural and Historical committee; and Reilley has won the Best Clubman award at ES&A Bank, Old Brighton and Caulfield Grammarians.
All in all it is a fantastic resume of service and time spent on the VAFA, congratulations Geoff Reilley, Life Member of the VAFA.