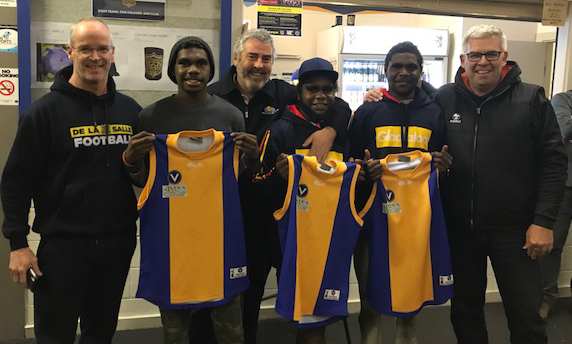 De La Salle OCFC is joining forces with the Papunya Foundation by bringing a group of indigenous youths and adults from the MacDonnell Ranges to Melbourne so they can experience and play football.
Organised by former player and coach, Paul Cooper, the program involved a training session with the U19's last night which was followed by a dinner and jumper presentation. Three of the indigenous boys will also play in De La's U19s Colts side on Saturday.
De La President Brian Waldron said the club is looking forward to welcoming all involved with the Papunya Foundation this weekend.
"This is a wonderful community program and the club and the VAFA are honoured to be involved," Waldron said.
"The whole group will be our guests at the home game lunch prior to the senior game. Paul will speak about the program, in particular about his experiences in bringing groups to Melbourne and taking groups of young Glen Iris Gladiator players to Papunya."
If you'd like to see the players in action, the game is Saturday 9.20am at Garvey Oval against Old Paradians.