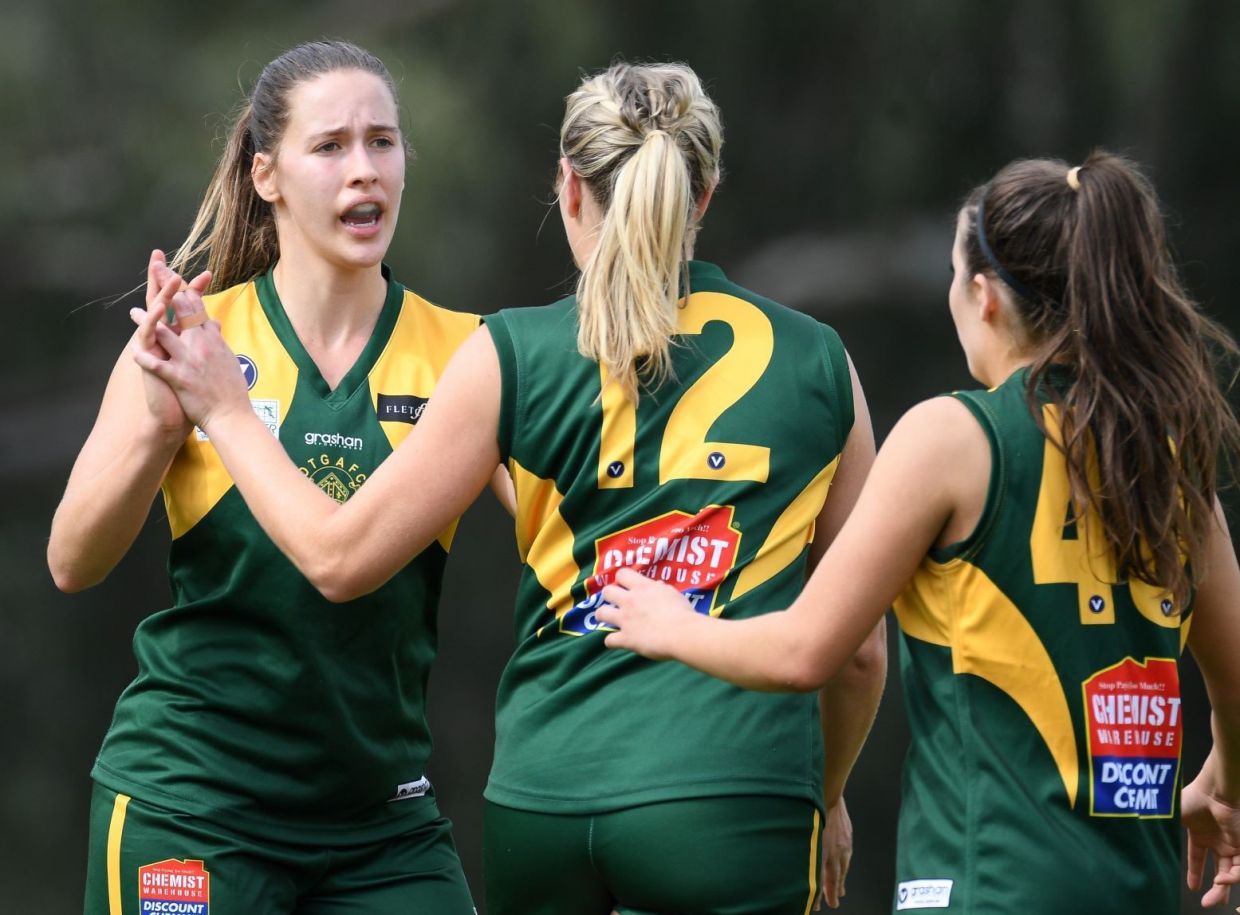 Alisha Min
In what was penned as the match of the round, first placed Old Trinity proved their ascendancy in the William Buck Premier Women's competition yet again via a resounding 45-point victory over West Brunswick (2nd) at the Daley Oval. After holding the Magpies to nothing in the opening term while kicking 1.4 of their own, the T's buckled down in the second to move into the main break with a four-goal lead. After scores remained unchanged in the third term, the T's kicked into gear in the fourth – piling on 3.3 while keeping the Magpies scoreless. Old Trinity's Vanessa Murphy has been a picture of consistency with her work-rate through the middle, but she added another string to her bow over the weekend when she booted three majors alongside her 24 disposals (including 6 i50s) and eight tackles. Teammates, and fellow Big V representatives, Imogen Barnett (1 goal, 26 disposals 39 hit outs) and Sally Peers (1 goal, 22 disposals, 11 tackles) were also impressive. For the undoubtedly disappointed West Brunswick, whose Round 12 scoring output was their lowest for the year, Yo Jones stood tall. With 34 premiership points to West Brunswick's name, followed closely by SKOB Saints (32), Marcellin (28) and St Mary's (28), a victory in Round 13 over the Sheagles will be critical in their quest for a finals debut in the VAFA Wilson Women's top section.
After a string of tough losses to some probable finals contenders (West Brunswick, Marcellin, SKOB), Kew pulled off another important win in Round 12 after downing St Mary's Salesian by 26 points at Victoria Park. Though the Bears did not register a goal in the opening term, they hit their stride with three goals come the second quarter. They increased their lead in the final term with another two goals while not allowing the Saints to add any more majors to their solitary first quarter goal. Despite the loss, Tash Rappos was simply outstanding for the SMS troops, tallying 33 disposals, while teammate Rachel Gill (24 disposals) showcased some elite defensive pressure after laying a staggering 19 tackles for the day. In what was a milestone occasion for Kew with Molly Coulter celebrating her 50th match, Isabella Harding shone with her goal, 27 disposals and five clearances and Krystal Shaw contributed with two of the Bears' five majors. The Saints have now dropped out of the top four for the first time since Round 7. St Mary's sit on equal premiership points to Marcellin (4th), but the Sheagles have the percentage superiority by 17%.
SKOB Saints kept their momentum rolling in Round 12 after accounting for Fitzroy-ACU by 37 points in trying conditions at Righetti Oval. The Saints were unable to register a single point in the opening quarter but they got on the scoreboard in the second and continued to build as the match wore on while holding the Roy girls to just 1.4. For the injury-riddled Roy Girls, who are without ruck superstar Tash Ross-Harris following her achilles injury in Round 9, goal scoring avenues continue to challenge Gray Barton's chargers – although a 1.4 final score is a reasonable result considering they only had six forward fifty entries for the match. For the victorious Skobbers, Sarah Cameron was outstanding after dobbing four majors, as Margie Gleeson chimed in with two and Ali Hines shone with 67 hit outs. This percentage boosting win (and SMS's loss) has seen the SKOB side jump into third place.
In another Sunday morning outing on the prestigious Uni Oval deck, Melbourne University fell short to Marcellin by 30 points. The Sheagle's defensive capabilities came to the fore on this occasion; they only succumbed a solitary point to the Mugars in the opening quarter before their relentless pressure denied the Uni side another opportunity on goal. Marcellin's 2018 Anytime Fitness Rising Star recipient, Laura Robertson, booted three majors and was best on, while Maggie Antypas (26 disposals, 8 tackles) and Sophia Ikosidekas (1 goal, 24 disposals) were able in support. In what has been an undeniably tough 2019 campaign for our reigning premiers, Tenille Rollnik was relentless at the stoppages with her 77 hit outs.