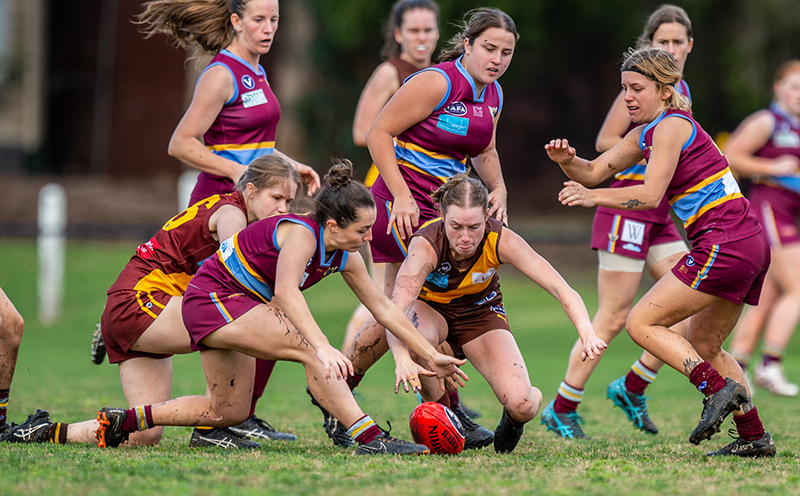 Rebecca Carter
Marcellin vs Kew
When the season resumes, the Eagles will be looking to continue their charge towards a perfect season and extend their unbeaten run. Standing in their way will be Kew, who will carry belief that they can cause an upset, coming within one point of Marcellin last time these two teams met. Both teams boast some serious scoring power, with Cecilia Baldassarre (16 goals) and Shaylee Taylor (9 goals) leading the way for Marcellin, whilst for the Bears, it's the even spread between Krystal Shaw (8 goals) and Danielle Calautti and Tara Donnan (7 goals each) that has been impressive. There's no doubting Marcellin deserve to enter this game as clear favourites, however the outcome is far from certain.
St Mary's Salesian vs Old Trinity
It's 7th vs 8th on paper, however these two teams were starting to find some consistency in their performances before the breaks were put on the season. St Mary's will be looking for redemption from their clash with the T's back in Round 7, where it was an after the siren goal from Trinity star Georgia Stewart that stood between St Mary's and their first win of the season. St Mary's will look to shut Sally Peers down, and for Old Trinity, their focus will largely be on Alice Angley. This game shapes to be a genuine 50/50 battle.
West Brunswick vs Caulfield Grammarians
3rd placed Caulfield will be looking to stay in touch with the top 2, whilst 4th placed West Brunswick will be looking for some breathing space from those outside the top 4 when the two teams do battle at McAlister Oval. Notable goalkickers Irena Malliaras (Caulfield Grammarians) and Laura Holdsworth (West Brunswick) are set to go head-to-head as they both shape as important contributors for their respective teams in this match. The Fields will be hoping their impressive defensive unit holds together against a Magpies outfit that managed to put through 8 goals last time they took the field, whilst the Magpies will be keen to make this game win number four in a row.
SKOB Saints vs Old Xaverians
48 points was the final margin between these two teams last time they met back in round 6, as the Saints proved too strong. The Xavs girls will be hoping to demonstrate that they've found some answers to stop the even spread of goalkickers in the SKOB forward line, which boasts the likes of Sarah Cameron and Margaret Gleeson. If Sarah Anderson (Old Xaverians) can continue her red-hot form she produced in the first half of the season, and Xavs can find more avenues to goal, expect this to be a closer result than last time.