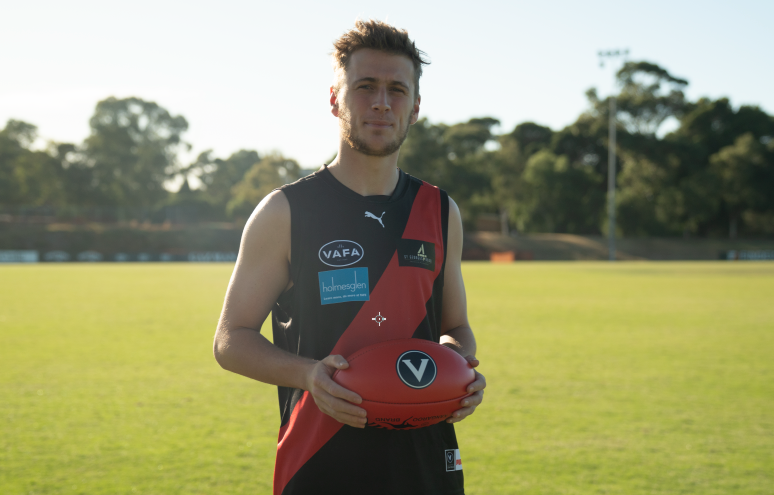 Connor Hoetzel
Elsternwick were challenged right till the end by a resurgent South Mornington team eager to get their third win of the season in Round 10. Roaring out of the blocks, the Tigers held the visitors goalless in the opening term. The Wicks piled on six goals in the second quarter but South Mornington came again after half time, taking a one point lead into the final change with the game wide open. A total of nine goals between the two teams showed how much each team wanted it, but in the end, the Bombers were just too good, leaving the Mornington Peninsula with a four point win. Nicholas Lowrie kicked four goals for the victors, and Kyle Van Der Pluym backed up his performance last week with a second consecutive best on ground performance for the Wicks. Matthew Wells booted four for South Mornington, while Sage Opitz and Joshua Dale were the Tigers best down back.
Albert Park overcame their local rival South Melbourne Districts by 31 points. It was the Falcons game all day, as they led at every change and made it clear they will be a threat deep into the season. Joshua Beets was the most influential for Albert Park, kicking six and being named the Falcons best player. Harrison Murrihy was the man for the Swans, being named in their best, while no one particular player stood out in the goal kicking, only Jordan Heis (2) kicking multiples.
It was yet again the Harrison Coe show for St Francis Xavier, as he dominated all day in their clash with Masala Dandenong, just as he has all season, kicking another seven goals for the X-Men. In the end, a huge 95-point win for St Francis Xavier leaves them comfortably atop the division, while another loss for Masala leaves them lingering down the bottom half of the ladder, not where they expected to be after their electric start.
Eley Park were challenged early on by Box Hill North, but proved too strong as they flexed after half time to run out 30-point winners. In what was Box Hill North's highest score for the season, they put in a valiant effort for all four quarters, and will be proud of their efforts to match it with one of the division's stronger oppositions. Damon Earp was on fire all day, being named the best for Box Hill North, as well as booting home six majors. Eley Park were led by Peter Cassidy-Marsh, who was their best, and Matthew Rosier, who featured with four goals.
Preview
Box Hill North will host Albert Park in Round 11, who are flying high in second position. Albert Park will be looking to extend their current run of good form with another win, as they look set to come home strong, searching for the valuable top two finish that would land them a double chance. Box Hill North won't be easy beats, however, and they showed that with a spirited performance in their last outing against Eley Park.
There will be a battle between two tiger foes this week, as Masala Dandenong host South Mornington. Masala got the better of South Mornington last time, but this time face a much bigger task having a long string of close losses. South Mornington will be fierce and this game could be a close one.
South Melbourne Districts are faced with the daunting prospect of hosting the red-hot St Francis Xavier team who are rolling towards a top spot finish. The X-Men currently sit two games and a large chunk of percentage clear on top, and have shown absolutely no signs of slowing down. South Melbourne, who are only two games outside the top four, have it all to play for which should make for a cracking contest.
The final game of the round is between Eley Park and La Trobe University, both of which are sitting in the middle of a dog fight between second and fifth places. At this stage, both teams have their sights set on a top two finish, but a loss here could be catastrophic, and could see them lose touch with the top four all together. This game has the most riding on it this round and could be dynamic.