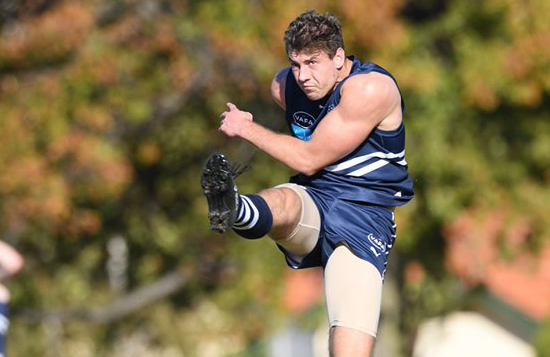 Caulfield Grammarians continued their outstanding run of form and made it seven straight wins as they defeated Old Brighton by 14 points at Glenhuntly Oval. The Field shot out of the blocks with five goals to one in the opening quarter and maintained the lead despite a strong second quarter from the Tonners. Declan Reilley was sensational as the number one ruckman for the Fields, and gave Will Edwards, Dane Crognale and returning Port Melbourne skipper, Tom O'Sullivan, great service all day. Julian Dobosz and Crognale kicked three goals each, while Harry Hill and Nick Pavlou battled for four quarters. The Tonners now fall into fourth spot as they're replaced by the Fields.
In just his second game for the season, Patrick Kerr led St Kevin's OB to a commanding 78-point win over Old Scotch at TH King Oval. SKOB trailed by eight points at quarter time, but Kerr – who kicked seven goals for the day – led SKOB to 16 of the next 20 goals from Q2-Q4. Sam Barnett slotted four majors as well, while Riley Bowman continued to impress in the ruck. Tom Blenheim and Jesse Castan were standouts for the Cardinals.
University Blues returned to form and maintained touch with the top four after they defeated Old Trinity by 34 points at the Daley Oval. Leading by 11 points at half-time, the Blues piled on four goals to one in a match-winning third term. Alex Fasolo top-scored with four goals for the Blues, while Jack Stephens was named their best player for the third match in a row and the fourth time in his past five. Thomas Mason and Myles Scott impressed for the T's.
St Bernard's claimed their fourth win for the season and put three games between them and the bottom two with an 11-point win over Old Melburnians at the Snake Pit. Despite kicking 1.7 (13) in the opening term, the Snow Dogs maintained a small buffer over their opponents for most of the day. Adam Bentick starred for the Snow Dogs in a BOG display, while Gus Borthwick continued his outstanding form through the OMs midfield.
Old Xaverians made it five wins on the trot with a 12-point victory over Collegians at Harry Trott. Trailing by 14 points at quarter-time, Xavs did enough by kicking seven goals to four thereafter. Denis Symeopoulos was named the Xavs best alongside three goals from Charlie Macisaac, while Campbell Walker and Max Pinchbeck were the Lions' best.