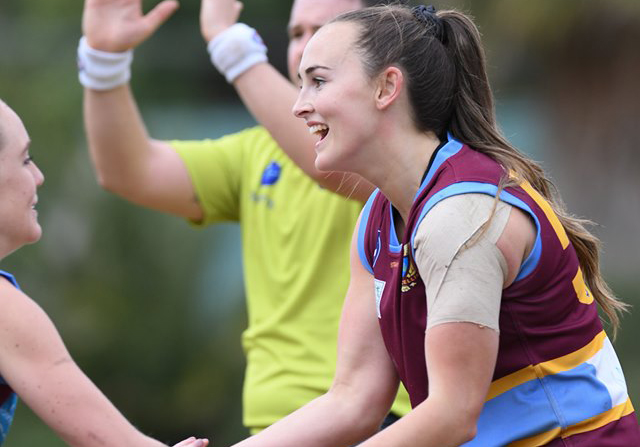 Nick Armistead
The final Big V women's squad has been announced ahead of Saturday's match against AFL Goldfields at Elsternwick Park.
24 players will represent the VAFA as they try to make it two consecutive wins over the Goldfields, 14 of whom will be wearing the Big V for the first time. Sasha Long (Beaumaris), Irena Maliaris (Caulfield Gr.), Christine Nancarrow (Collegians), Maggie Antypas (Marcellin), Shaylee Taylor (Marcellin), Tessa Zagontinos (Marcellin), Cat O'Brien (Old Brighton), Rhiannon Green (Old Camberwell), Imogen Barnett (Old Trinity) and Sarah Cameron (SKOB Saints) have been recalled from either the 2017 or 2018 squads.
Long, Zagontinos and Cameron have now been named in all three Big V women's teams since 2017.
Unsurprisingly, Old Trinity has the highest number of representatives after their 7-1 start in William Buck Premier with Barnett, Vanessa Murphy, Grace Dillon and Sally Peers all named. Peers is an inspiring selection after carving out a career representing Australia on the international tennis circuit.
Marcellin is next in line with three players in the team, while Madison Lister (Glen Eira) has earnt selection as the only player from Division 4. Lister commenced her football journey in 2008 with the Melton Juniors in the Riddell District FL and has since represented Vic Metro at the AFLW National Championships while playing TAC Cup Girls and VFL Women's.
Please see the full playing list below:
| | |
| --- | --- |
| Player Name | Club |
| Sasha Long | Beaumaris |
| Irena Malliaras | Caulfield Grammarians |
| Christine Nancarrow | Collegians |
| Rebecca Rothfield | Collegians |
| Teresa Zampaglione | Fitzroy |
| Madison Lister | Glen Eira |
| Magdelene Antypas | Marcellin |
| Shaylee Taylor | Marcellin |
| Tessa Zagontinos | Marcellin |
| Steph Comelli | Melbourne Uni |
| Xanthea Dewez | Monash Blues |
| Cat O'Brien | Old Brighton |
| Rhiannon Green | Old Camberwell |
| Sophie Fraser | Old Melburnians |
| Imogen Barnett | Old Trinity |
| Vanessa Murphy | Old Trinity |
| Grace Dillon | Old Trinity |
| Sally Peers | Old Trinity |
| Anna Hayes | Scotch Stars |
| Sarah Cameron | SKOB Saints |
| Alexandra Hynes | SKOB Saints |
| Stephanie Lawrence | St Mary's Salesian |
| Grace Macpherson | West Brunswick |
| Yolanda Jones | West Brunswick |