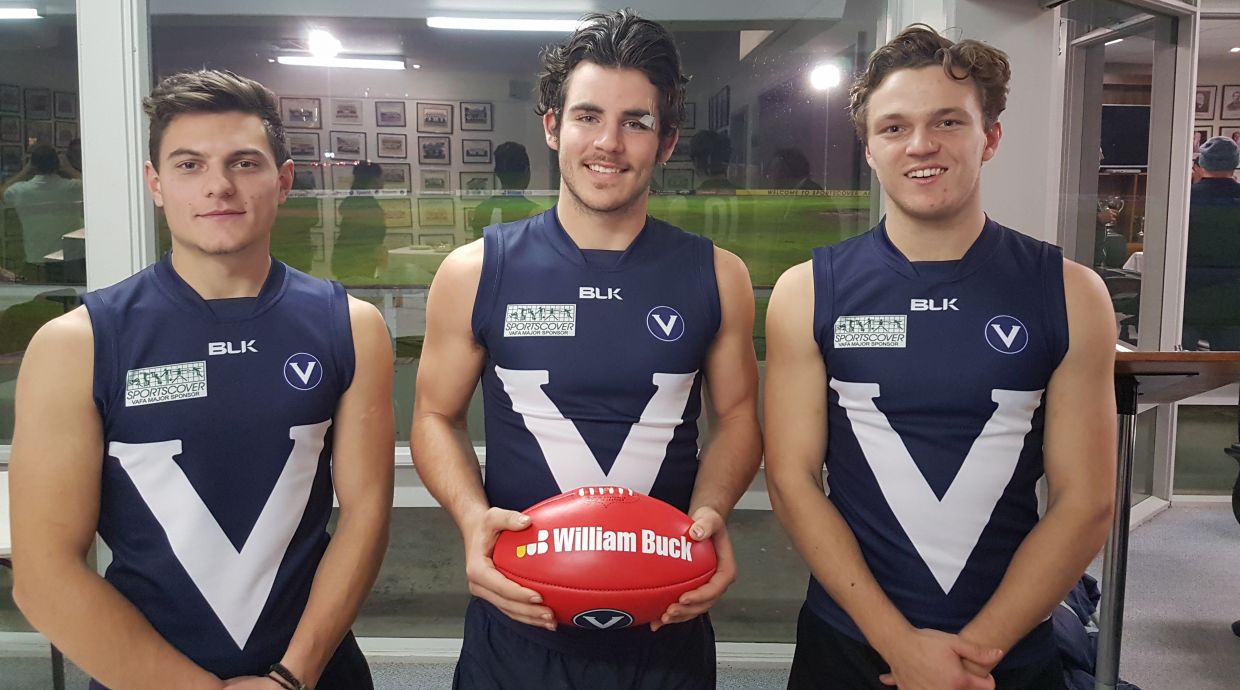 The final U19 Big V side was announced at a presentation dinner at Sportscover Arena last night ahead of the VAFA's clash with AFL Victoria Country at Waterview Reserve in Mernda this Sunday.
The playing group were presented with their Big V jumpers in the post-training ceremony, with VAFA Board members, George Voyage and Anthony Amad, speaking to the selected 22 about the history and honour accompanying the Big V jumper.
St Bernard's has the highest number of representatives with four, while Old Brighton's Alex Mastromanno is the youngest player at just 17 years of age.
20 players will make their Big V debut, while St Bernard's Michael Caven and Ormond's James Landman will play their second consecutive year in the U19s.
The VAFA congratulates all who were selected and encourage all to attend the match from 11:15am on Sunday. Gate entry is free and it will prove a great opportunity to watch the next tier of elite VAFA players plying their trade.
| | | |
| --- | --- | --- |
| No. | Name |  Club |
| 2 | Lachlan  Byrne-Jones | Old Scotch |
| 3 | Nicholas  Silvestro | Caulfield Grammarians |
| 5 | Tom  McKenna | Mazenod |
| 6 | Corey  Connelly | Old Haileybury |
| 7 | Jesse  Maxfield | Ormond |
| 8 | Harry  Hill | Old Brighton |
| 9 | Mitchell  Hughes | St Bernards |
| 11 | Chris  Hughes | St Bernards |
| 13 | Hunter Watkins | Old Melburnians |
| 15 | Joshua  Tyquin | De La Salle |
| 16 | James  Landman | Ormond |
| 17 | Charlie  Vague | St Bernards |
| 18 | Luke  Globan | Beaumaris |
| 19 | Michael  Caven | St Bernards |
| 20 | Alex  Mastromanno | Old Brighton |
| 21 | Ben  Hurley | Kew |
| 22 | Matt  Colak | De La Salle |
| 23 | Sam Glover | Kew |
| 24 | Matt  Blair | University Blues |
| 10 | Ben  Dance (VC) | St Bedes/Mentone Tigers |
| 4 | Luke  Gogis (VC) | Ormond |
| 1 | Christian  Carnovale (C) | Hampton Rovers |