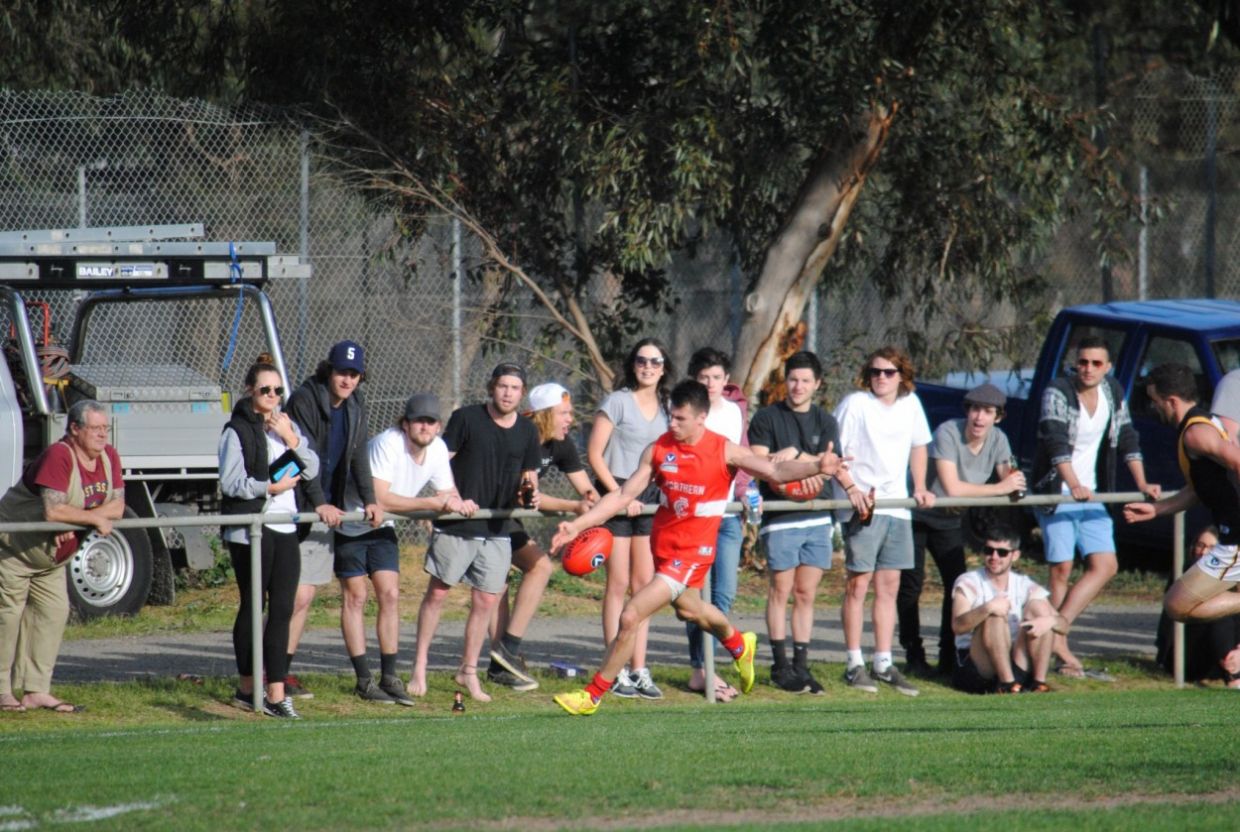 Finally… Footy is back – Division 2 Preview
Posted on -
Elsternwick
,
Ivanhoe
,
Melbourne High School Old Boys
,
Monash Gryphons
,
Preston Bullants
,
Old Paradians
,
Richmond Central
,
South Melbourne Districts
,
St John's OC
,
Latest News
,
Division 2 Men's
,
Featured
Brenton Mann

@BrentyMann
After a long and arduous summer, round 1 has arrived and with it comes an air of optimism and excitement of 2015 may bring. In the world of relegation and promotion, we farewell Kew, St Mary's and Glen Eira respectively, and welcome the Northern Blues, Richmond Central and the luckless Melbourne High.
After back-to-back premierships, the Northern Blues are the VAFA "glamour team", and quiet deservedly, but will face a stern test against the likes of Old Eltham, Parade, Ivanhoe and St Johns. Boasting a team brimming with youthful exuberance, there's no limit to what this team can achieve in the years to come and 2015 may be another step in their journey up the VAFA ranks.
Runners-up in 2014, Richmond Central will look to 2015 as a year of consolidation and will not want to fall into the trap of the promotion and relegation yo-yo. Ivanhoe looms as a tough round 1 opponent, with the Hoes keen on building on a solid 2014.
Melbourne High find themselves in Div 2 after a number of challenging years but in sport, it sometimes pays to take a step back to again move forward. The off-season usually brings renewed hope and vigour, and they'll need it as they host and smarming St Johns in round 1. If they can get off to a good start against the JOCs and build on that form, then the momentum will build for Melbourne High.
Elsternwick avoided relegation and have hopefully bottled the form that saw them break eventual premiers Kew's winning streak and beat finalists Old Eltham in 2014. Unfortunately for the Wicks in 2014, there was sizeable gap between their best and worst. Hopefully they've have rectified that over the summer and will build on their consistency in 2015.
The same can be said for Monash and after a couple of lacklustre seasons, the Gryphons need to build some early momentum and early wins is the best way. They will fancy themselves against the Wicks and Melbourne High the following week. After narrowly avoiding relegation the last couple of years, 2015 is sink or swim for the Gryphons, they'll be hell bent on improving.
Div 2 stalwarts Old Eltham host South Melbourne and will hope that Eltham College holds the same fear it held in 2014. The Turtles had one of the best home records of 2014 and are still searching for the combination to unchain themselves from Div 2 and ascend the VAFA ranks. They broke their finals hoodoo last year, which is a small step, but they'll look to take another in 2015 become the powerhouse they've threatened to be.
South Melbourne earmarked 2014 as a year of development and their mid-table finish reflected that. The exposure and experience that their young brigade gained though will prove invaluable and the Districts hope to further that development in 2015. A greater level of consistency will be a goal this year, as the Districts eye a possible finals berth.
Ivanhoe, like South Melbourne, took some significant steps forward in 2014. They showed that they're best was good enough but unfortunately weren't able to produce that form on a consistent basis. The Hoes' depth of young talent was highlighted by their U-19s' premiership win and the will no doubt be looking to expose that talent to senior football. Richmond Central will be an unknown in round 1 and shouldn't be taken lightly.
St Johns were the enigma of 2014. After finishing fifth and missing the finals in successive years, the JOCs' hierarchy felt a change was in order. The club appointed '05 premiership coach Ben McGee with hope that a fresh voice and ideas will be the impetus for greater success. The JOCs' biggest enemy in 2014 was themselves, mental lapses and lapses in concentration cost them games against the top sides and must be eradicated if they're to make finals this year. Their pre-season form has been solid and Melbourne High presents an opportunity to get their 2015 campaign off on the right note.
Old Paradians, like St Johns had a frustrating 2014. They made finals but barely gave a whimper against Old Eltham and were bundled out in the first week. Their form too was enigmatic, with lapses not just from week-to-week, but quarter-to-quarter costing them. They have the firepower up-forward in Boundy and Bellizia but James Kandalakis needs a chop out in the midfield. Consistency of performance would have been the message drummed in over the summer, and their clash against Northern Blues is the match of the round.
Round 1 Tips
Elsternwick v Monash
Old Eltham v South Melbourne
Richmond Central v Ivanhoe
MHSOB v St Johns
Nth Blues v Old Paradians