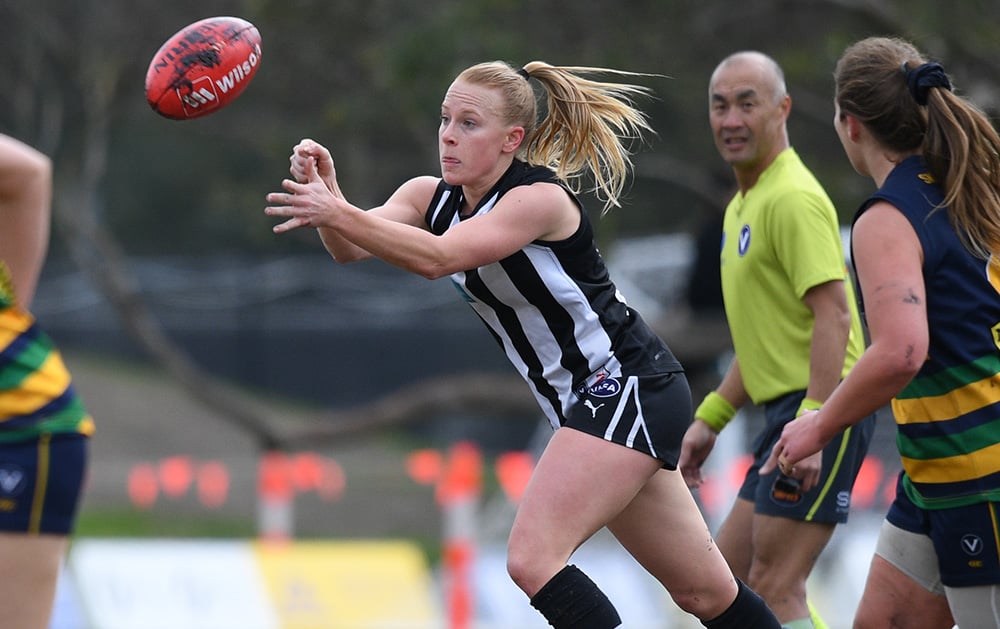 Alisha Min
William Buck Premier
Semi-Final 1: Marcellin v West Brunswick
Form: WWWWL (M) v LLLWW (WB) |  Head to Head: 1-1
Last time they met: Meeting only two weeks ago in Round 13 at McAlister Oval, Marcellin managed to best the Westies by four points. On that occasion, Magdelene Antypas (1 goal, 23 disposals) and Natalie Macdonald's (20 disposals, 10 tackles) were dominant in victory, while Emma Lippman stood tall for the Magpies.
Semi-Final 2: Old Trinity v SKOB Saints
Form: WWWWW (OT) v WWWLW (SKOB) |  Head to Head: 1-1
Last time they met: Old Trinity's form simply cannot be disputed, in the last five rounds particularly. Nevertheless, their last loss in Round 9 was coincidentally to their finals opponent this weekend, SKOB Saints. Bona fide stars, think Imogen Barnett & Vanessa Murphy (OT's), Sarah Cameron & Ali Hynes (SKOB) will clash, there may be no better place to be than the Daley this Sunday afternoon!
Premier B
Semi-Final 1: Monash Blues v Old Camberwell
Form: LWWWL (MB) v BLWLW (OC)  |  Head to Head: 2-0
Last time they met: Given their scheduled Round 14 bye, the Wellers last clash was against the higher ranked Monash side in Round 13, in which the Blues managed a 16-point victory in front of a home crowd at Frearson Oval. Back at the Uni ground on Saturday afternoon, look for a concerted effort from the Blues to make scoreboard impact (only kicked 0.3 in Rd14 against Old Xavs), and for Old Camberwell to fire given their week break.
Semi-Final 2: Old Xaverians v Caulfield Grammarians
Form: WWWBW (OX) v WWBWW (CG)  |  Head to Head: 0-2
Last time they met: The Fields hold the ascendancy in their battles to date with the Old Xavs girls, with their most recent victory at Xavier College in Round 8 by five points. Both team boast a phenomenal run into finals, and it's a flip of the coin to predict who will progress straight through to the Grand Final, and subsequent promotion to William Buck Premier in 2020.
Premier C
Semi-Final 1: South Melbourne Districts v Canterbury
Form: WLLLW (SMD) v LLWWW (C)  |  Head to Head: 0-2
Last time they met: Though Canterbury boast the more favourable outcome in the head to head statistic, a clinical 101-point Round 14 win over Old Meburnians will fill South Melbourne with a world of confidence heading into this "do or die" semi-final. With the last match decided by a solitary point, expect a ripping contest at Lindsay Hassett Oval.
Semi-Final 2: Yarra Old Grammarians v Brunswick Renegades
Form: WWWWL (YOGs) v LWWWW (BR)  |  Head to Head: 1-1
Last time they met: We needn't look far to discern how their last encounter eventuated, with these two teams locking heads in the final round of the home & away season at Doncaster Reserve. Trailing by 10 points heading into the final term, the Bushrangers were able to amass 3.2 to the Renegades solitary point to run out nine-point victors, with Lucy Schneider one to watch as the victors BOG.
Division 1
Semi-Final 1: Old Haileybury v Beaumaris
Form: WWWWL (OH) v LLLWW (B)  |  Head to Head: 1-1
Last time they met: It's all square in the head to head, but both teams have had considerably different runs to make it to the first semi-final in Division 1. Four consecutive wins under their belt, including a 46-point win over the Sharks just last weekend, puts Danny Frawley's Hearts in a slightly more favourable position.
Semi-Final 2: Old Scotch v Old Brighton
Form: WWWDW (OS) v WLWDL (OB)  |  Head to Head: 1-1
Last time they met: Three abandoned matches due to lighting issues is far from ideal for Old Brighton, but the Tonners won't let that phase them in their semi-final clash with ladder-leaders Old Scotch. Yet to lose a match in their 2019 campaign, although a draw was the outcome of the Stars last match against Brighton, if there ever was a time to deal our minor premiers their first blow – this would be it!
Division 2
Semi-Final 1: Westbourne Grammarians v Whitefriars
Form: WWWWW (WG) v DLLLD (W)  |  Head to Head: WG – 1 + Draw
Last time they met: On the brink of missing finals action altogether on the eve of Round 14, the Friars battle with Williamstown resulted in a draw (their third of the season) which proved just enough to pip Old Ivanhoe (by percentage) and a place in Division 2 finals action. A draw won't cut the mustard here, though, so the Friars will need to reverse their 50-point Round 12 loss to the Warriors to progress into the preliminary final next week.
Semi-Final 2: Therry Penola v Williamstown CYMS
Form: WWWWL (TP) v DWWLW (CYs)  |  Head to Head: 1-1
Last time they met: Last meeting in Round 11 in a low-scoring affair at Downer Oval, minor premiers Therry Penola took the chocolates by way of a five-point winning margin. It will be the CY's first match at the Lions' John Pascoe Fawkner Reserve, and the traditional home ground advantage is about all that distinguishes these two evenly matched sides heading in.
Division 3
Semi-Final 1: Hampton Rovers v Oakleigh
Form: WWWWW (HR) v WLLLW (O)  |  Head to Head: 2-0
Last time they met: The last clash at W.A. Scammell Reserve in Round 13 went the Rovers way considerably, as they held the Krushers goal-less while kicking away to 6.5-41. Irrespective of this, momentum is a game-changer in football, and the Oakleigh crew would be absolutely pumped about their finals appearance in Division 3 given they sat 6th approaching Round 14, and managed to defeat Bulleen Templestowe (4th) by two points en route to their final ticket.
Semi-Final 2: UHS-VU v Preston Bullants
Form: WLWWW (UHS) v WWWLW (PB)  |  Head to Head: 1-1
Last time they met: In their most recent meeting in Round 11, UHS-VU utilised their Brens Oval fortress, and the goalkicking prowess of leading Division 3 goalkicker Maddie Hince,  to notch a 28-point win over the Bullants. If you look to their last two rounds, however, the Vultures did fall down to Swinburne in Round 13, while the Bullants put them to the sword the week later by 50 points – so perhaps now's the time for this Preston side to bite!
Division 4
Semi-Final 1: Ajax v Parkdale Vultures
Form: WLWLL (A) v LWWWW (PV)  |  Head to Head: AJAX – 1 + Draw
Last time they met: Ajax had MCC Football Club hot on their heels going in to Round 14, but the Jackettes composure prevailed as they bested a red-hot Parkdale Vultures by seven points at Lindsay Hassett Oval. If they can replicate that performance on Saturday, then a preliminary final appearance will beckon.
Semi-Final 2: Glen Eira/Old McKinnon v Richmond Central
Form: WWLWW (GE/OM) v WLWWW (RC)  |  Head to Head: 1-1
Last time they met: Feeling right at home at Kevin Bartlett Reserve, the Snakes managed to defeat our minor premiers by a solitary goal in their last duel in Round 12. With a not dissimilar run of form heading in to this match, it'll be a real battle of wills at Packer Reserve on Saturday morning.