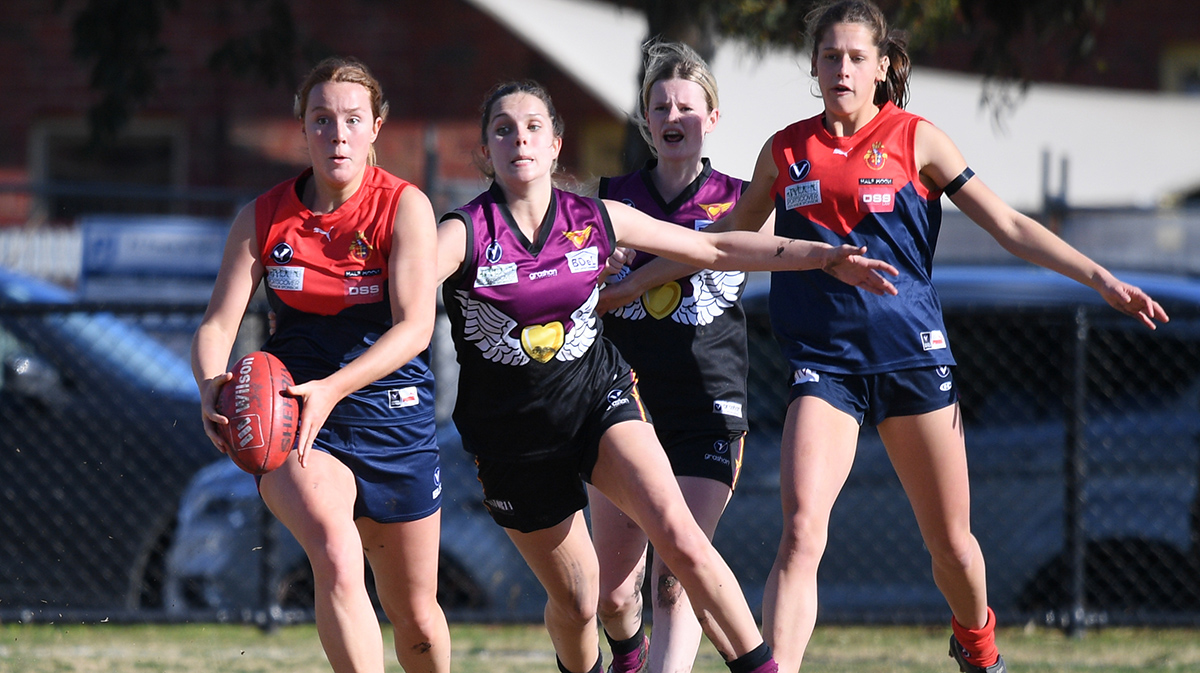 Alisha Min
It's hard to believe the approaching weekend will be the final home & away round for our VAFA Wilson Women's competition for season 2019 – and yet, here we are! With the minor rounds drawing to a close, "Finals Footy" is the word as we look into who the final four sides vying for premiership silverware could be facing following this weekend's results.
William Buck Premier
1st = Old Trinity. Sitting eight points clear of second place, the OT's have secured the minor premiership in William Buck Premier for season 2019.
2nd = SKOB Saints. SKOB will retain their place if they can beat West Brunswick (3rd) in their clash at Righetti Oval this weekend. A loss, and they will swap and move to third.
3rd = West Brunswick. A victory over SKOB will see the Magpies conclude the home & away fixture in an exclusive double-chance position (2nd). Last time they met in Round 4, the Saints had the ascendancy by 18 points.
4th = Marcellin. Regardless of other results, if the Sheagles beat Fitzroy-ACU this weekend they will definitely play finals footy thanks to their four-point buffer over St Mary's Salesian (5th). They could finish as high as third, should the Westies lose. However, if the Roy Girls create an upset here, and St Mary's defeat our ladder-toppers, then Marcellin could be replaced by St Mary's in the top four – but it'll come down to percentage!
Premier B
1st = Monash Blues. It's 1st v 2nd this weekend, with the winner best placed to take out the minor premiership given both sides sit on 40 premiership points. For the defeated, second place is the likely result, however, Caulfield Gramarrians could pull the rug on that neat plan pending their result (and the margin of it) against Collegians.
2nd = Old Xaverians. Only 10.24% distinguishes Xavs from the Blues, highlighting the closeness of these two sides for the majority of the season. A repeat of their Round 6 one-goal win over our current leaders will guarantee Xavs the double chance in their 2019 finals campaign.
3rd = Caulfield Grammarians. Trailing Xavs and Monash only by percentage, a significant victory over the Lions this weekend (who have lost their last 5 games, and let up 249pts in the process) could see them leapfrog our top two sides and nab the minor premiership. Straightening up in front of goals will help the Fields significantly in achieving this (they kicked 7.16-58 against Old Geelong last week, and have kicked 59.88-442 for the year)
4th = Old Camberwell. Sitting eight points below Caulfield and eight points above Collegians (5th), the Wellers are finals bound in Premier B. They will enjoy their scheduled bye round this weekend in the lead up.
Premier C
1st = Yarra Old Grammarians. Like Premier B, the fixture gods have unveiled a 1st v 2nd draw for our final home & away round in the 2019 season for Premier C. Given an eight point buffer separates both teams from Canterbury (3rd), the winner will take-out first and the defeated occupy second.
2nd = Brunswick Renegades. A double chance in their finals conquest is secured in second, but the feisty Renegades will be eying off a win over the Bushrangers to claim the top spot.
3rd = Canterbury. A scoreless Round 13 result will worry the Cobras heading into their Round 14 clash with RMIT University. Having not met before (given RMIT's regrading in Round 4), the Redbacks (6th) are potentially favourites given their three game winning streak. If the Cobras win, third place is theirs. Lose, and South Melbourne Districts get the job done over Old Melburnians, then their lesser percentage will see them shift to fourth.
4th = South Melbourne Districts. Given Mazenod (5th) sit eight premiership points below them, the Swans have secured a finals appearance. A higher ladder position (3rd) is achievable, however, if they (A) beat OMs and (B) the Cobras lose to RMIT.
Division 1
1st = Old Scotch. Irrespective of Round 14's outcomes, Scotch Stars will be the most resounding minor premiers in the entire VAFA Wilson Women's competition given they sit 16 points above Old Brighton in second. Nevertheless, the Stars will want to extend this bragging right with a win over the much-improved La Trobe University.
2nd = Old Brighton. A 28-point loss to Old Haileybury last weekend sees the Tonners sit rather precariously in second on the eve of Round 14. With Sharks' blood on their lips following their 21-point win last weekend, Ivanhoe (5th) are a strong competitor and will look to repeat their 22-point victory from Round 3.
3rd = Beaumaris. Repeat their 18-point victory from Round 4, and the Sharks will either retain third place or slide into second (pending a Brighton loss). Alternatively, a third consecutive loss (Round 12, 13 & 14) will see Beauy fall to fourth – a somewhat surprising result given their 5-0 start to the year.
4th = Old Haileybury. Unlike their 2018 run, where they snuck into the top four in the final round of the season, the Hearts have already locked their spot and are guaranteed a run at Division 1 silverware. Where they make their premiership dash from, however, will be decided by this Saturday's results. If Haileybury defeat the Sharks, third is theirs, however, this can level up to second place should the Tonners also lose.
Division 2
1st = Therry Penola. On paper, no better draw can befall the Lions this weekend as the very top of the ladder squares off with the very bottom, Power House (8th). Win, and the ladder-leading crown is theirs. Lose, and they open themselves up for a CY's pot-shot which will see them slip to second.
2nd = Williamstown CYMS. The double-chance come finals is booked for the CY's, but they can go one better and conclude in first should they overwhelm Whitefriars (5th) this weekend.
3rd = Old Ivanhoe. The easiest way for the Hoers to stay in third is to, quite simply, beat Old Carey (7th). Lose, and its possible for Ivanhoe to miss finals altogether should Westbourne (4th) best Aquinas (6th) and Whitefriars (5th) overcome the CY's.
4th = Westbourne Grammarians. Like their third placed predecessors, a Warriors win over the Bloods will print their ticket to Division 2 finals action. They could shimmy into third, should they succeed here and Old Ivanhoe fail. Alternatively, they could also flop into fifth if they can't beat Aquinas while the Friars take out Williamstown.
Division 3
1st = UHS-VU. Walking out of a shock loss to eighth placed Swinburne University in Round 13, the Vultures will be revved and ready to best Prahran Assumption (5th) and subsequently retain first place. A loss, and Preston Bullants (2nd) beating Swinburne, will see them drop to second.
2nd = Preston Bullants. Entering the Round 14 having won four of their last five encounters, falling short to only UHS in Round 11 – the Bullants have every right to feel confident about their odds come finals. A win over Swinburne this weekend, and UHS losing to the Two Blues, will see this Preston mob home and hosed in 1st.
3rd = Hampton Rovers. The Rovers will remain in third, even if they lose to Emmaus St Leo's (7th) this weekend, as they sit 16 premiership points above fourth, and eight premiership points below second.
4th = Bulleen Templestowe. The Bullants currently occupy fourth, but Prahran Assumption (5th, 82.79%) and Oakleigh (6th, 67.41%) only trail by percentage – and two of these sides are playing this weekend! Bulleen will host Oakleigh, but the Krushers come in with an undesirable three game losing streak, while Prahran will need to upset a redemption focussed UHS-VU to make it.
Division 4
1st = Glen Eira/Old McKinnon. Results from Round 14 won't affect the Gryphons standing atop the table, which is just as well considering they play a fired-up De La Salle (6th), who come-off a six-point scalp over Ajax (4th).
2nd = Richmond Central. Six premiership points above them (Glen Eira – 1st) and six premiership points below them (Parkdale – 3rd) means second spot is the Snakes final resting place for the home & away season for 2019. Welcome to your first ever finals berth, Richmond Central!
3rd = Parkdale Vultures. The Vultures could switch places with Ajax (4th) given the two face-off this weekend. Should results unfold as they did previously in Round 6 (a draw), Parkdale's additional premiership points will see them cement third place.
4th = Ajax. Fourth place isn't a certainty for the Jackas at this point in time. The storming MCC Football Club (5th) could steal this final finals position, should the Jackas fail to beat Parkdale while the MCC simultaneously beat Albert Park (8th). If Ajax strongarm Parkdale, the Vultures will shift down to fourth and the Jackas third (same points, superior percentage).