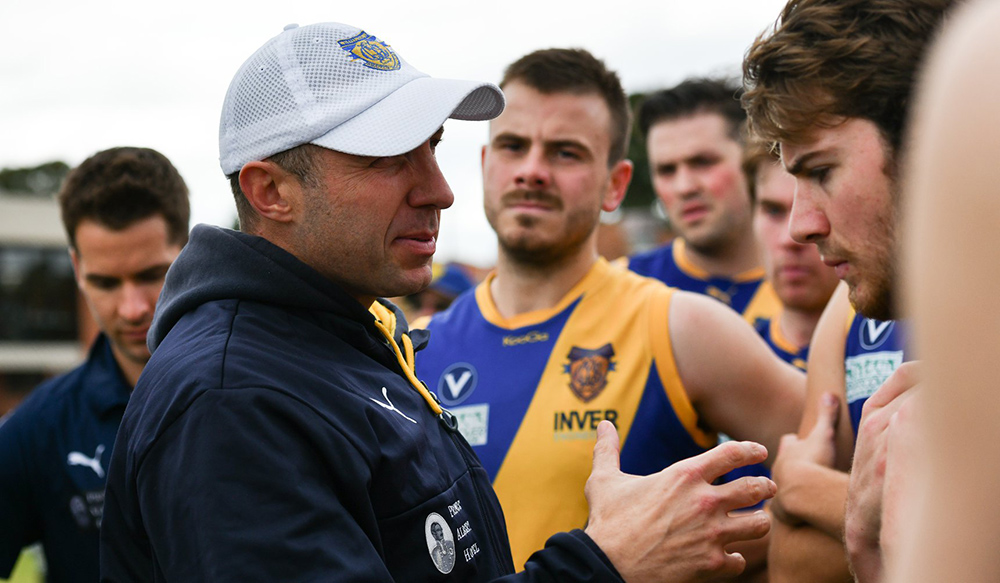 Five VAFA coaches were rewarded for their outstanding performances in 2019 after they were crowned Coaches of the Year at last night's VAFA Awards Night.
Mathew Montebello (CYs), Michael Wines (YOGs), Ash Naulty (Aquinas), Gareth Henderson (Therry Penola) and Mark Gnatt (Old Scotch) were each recognised for successful seasons at the helm of their respective clubs at a special event held at Elsternwick Park.
Montebello, who was named the Premier Men's Coach of the Year, guided his team to the Premier C premiership and into Premier B for the first time in club history.
After commencing his career at the Fearon as U18's coach and as the club's Coaching Director whereby he oversaw the development of a coaching manual for the club's juniors from U16's to U19's, Montebello just ticked off his sixth year as senior coach.
Former Yarra Old Grammarians President, club captain and premiership player, Michael Wines, was named the Premier Women's Coach of the Year.
After playing in Division 3 in 2018 and struggling for numbers over the off-season, Yarra's women's side went on a recruiting drive and walked from the MCG to Doncaster Reserve to raise awareness, culminating in two teams in Premier C and ultimately their section's senior flag under Wines' leadership.
After winning their second flag in three seasons, Aquinas' Ash Naulty received the Divisions Men Coach of the Year Award. Naulty has raised the standards significantly since joining the Bloods in 2017, but it was his leadership and guidance after the loss of young player, Tyson Noyes, that stood out above all others.
In just his first year of coaching the women's team, Therry Penola's Gareth Henderson was named the Divisions Women's Coach of the Year. Henderson's passion for developing younger players paid dividends this season as the Lions claimed the minor premiership before defeating Williamstown CYMS twice in finals en route to the Division 2 flag.
Earlier in the night, Old Scotch's Mark Gnatt was awarded the Holmesglen U19's Coach of the Year after he led their Premier side to the ultimate success after finishing fourth on the ladder at the end of the home and away fixture. It was the first U19 Premier grand final win for Scotch since 1952.
Aquinas trainer, Jacob Mumford, was named the Victor Sports trainer of the Year, while Old Xaverians received the Winning Edge Club Championship Award on 213 points – the highest recorded number since the award was introduced and the club's third since 2012.
Award Winners:
Premier Men's Coach of the Year: Mathew Montebello (Williamstown CYMS)
Premier Women's Coach of the Year: Michael Wines (Yarra Old Grammarians)
Divisions Men's Coach of the Year: Ash Naulty (Aquinas OCFC)
Divisions Women's Coach of the Year: Gareth Henderson (Therry Penola)
Holmesglen U19's Coach of the Year: Mark Gnatt (Old Scotch)
Victor Sports Trainer of the Year: Jacob Mumford (Aquinas OCFC)
Winning Edge Club Championship: Old Xaverians (213 points)