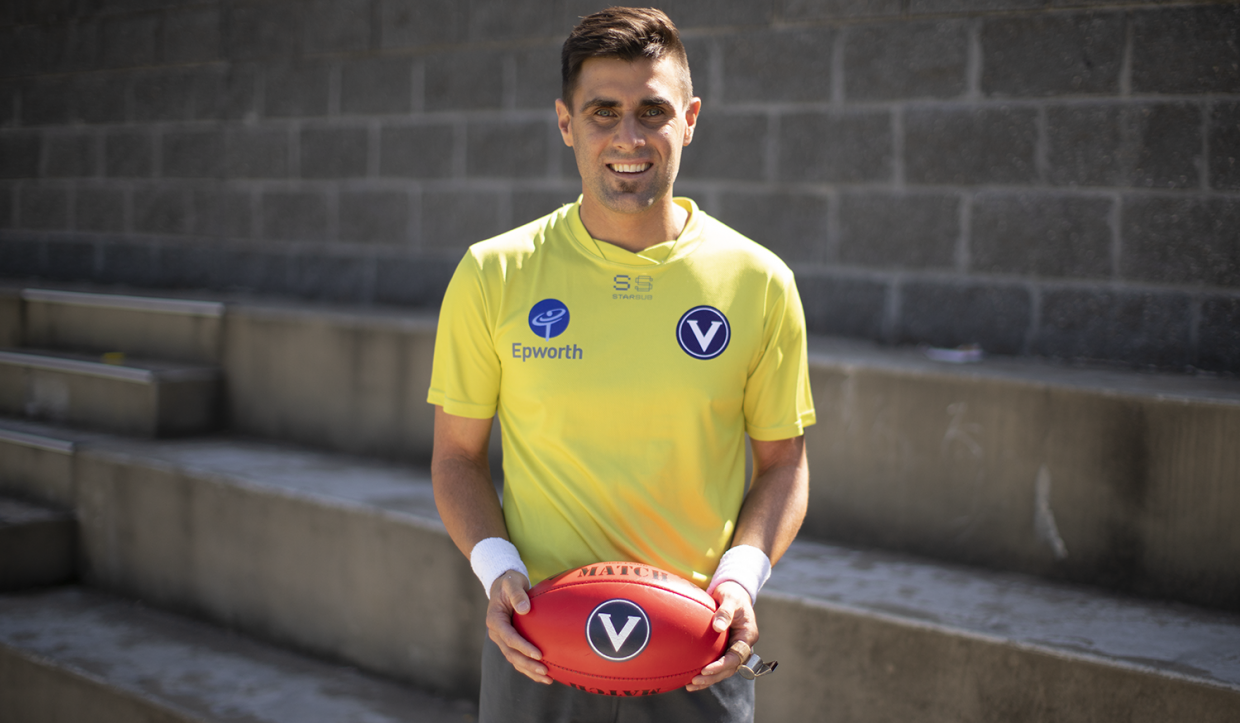 Haydn O'Connor
This weekend the VAFA will embark on a historic "four from four" mission after defeating the Adelaide Footy League in June in both the men's and women's senior games. The attention now shifts to the B-D4 Big V side taking on the WAAFL on Saturday at Trevor Barker Oval and the U19 side travelling to Ballarat to take on the AFL Vic Country at MARS Stadium on Sunday.
It's also been a big year to date for the VAFA Umpires, who have been involved in a revamped representative program for 2018 and beyond. After taking six officials to Adelaide and having access to an AFL experience, a further 11 umpires will be presented on Thursday at the Big V Dinner as part of this program.
Headlining these selections is Gavin De Kretser, whose story from club umpire to Big V representative highlights the very best of the VAFA competition & the VAFA umpiring community. Gav is now the Fitness Co-ordinator and a prominent figure with the VAFAUA ranks and bases his training around three key pillars; "fun, purposeful & engaging", all words which encapsulate that of the former "clubbie".
Starting a playing career with Mill Park in the old Diamond Valley Football League and growing up at the Old Ivanhoe Football Club through the late 80's, Gavin then put his hand up as a 15-year-old in 1998 to become a Club Umpire.
"From that point on Brian "Benny" Goodman was constantly working to get me to take umpiring up seriously," De Kretser said.
"It took him until the end of 2014 but eventually I said yes."
It is fitting that someone with such an extensive history within the VAFA club land initially, and subsequently the VAFA umpires, has been rewarded with his first Big V appointment after making the trek to Elsternwick Park in 2015.
When speaking about the Big V, Gavin's passion for the competition one of its highest honours is clear.
"From a club's point of view, the VAFA provides opportunities that no other competition can and the Big V is a large part of that," he said.
"Clubs across the board are proud of the players they have who have worn the jumper. I grew up in and around the VAFA, so in my childhood and youthful teenage years, my football heroes all played (in the Big V), so to now be a small part of that is nice."
"From a broader umpiring perspective, it's the same as players in a way, umpiring in the VAFA gives you opportunities you will not receive in any other umpiring body in Victorian football."
Gavin will be joined by Marcus Middleton on the weekend, and follows Matthew Oakley who was selected for the Adelaide Footy League clash. To join the company of the likes of Brian Goodman, Mark Gibson, Wayne Hinton, and of more recent years the likes of Oakley, Merv Monty & Daniel Silfo is not lost on De Kretser.
"It's huge. In the past few years I've watched some of our best-ever umpires take part in these games, so I just hope on Saturday we can do a good job and maintain the high standard that those before me have set."
As for the Big V Umpires Program, Gav believes the new opportunities afforded our officials are fantastic initiatives.
"It is great tool for both recruitment and also retention of umpires as being made to feel a part of the bigger picture of football is a great way to build a strong community," he said.
De Krester is a great advocate of VAFA umpiring, having experienced things from both sides of the fence, and speaks with immense pride of the culture within the VAFAUA & VAFA umpires, starting in 2015 in the senior squad.
"I had this vision that umpiring was a role with no friends and it being very individual. But I soon found that umpiring is just like being in a footy club except the age demographic is far wider, I began to develop close friendships and a sense of 'home'."
It is the professionalism of the VAFA that has kept Gav so involved in this environment.
"While umpiring does not have the club mentality of everyone aiming and working to win a flag, for example. I do find the umpiring community at the VAFA a very driven place that works hard to be a strong umpiring body and we each push each other to have high standards."
As for the rest of the season, "I just aim to keep looking after my body week in, week out and each week umpire the game in a relaxed, calm and professional manner. Hopefully my performances at seasons end stack up and I'm in a position to feature in September".
With Gavin's approach, we are sure that this is more likely than not.
VAFA (B-D4) v WAAFL
Field – Gavin De Kretser, Marcus Middleton
Boundary – Dan Nguyen, Eric Dickson, Henry Bennett, Matthew Gough
Goal – Alex Wolf, Eddie Boal
VAFA U19 v AFL VIC COUNTRY U19
Field – Tom O'Connor
Boundary – Luke Myatt, Pranav Kalra
Goal – Joel Bright