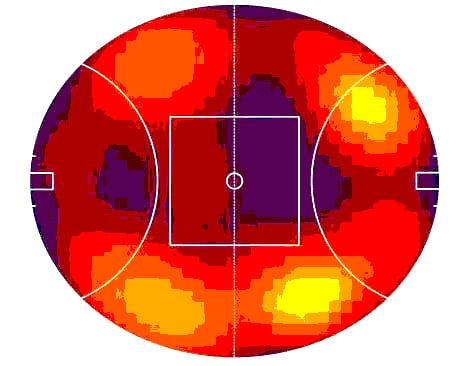 William Strange
Last week we took an in depth look at Big V representative, Jack Bull's GPS data from Round 1.
This week the subject of our GPS Player Analyser is De La Salle utility, Tom Humphrey.
Tom and Jack are very different players and both are elite in their own right. The 2014 De La Salle, Best and Fairest is one of the leading utilities in the competition. His ability to play a deep defensive roll, whilst also having the athletic ability to chase around the fittest CHF in the game is vital to having a versatile setup at De La Salle.
Round 1 saw Tom thrown forward against University Blues, but he settled back in his normal position in the defensive end against Old Scotch in Round 2.
Tom's build and football likeness would be Michael Hurley from Essendon. The raging bull crossed between the modern day footballer. Tom plays body on body and also tries to set up the play out of the De La Salle backline.
GPS data from Tom's performance has revealed that he is an excellent athlete as well. Tom managed to run 14.7km with 285m of that in the red zone (High Intensity Running) these stats are compared to Jack are below. We noticed that Tom did run a very similar distance, but Tom's game this week saw a 39-minute 3rd quarter with close to 20 scoring shots in that term alone. Tom's game time also was close to 20% longer than Jack's in Round 1.

In saying this, Tom recorded a higher top speed of 30.71km/h and had more sprint efforts (individual efforts over 16km/h) 111 as apposed to 106.
As a utility, the ball can often be found down the wrong end, and moving around at a slow pace to get the right position can get your distance up whilst your intensity remains low. Tom has been recorded walking a fair bit more than Jack (1km to be exact) and this can be attributed to the fact that Jack remains in the midfield most the time.
For Tom's build, he is an exceptional athlete. With a distance that is no walk in the park and speeds that must be respected, Tom's ability to get to the contest and effect the contest with his large frame allows him to be a formidable player in the De La Salle tilt for the 2015 season.
Both Jack and Tom reached very similar distances, but looking into their data suggests that they are playing very different roles. Tom found himself walking or running the majority of the time, where Jack kept his pace more consistent. Jack had the ability to sustain his high intensity running further whilst Tom was forced to hit higher top speeds and more often.
Tom Humphrey (Table 1.01)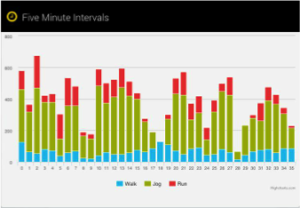 Jack Bull (Table 1.02)
In Table 1.01, which is Tom's 5-minute breakup, you can see that his consistency of effort is excellent in the first and second quarters. After halftime, Tom drops off. In Table 1.02, Jack is actually quite the opposite. Jack's ability to run his opponent off their legs, see's him break games open in the final quarter, where Tom's physical output peaks in the first half.