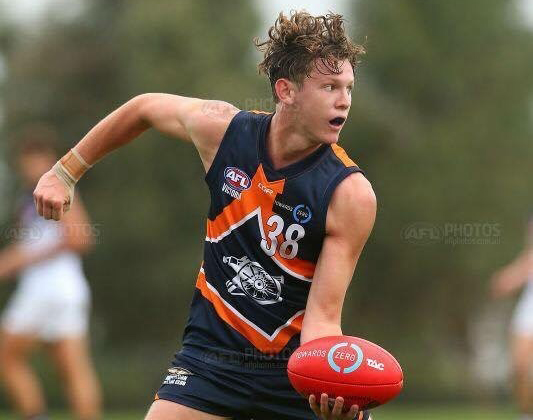 The VAFA congratulates Harrison Rocke of St Bernard's who has been named the Round 2 Grill'd Rising Star after kicking a goal and playing a leading hand in his side's Round 2 victory against Parkdale Vultures.
What the Club said:
"Harri Rocke started playing for St. Bernard's in the under 16's in 2013. His first year at the club was fantastic and he was able to develop his strength to win his own ball and to run and carry. His first under 16 coach, Paul Johns, gave him a lot of opportunity which resulted in him winning, as a bottom age player, the best and fairest.
Harri's first year in the VAFA was 2015 in the Under 19 Premier and despite only a playing couple of games he learnt a lot about his footy under the coach Rocky Innaello. He loved playing at the "pit" with his mates when he could but was also a member of Calder Cannons TAC squad. After breaking into the Cannons team he became a permanent at TAC Cup level until he dislocated a hip in a school footy match that again ended in major hip surgery to the other leg.
After another long rehabilitation, 2016 started much better for him and he was made a member of the leadership squad at Calder Cannons. He played the first 8 or 9 games of the season in the TAC before testing his ability at Coburg in the VFL. Then during the TAC break, Harri returned to St. Bernard's and was excited to be named for his first senior game under coach Mark Riley.  It was against Carey and unfortunately despite finding plenty of the ball, in the third quarter he suffered a dislocated shoulder that required, once again, season ending surgery.
So far this year Harri has stayed healthy and is really enjoying his footy. He shares his football time training between Footscray in the VFL and St. Bernard's and has made getting his body as strong as possible a priority. He loves the way Joel Selwood plays and is working as hard as possible to improve his consistency.
His ability to win clearances, bring his teammates into the game and his attack on the ball are his strengths.
Harri is best known at St Bernard's for being a great team player, showing encouragement, working hard and respecting the older people around the club. "Lucky" is definitely not his nickname!  All at the club would just love to see how much improvement he could show with a couple of injury free seasons.
He is very grateful to have so many role models at Bernard's to learn from and loves playing under all the current coaches. He wants to be a part of the group that puts Bernard's back into the top division."
St Bernard's Football Club