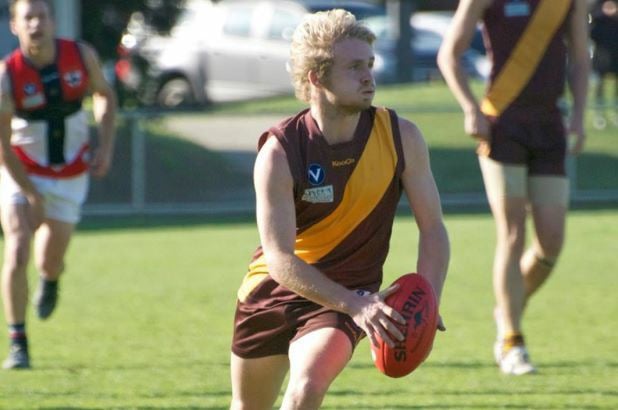 Kew half-forward, Liam Kinsella, and Parkdale Vultures onballer, Charlie Dillon, staved off a number of opposition players to take home the Premier C and Premier B section best and fairest awards last night.
Commencing the counting component of the night on 96.5 Inner FM with the Premier C Zachariah Medal, Kinsella jumped ahead with 10 votes in the first six rounds, including three best-on-ground three-vote performances.
Two-time VAFA medallist, Simon Keleher (Ormond), and Mazenod's Liam Welsford stuck with Kinsella and trailed by just two votes at the half way mark, but a number of minor votes helped Kinsella maintain an arm's length until he was officially crowned the winner in Round 17 on 21 votes.
Strong finishes for Caulfield star, William Barker, and Old Camberwell gun, Ben Hart, gave them podium spots on 20 and 18 votes, respectively.
Despite a slow start of which he didn't feature in the top 14 after six rounds, Parkdale's Dillon polled eight votes from Round 7-9 to take the lead on 11 at the half way mark. Fitzroy star forward, Daniel Bisetto, maintained a tight tag on Dillon for the majority of the count and was joined by teammate and 2015 Moore Medallist Rory Angiolella after he fired on the back of a return from injury.
Due to the low-polling nature of the count, it came right down to the wire, with Dillon (16) holding on from a fast-finishing Harry Hill of Old Brighton (15) and the Fitzroy pair on 14 each.
Hill posted 12 votes in the last five rounds as his formed mirrored the winning ways of the Tonners in the back half of the season.
Earlier in the night, six players were announced as the Holmesglen Under 19 winners from Premier to Section 5.
Holmesglen Under 19 Premier: Michael Di Natale (SKOB)
Holmesglen Under 19 Premier Reserve: Jack Rennex (Old Xaverians)
Holmesglen Under 19 (2): James Salouris (Parkdale Vultures)
Holmesglen Under 19 (3): Scott Ebbott (Hampton Rovers)
Holmesglen Under 19 (4): Jack Munro (Old Haileybury)
Holmesglen Under 19 (5): Isaac Romano (Parkside)