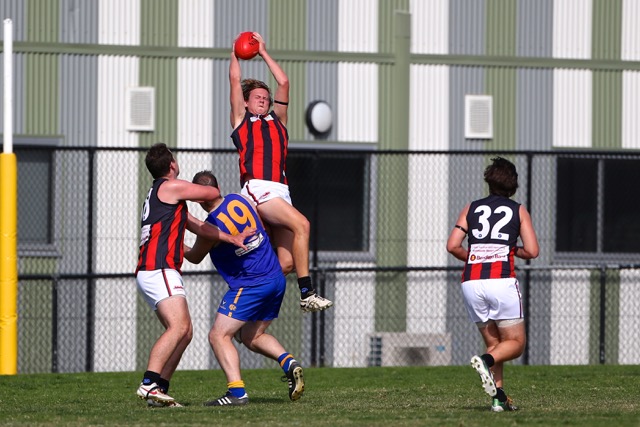 By Gavin Southern
After a week off, I must give a big THANK-YOU to William Balme who stepped in for me whilst I was away. Last Saturday, was a cold and windy day that had threatened rain but, didn't deter most sides with some high scoring affairs. The Animals handed Swinny their 3rd loss in a row. The Hawks held off a fast-finishing Sharks. Power House were valiant. La Trobe fought hard for an overdue win.
Emmaus St. Leo's defeated Swinburne Uni.
Emmaus St. Leo's was at it again at Bennettswood as they took on Swinburne Uni. The Animals played a consistent game all day kicking 6 goals in 1st, 3rd and 4th quarters and 7 in the 2nd. The Razorbacks were competitive in the 1st quarter despite kicking into a stiff breeze. By the 2nd quarter, the consistency of the Animals, who were led by a return to form of Ryan Harding. Harding dominated the forward line kicking 13 goals, capitalising on good delivery into the forward line. Swinburne tried hard all day but couldn't crack the determined Animals until the game was well and done in the last whereupon the Razorbacks outscored the top team 43-40. Damon Green was best for Swinny, booting 4 goals. Absent Razorback Captain, Kane Fitzpatrick hopes their 4th quarter efforts will take some momentum into this week's must-win match against Hawthorn.
La Trobe Uni defeated Albert Park
Albert Park Falcons headed off to Bundoora and La Trobe. I've said it for a while but, La Trobe are better than what the ladder states. Kudos to "Balmey" for his tip. La Trobe had fully utilised their 2 weeks off, by coming out strong with a modest 8 pt lead after the 1st quarter. La Trobe came out with an even stronger performance in the 2nd, extending that lead to 28 going into the main break. After kicking 6 straight up until half-time, the Falcons squandered many opportunities kicking a haunting 4-6 in the 3rd quarter which, in many ways, decided the game. La Trobe stemmed the tide and managed to get up for their 2nd win of the season by 2 goals. BOG for La Trobe was Ryan McMinn, who seemed to deter every Falcon forward 50 entry and Shaun Field did it at the other end booting 6 goals. For the Falcons, Tyson Cattle snagged 3 goals and Adrian Snowden had another best-on match. This now sees the Falcons 2 games out from 6th.
West Brunswick defeated Power House
I was pleased to see Power House get up 2 weeks ago. With relegation a possibility, they too are trying to get it going. This week West Brunswick, of all teams, certainly felt their desperation. By 15 minutes into the 1st, both teams only had a goal each to their names. The Magpies quickly jumped into gear late with 4 goals. Come the 2nd, Power House were able slow the game down and threw everything they had at the Magpies in the 3rd however they would have been unhappy that the Magpies kicked a couple late to maintain the 4 goal buffer. During this 2nd/3rd quarter stretch, Power House outscored, the Magpies by 2 pts which shows they are more than capable than what the ladder suggests. Although no win, Power House would be pleased with their defensive effort. Steve Devine was best for Power House. Dylan Muscat again led all scorers with 5 majors and Christian Borovac was BOG.
Hawthorn defeated Eley Park
Eley Park headed out to Rathmines Rd and the Hawks. With a solid wind, Hawthorn jumped to a 3 goal lead in the 1st quarter. Come the 2nd, the Sharks started to hit their straps through ruckman, Patrick McMahon, who also spent time at CHB. Despite 6 lead changes, the Hawks were able to hold them off by 9 pts at the half. Hawthorn slowly edged away from the Sharks from then on despite the Sharks increasing their output each quarter. The Hawks win was set up in the third quarter when Jesse Kenneally (BOG) and Dean Monohan took control of the midfield. Dave Kennedy also played well across the middle. Eley Park finished off strongly with the breeze in the last quarter getting as close as 11 points before the Hawks back line again wrestled control and kicked away. Noel "Burner" Bahnsen again providing a solid target up forward for the Sharks with 4. The Hawks had 10 goal scorers led by Kade Pargeter with 4 as well.
PREVIEW
We are up to Round 12 and things are really hotting up. We are certainly getting to the business end of the season as teams are pushing for finals and pulling against relegation. Although no teams were relegated last year, it will definitely happen this year. From this point, it's a 4 horse race. Eley Park, Power House and La Trobe, each on 2 wins. Albert Park with 3 wins and the Animals this week. 4-5 wins will keep you safe.
Aquinas (3rd) host Glen Eira (6th). Glen Eira are not getting vertigo this high up on the ladder but, BOTH teams are coming off byes so, the punters should be sticking with Aquinas at home. Albert Park (8th) host Emmaus St. Leo's (1st). The Falcons to drop another and join the bottom 3.
I would have the say Hawthorn (5th) hosting Swinburne Uni (7th) makes the match of the round JUST. Despite Swinny struggling, a win can see them jump 2 spots. But, it will be a win for the Hawks to keep them in touch with the top 4. Power House (10th) host La Trobe Uni (9th). I don't need to say what's at stake. I've flipped a coin.
Lastly, Eley Park (9th) host UHS-VU (4th). It was 4pts at Brens Oval last time. The Sharks can do it but, form suggests they will fall short again. West Brunswick (11th) have the bye and then head out to La Trobe.
Aquinas Vs. Glen Eira
Albert Park Vs. Emmaus St. Leo's
Hawthorn Vs. Swinburne Uni
Power House Vs. La Trobe Uni 
Eley Park Vs. Uhs- Vu