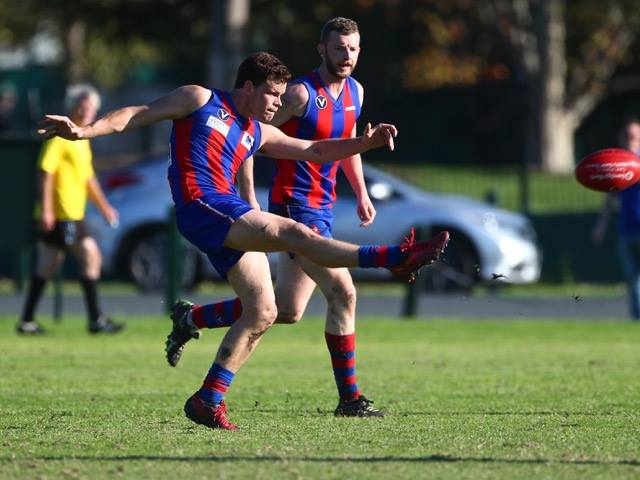 By Ren Thompson – Division 3 Scribe
As the temperature drops, the battle for the finals is starting to heat up as we move into the second half of the season. The Vultures and the Swans have begun to stake their early claim for finals football as both recorded convincing victories against mid-table competitors. La Trobe continue their stellar form recording their seventh straight victory, while the top two Hawthorn and Glen Eira both cruised to crushing wins. At the other end of the ladder, Parkside are starting to make some noise winning their second straight game as they attempt to lift themselves out of the cellar of Division 3. Lets check out the games…
Hawthorn AFC def. Aquinas OC
Hawthorn rebounded in Round 11 by dominating Aquinas by 114 points, 126-12. After suffering their first defeat of the season last week, the Hawks took out their frustration against Aquinas holding them goalless through the first three quarters while they piled on 12 goals themselves. The supremacy concluded with a six goal final term to complete the destruction. Paul Nunan was the best for the Hawks while Ross McDermott was a star upfront booting three goals.  Russell Foster tried all day and Brendan Burke booted the lone goal for the Bloods in what was a tough day for the club, they will hope to end this horror run of games where they have lost six straight next week against the Cobras.
UHS-VU AFC def. Albert Park AFC
The Vultures used a great defensive effort where there they held the Falcons to only five goals as they were too strong running out 30-point winners, 67-37, at Brens Oval. UHS-VU had great contributions from Nick Devereux, Cheyne Kelly and Ben Ryan who all chipped in with two goals apiece but it was Jack Saill who was the Vultures best. James Brick tried to keep Albert Park in the game busting his guts throughout the game but it wasn't enough to keep the Falcons in the contest. UHS-VU has now won two straight matches and will look to make it three on the trot against Parkside next week.
La Trobe University AFC def. Power House AFC
La Trobe continue their impressive run of form crushing Power House by 89 points, 142-53, and extending their current winning streak to seven games in the process. La Trobe once again relied on their stifling defence to hold Power House to only 53 points, including only allowing a single behind in the final term, while they booted 22 goals to show that they have the scoring firepower needed to contend with the top two teams. La Trobe's division leading defence has held opposing teams to an incredible average of 46 points per game during their winning streak, an impressive statistic as they have clearly emerged as the third best team in the division.
South Melbourne Districts def. Canterbury Football Club
It was a first half thrashing that South Melbourne used to defeat Canterbury by 47 points, 104-57, at Lindsay Hassett Oval. A 12-goal barrage from the Swans in the first half resulted in a 38-point lead heading into the main break and South Melbourne didn't let up in the final half to record their sixth win of the season. Max Mitchell-Russell was the goal kicking star of the day recording six majors while Elliot Costello was the Swans man of the match. The Swans have a chance to cement their position in the top four over the next few weeks with match-ups against Albert Park and Aquinas that should be wins if they can keep playing with this superb form.
Glen Eira AFC def. Swinburne University AFC
Another week and another win for the imposing Saints who defeated Swinburne by 47 points, 103-56, extending their unbeaten run to an amazing 11 games. However it wasn't an easy walk in the park, or in this case Packer Reserve, for Glen Eira who needed a five goal third quarter to finally build a substantial lead and put away the pesky Razorbacks once and for all. Julius Waras Carstensen booted four goals in the victory, taking his season total to 36 and within striking distance of the lead in the goal-kicking race. Thomas Kennedy was great for Swinburne kicking four goals himself, while Kane Fitzpatrick was the Razorbacks best. Glen Eira will look to continue this impressive undefeated run against Power House next week.
Parkside Football Club def. Elsternwick AFC
In the game of the round, Parkside used a final quarter scoring flurry to overcome a three-quarter time deficit to run out 16-point winners against Elsternwick, 113-97, at Pitcher Park. The Red Devils kicked six goals in the fourth quarter to finally break free from the Wickers constant pressure and win their second straight game of the season. Thomas McKinlay was the best on ground for Parkside as he booted an amazing six goals to lead his side to victory. Scott Grace was valiant in defeat booting four goals for Elsternwick who missed goal-kicking leader Justin Hunter in the loss. Could it be a case of history repeating as Parkside discovered winning form in the second half of last season to earn them promotion into Division 3, this year the rediscovered form could lift them from the bottom of the ladder, we shall wait and see.
PREVIEW
South Melbourne, Albert Park, Canterbury and UHS-VU are emerging as the battle pack attempting to keep pace with the leading three teams. Parkside might cause the upset of the round as they host the Vultures at Pitcher Park. Glen Eira, Hawthorn and La Trobe should all win comfortably, while Canterbury may receive a percentage boost as they host the wayward Bloods.
TIPS
Canterbury Football Club vs Aquinas OC
Elsternwick AFC vs La Trobe University AFC
Albert Park AFC vs South Melbourne Districts
Parkside Football Club vs UHS-VU AFC
Power House AFC vs Glen Eira AFC
Swinburne University vs Hawthorn AFC