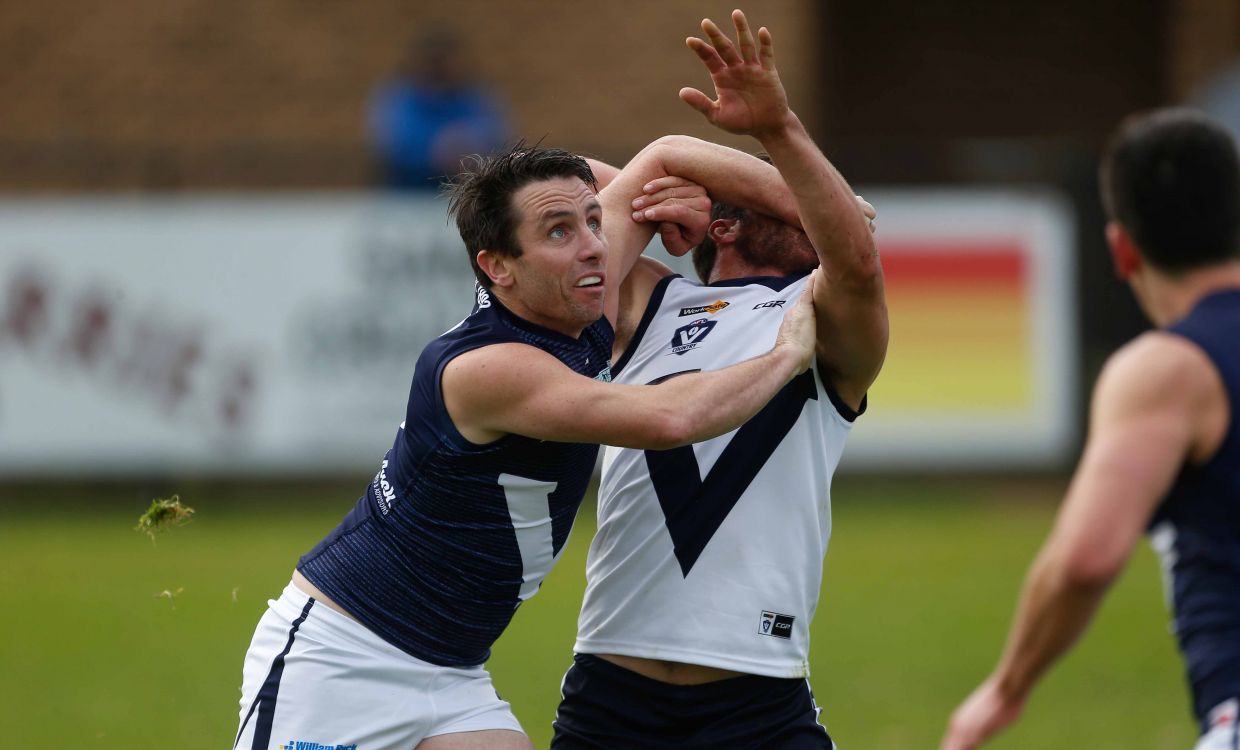 The Big V senior side registered their first win over AFL Victoria Country since 2013 as they comprehensively defeated their rivals by 82 points at Frankston Oval in 2017.
With 12 players making their senior debut, the Big V went head-to-head with the Country in the first term, with Jason Tutt (De La Salle) repelling several forward thrusts from half back with skill and poise.
The VAFA trailed by eight points at quarter time but exploded in the second with nine unanswered goals.
Nick De Steiger (Old Melburnians) and best-on-ground award recipient Anthony Lynch (St Kevin's) were instrumental in the Big V's second term dominance, giving Tom Paule (Old Melburnians) and Viv Michie (Collegians) first use from every ruck contest. Al Armstrong (Old Melburnians) starred as he finished off the great work from the Big V midfield and he headed into the main break with five goals.
The Country regained momentum in the third term and reduced the margin to just 26 points at the final break, before the Big V finished with a bang, kicking 10 goals to one in the final term.
Jack Bull (Old Scotch), Sam Hibbins (Collegians) and Brendan Iezzi (Old Trinity) excelled across the four quarters, with Iezzi entering the centre ruck contest alongside Paule in the second term and playing a leading role in the Big V's goal blitz.
Thomas Jok's (St Kevin's) second half was the best of any player on the ground and he was deservedly rewarded with the Spirit of the Big V. Armstrong finished the day with seven goals and was named the VAFA's best player, alongside three-goal hauls from Hibbins, Sam Critchley (St Kevin's) and Stephen Milne (Beaumaris).
Josh Freezer (Old Melburnians) and Bill Coates (St Kevin's) led a dominant back six for the Big V, with Sam Crocker (Old Carey) and Sam Williams (De La Salle) providing outstanding run and carry alongside Tutt.
82 points is the VAFA's largest win in the 33-year history against the Country, eclipsing our 60-point win at Elsternwick Park in 2001.
Best: Lynch, Freezer, Paule, Michie, Armstrong, Tutt
Goals: Armstrong 7, Milne 3, Critchley 3, Hibbins 3, Burbury 2, Cassidy 2, Jok 2, Humphrey 1, Paule 1
Spirit of the Big V: Thomas Jok (St Kevin's OB)
Best VAFA Player: Al Armstrong (Old Melburnians)
Best on Ground: Anthony Lynch (St Kevin's OB)