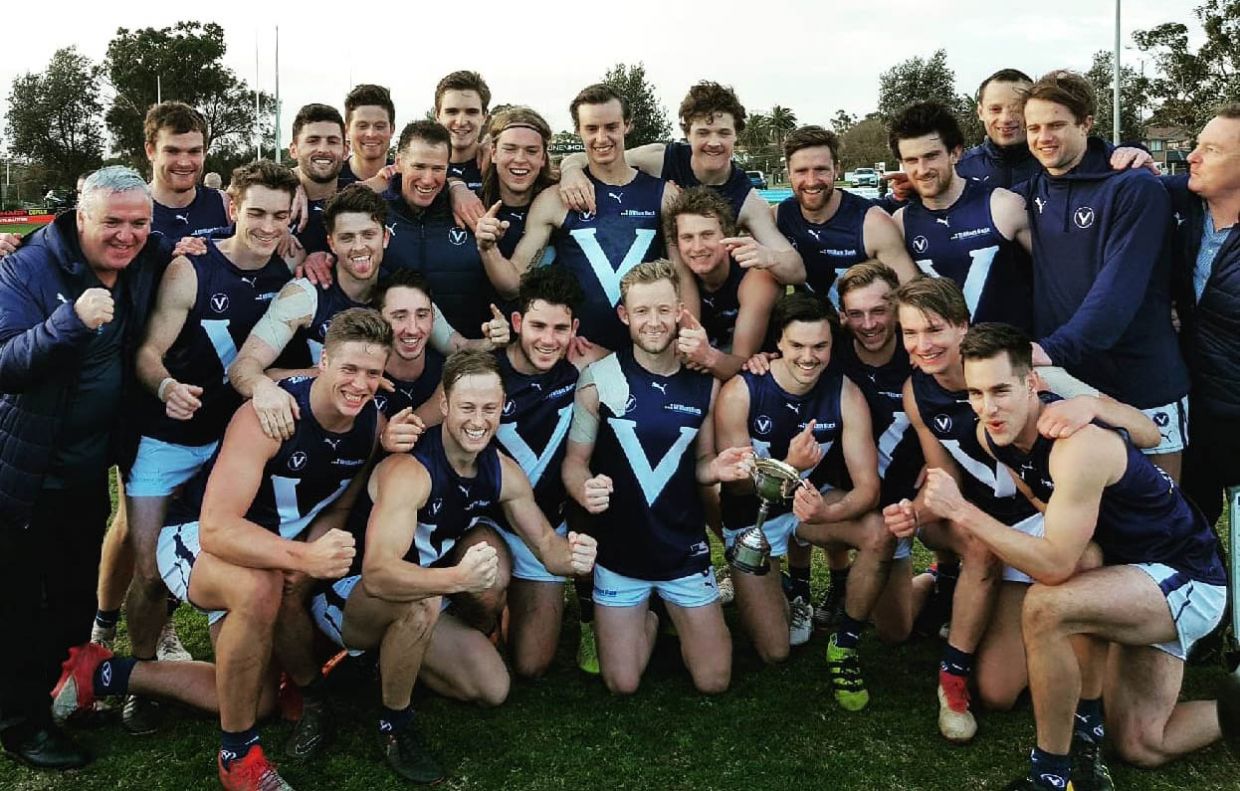 The Premier B – Division 4 Big V side proved too strong for the Western Australian Amateur Football League U23's (now Perth FL) when they last met in July 2018, coming from behind and running out 16-point winners at Trevor Barker Oval.
After an even first term with just three points separating the two sides, the WAAFL gained the ascendancy in the second term thanks to a dominant midfield-ruck combination of Cameron Yukich and Matthew Ah Siu, before a late Sam Glenn goal (Peninsula OB) brought the margin to just seven points at the main break.Charlie Dillon (Parkdale Vultures) was exceptional in a standout opening half but failed to see out the game after a head knock early in the third.
The WAAFL kicked the opening goal of the third term to stretch the lead to double digits once again before a Tim Nixon-inspired comeback ensued with two VAFA goals, leaving the teams 42 apiece heading into the final term. A further three goals in the fourth solidified the comeback win for the Big V, with their defence consistently repelling WAAFL forward thrusts led by Andrew Kay (Marcellin), Max Ellis (Fitzroy), Ryan Jeffrey (Old Paradians), Blair Atkins (Ormond) and Jake Mennuni (Therry Penola).
Nick Reeves-Smyth (Old Ivanhoe) was outstanding with two goals while James Paul (Old Haileybury) and Christian Carnovale (Hampton Rovers) lifted in a sensational second half. Kane Nissenbaum (Ajax) was sent to Ah Siu after half time and received the Spirit of the Big V Award for his effort, while Philip Dyck (Aquinas) used his athleticism to quell the ruck dominance of Yukich. Joel Cusack (Beaumaris) provided a target up forward and was named the WAAFL's Best VAFA Player for his performance. Brad Jordan (MHSOB) gave an impressive four-quarter performance.
The combined side entered on a seven-game losing streak dating back to 2006.
BEST: Nixon, Paul, Nissenbaum, Dyck, Kay, Carnovale, Cusack
GOALS: Reeves-Smyth 2, Nixon, Glenn, Riley, Petering, Dillon, Dolan, Cusack
Spirit of the Big V: Kane Nissenbaum (Ajax)
Best VAFA Player: Tim Nixon (Caulfield Grammarians)
WAAFL Best VAFA Player: Joel Cusack (Beaumaris)