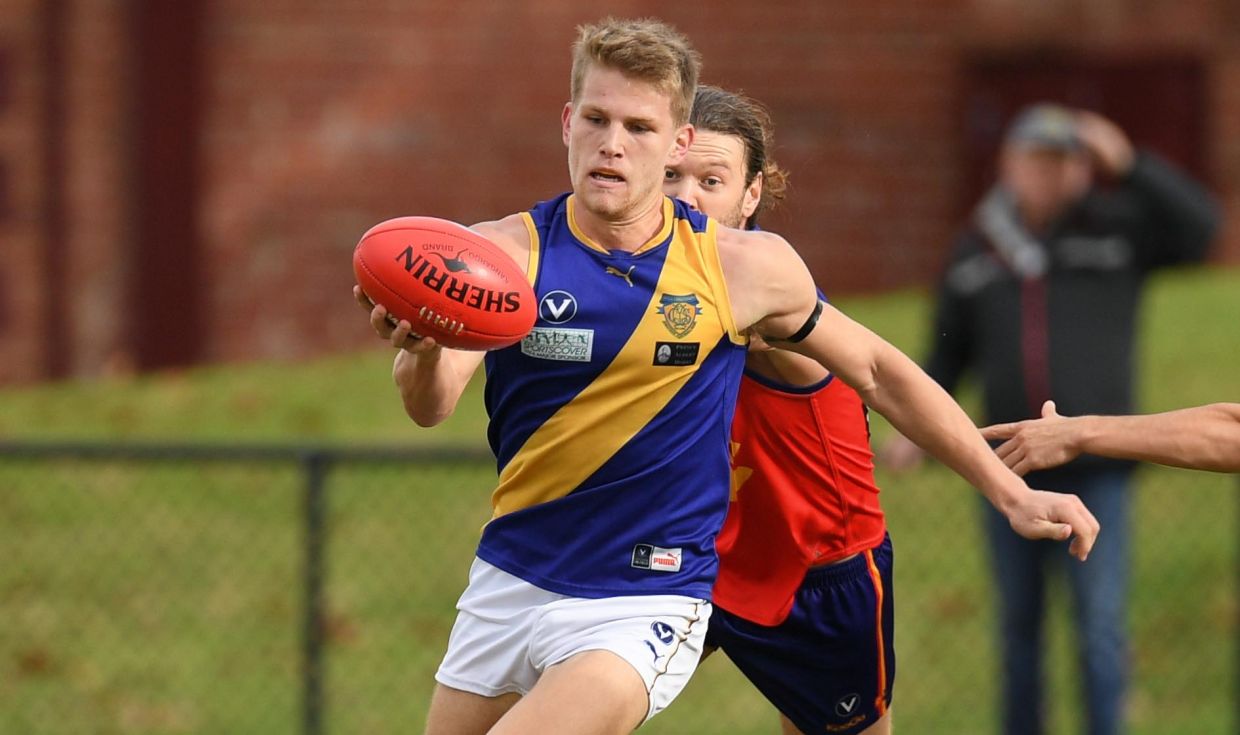 Fitzroy extended their winning streak to seven with a 73-point victory over Old Ivanhoe at Brunswick St Oval. The Roys kicked eight unanswered goals in the opening half with their defence holding strong and keeping the Hoers goalless. A further 10 goals to six in the third and fourth terms cemented the Roys' 14th win for the season. Ted Clayton and Jacob Long were named best for the Roys while teammate William Fenton led a host of goal kickers with four. Richard Skok and William Gough stood tall for the Hoers but they remain two games outside the four in fifth with just two matches remaining for the season.
Williamstown CYMS kicked the last four goals of the day and ran out 24-point winners against a valiant Old Camberwell and Fearon Reserve. Trailing by eight points at three quarter time, the CYs booted seven goals to two in the final term. Nick Ebinger led the charge on the scoreboard with four majors for the CYs while Ben Gray and Jack Noonan kicked three each. Thomas Johnstone starred in a BOG display. James Allen and Matthew Powell nailed three goals each for the Wellers, who remain in fourth and two games ahead of the Hoers, Marcellin and PEGS.
Old Geelong secured finals with a comprehensive 122-point victory over St Mary's Salesian at Como Park. OGs kicked 13 goals to one in the opening half in a dominant display before continuing their charge with nine goals to two in the second. Jock Grimshaw and Joseph Couch booted four goals each, while Jack Sheridan was best afield. Heath Chipperfield and Mitchell Bulte were the best of the Saints. OGs sit third and three games above those outside the four.
Peninsula made it three wins on the trot and continued their fight to avoid relegation with a 14-point win over PEGS at Peninsula School Ground. The Pirates led by 12 points at the first break and kept the Bombers at an arm's length for the remainder of the day. James and George Fletcher were standouts for the Pirates while Scott Whillas continued his outstanding individual form for PEGS. The Pirates remain ninth but on the same number of wins as the Panthers.
Old Mentonians secured their best win of the season as they continue to stave off relegation, defeating Marcellin by 22 points at Marcellin College. Leading by four points at the half time break, the Panthers kicked away with eight goals to five in the second half. Lewis Oliver was outstanding for the Panthers with a BOG display and Jarrad Kay troubled the scorers with three goals. Jacob Gasparini impressed for the Eagles. Mentonians sit in eighth and 20% ahead of the Pirates.