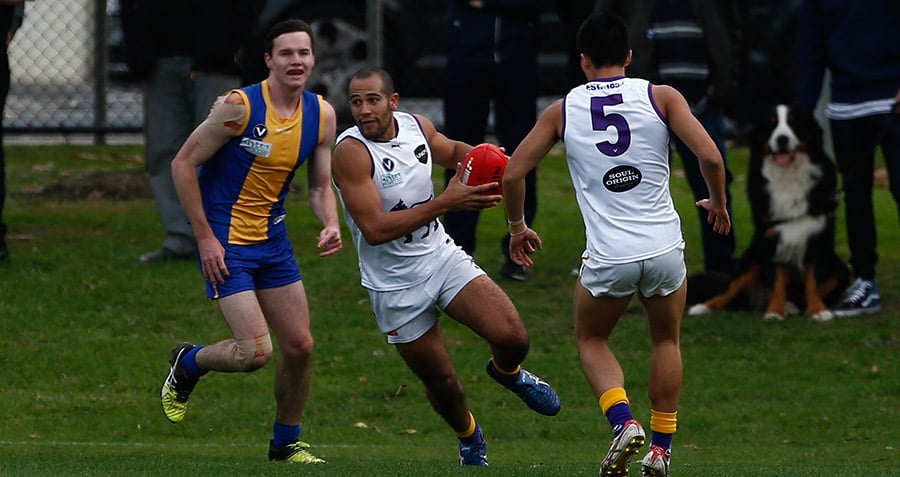 William Buck Premier
Collegians booked a preliminary final appearance against University Blues after they defeated De La Salle by 15 points in a thrilling elimination final at Trevor Barker Oval. Led by a best-on-ground performance from Sam Hibbins, the Lions overcame a 26-point deficit at the first break with 15 of the last 22 goals. Just one point separated the two sides at the last break but the Lions sent home five goals to two in the final term. Hibbins' performance was one of the most comprehensive and dominant individual displays of any player in any game from any section in 2017. He was extraordinarily bullish through the midfield, racking up clearances, tackles and contested possessions at will despite De La's Antony Forato winning the ruck dual. Will Tardif starred in front of goal with five; including, two clutch majors in the second term when the Lions were clawing their way back into the match. Xander Croft chipped in with three goals while Jake Trotter played an outstanding tagging role on Jason Tutt after the first term. Tom Humphrey was a standout when he was down back for De La, while Sam Williams and Liam Murphy fought valiantly all day. The Lions will now play the Blues in next week's preliminary final.
Premier B
St Bernard's advanced to the Premier B preliminary final weekend following their 13-point victory over Monash Blues at Box Hill City Oval. The Snow Dogs burst out of the blocks with four goals to one in the first term before the blues hit back with six goals to two in the second. Trailing by two points at the main break, the Snow Dogs kicked six goals to three in the second half with Simon Caven leading from the front and marking everything in his vicinity. Jack McNamara top-scored with three goals for the Snow Dogs, while Andrew Young and Charles Cosgriff were named best for the Blues. The Snow Dogs will now clash with Old Scotch in next weekend's do-or-die preliminary.
Premier C
Marcellin ended a seven-game losing streak in finals earlier today when they defeated Williamstown CYMS by 47 points at Sportscover Arena. The Eagles, who have gone out in straight sets their past three finals appearances, dominated from start to finish as they kicked six goals to one in the first term and added 10 to seven for the remainder of the game. James Robertson, Andrew Kay and Jeremiah Antypas each kicked three goals for the Eagles with Robertson named best afield. Jack Connolly kicked three of his own for the CY's alongside a standout performance from teammate Finlay Adamson. The Eagles now advance to the preliminary final where they will face Caulfield Grammarians after their shock loss to Old Haileybury yesterday.