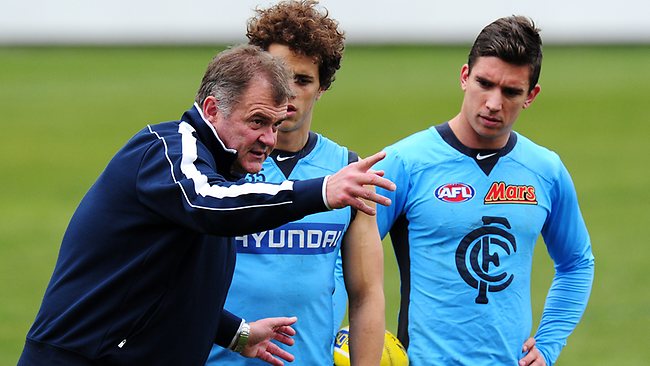 Former AFL assistant coach Mark Riley has been appointed as the new senior coach of 2015 William Buck Premiers, St Bernard's.
Following a 12-month break from coaching, Riley will replace outgoing premiership coach, Anthony Rock, who has joined Ross Lyon's coaching staff at Fremantle.
"St Bernard's Football is pleased to announce that Mark Riley has been appointed as Senior Coach of the football club for season 2016.
Mark "Bomber" Riley is a highly experienced AFL coach, having worked within the AFL and WAFL system for over 20 years.  Mark's coaching resume is extensive, and includes the following:
Gold Coast Suns Nov 2012 – Nov 2014 Assistant Coach

Carlton Football Club Nov 2007 – Oct 2012 Assistant Coach

Melbourne Football Club Nov 2002 – Oct 2007 Assistant Coach & Caretaker Senior Coach

Claremont Football Club Oct 2000 – Oct 2002 Senior Coach/Football Manager

Fremantle Football Club Nov 1994 – Oct 2000 Development Coach/Assistant Coach
Importantly for our football club's playing group, Mark is a teacher, an excellent communicator and a coach who builds relationships with players based on mutual trust and respect. At Melbourne FC Mark worked closely with St BernardsFC departing coach Anthony Rock, and at Carlton he worked with our vice captain Adam Bentick as midfield coach.
Mark works for Clontarf Foundation, which exists to improve the educational and employment opportunities for young indigenous men, as their Corporate Partnerships Manager. In 2015 for the first time in 20yrs Mark had his first 12 months away from Football ; and very much missed the game involvement.
Mark was attracted to St Bernard's philosophy of holistic player development coupled with a focus on football skill acquisition and development, as well as our well-structured and well-resourced off-field set-up.
Mark brings a wealth of experience as a coach, as a communicator, as a relationship builder and the committee believes is the right person to continue the excellent work started by Anthony Rock in season's 2014 and 2015.
Please join us in welcoming Mark to the St Bernard's football club and the wider St Bernard's community.  A "meet the coach night" will be held in the coming weeks.  Details will be communicated through our various channels to players, members, sponsors and supporters."
THE COMMITTEE