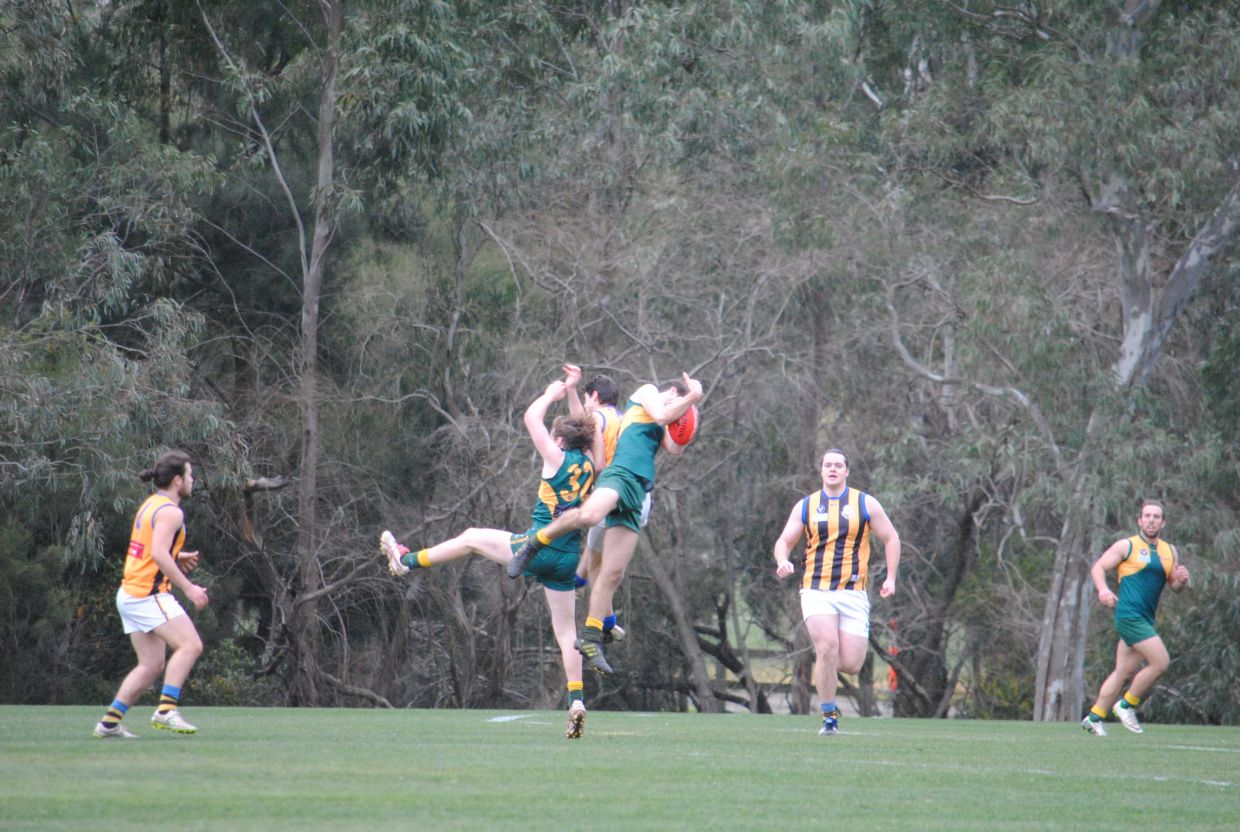 By John Donohoe – @jdonohoe12
With all the top 4 places sorted, the battles between the rest of the competition were taking place for a bit of pride and wanting to finish their seasons off in the best possible way. Old Melburnians took on Old Scotch at Camberwell Sports ground, the home side took a 1pt lead into the first break, but kicked away from there and lead by 13 at the half. Scotch continued their dominance after the break kicking 7 goals to 3 and blowing the game into their favour. They went on to win by 93pts and avoid relegation by 2 games. Padbury continued his goalkicking dominance booting by kicking 8 goals in what was a dominant performance by the team of the year Full Forward. Ted De Fegeley was the best player on the ground for Old Melburnians. Tough year for both sides but had some real positives throughout, will be back next year to try and improve their ladder position from this year.
Old Trinity finished off their 2015 campaign with a comprehensive win against a fellow cellar dweller University Blacks, it looks like both teams will be getting relegated, but they still wanted to finish their seasons off in style. A tight opening term saw Trinity lead by 7pts at the first change before kicking 6 goals to 2 in the second and trinity took the momentum from their on. Hargreaves had a great day kicking 4 goals for the home side and was a serious presence up forward. Allen was just about Blacks best player kicking 3 goals and getting plenty of the ball. Trinity running away with a 7-goal victory. Unlucky year for the 2 new sides, tough competition to be in but they battled to the end and will no doubt be more comfortable in section 2.
St.Bernards were far too good for a gallant Beaumaris side at the Snakepit. The Snowdogs took a 1 goal lead at QT and a 23pt lead at the main change, before the Sharks rallied to try and shake the home side going in at 3QT 7pts down but with plenty of confidence. Bernards eventually kicked away to win by 4 goals with Sibbald kicking 4 and O'Halloran putting in a best on ground performance kicking 3 along the way. Beattie Powell kicked 3, while Zagni had another blinder and was just about best on ground. Both sides head to the finals with plenty left in the tank, Beaumaris will take on St.Kevins on Sunday while Bernards face the Xavs at Waverly Oval.
St.Kevins took De La after their impressive victory over St.Bernards the previous week and continued their winning ways, albeit in a tough contest. 1 goal separated them at QT while at 3QT De La lead by 1pt before Skobs settled and kicked 3 goals to 2 to run away with a 14pt win and finish 3rd on the ladder.
De La had an impressive but often inconsistent season but showed glimpses of being a champion team and will no doubt be a force in 2016.  Stagg put in a good performance for Skobs while Anastasio was impressive in the loss.
Old Xaverians took the minor premiership out in 2015 and consolidated their position on top with a 20 goal win at the hands of Uni Blues who have showed some positive signs this season. The Xavs were far too strong though with this years "Coleman Medallist" Sam Cleeve kicking 11 for the day to win the medal. He was dominant and will be a big presence come finals time no doubt. Amad and Morris were also impressive in the win. For Uni Blues Fry and Curnow were their best. Uni showed some good signs this year but were ultimately overpowered by the top 4 sides throughout, as for the Xavs, a slow start to the season but an impressive end saw them win 8 in a row in the back end to take top spot.
It was a great season, with big wins, small wins, bags of goals and ladder fluctuation. Its all over now, so let the games begin, finals footy starts this week, were all very excited!
TIPS
Old Xaverians to beat Bernards by 19pts
Beaumaris by 4 points over St.Kevins