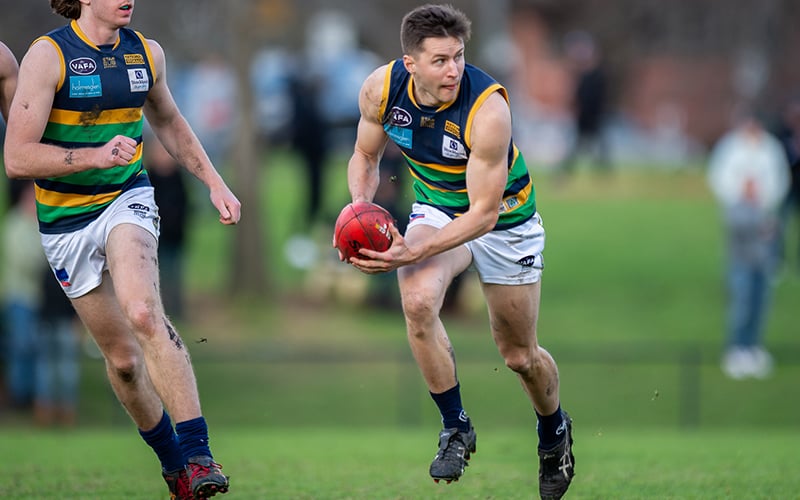 Nick Armistead
VAFA footy returns this weekend and, while I might be slightly biased, the William Buck Premier Men's fixture promises to be the greatest five-leg event since Gösta Lilliehöök took out the first-ever modern pentathlon at the 1912 Olympic Games.
On that, while Ariarne Titmus and Kaylee McKeown's success in the pool has kept us entertained during Lockdown 5.75 million, we now have five blockbuster matchups that will not only pique our interest but will go a long way to shaping both ends of the ladder on the run home.
St Kevin's OB (1) vs Old Brighton (4)
The RSN Carnival Match of the Day will take place between the ladder leaders and their fellow top four constituents. The last time these two met (R2) ended in a three-point win to SKOB, with a five-goal haul from Tom Boyd and a BOG performance from young ruck, Riley Bowman, leading the premiership fancies over the line. With no Boyd or Billy Kanakis of late, SKOB's scoring prowess suffered slightly (they rank fourth), but it was flipped on its head in their last game against Scotch as they posted 19.16 (130) – their highest score of the season. Josh Wallis and Tom Jok have been standouts this season, while their back 50 once again ranks first with just 53.9 points against. After two impressive wins against Uni Blues and OM's following forced-cancellations-number-one, Brighton fell to Caulfield by 14 points in their last outing. It was the Tonners' third loss to one of the other top four sides, with their only win coming against Caulfield in Round 3. In saying that, Harry Hill, Dylan Verney, and the 30-goal welterweight, Will Lewis, have been at the forefront of everyone of their wins.
Collegians (9) vs Old Scotch (8)
With five games remaining, this is do or die for Collegians as they attempt to avoid relegation. With one win and an endless array of injuries to their name, the Lions will need to reduce the two-game buffer currently separating them and Scotch. The Lions enter on a seven-game losing streak but will be buoyed by their hard-fought 12-point loss to Xavs in Round 12. The return of Kalem Post over the last two games has improved their ruck stocks infinitely, while David Mirra continues to stand up and dominate. While they have that two-game buffer, Scotch suffered their second-worst loss of the season last round when they went down to SKOB by 78 points. With Uni Blues, Bernard's, Brighton, and Caulfield to come, this is the one the Cards would have set their sights on. Brodie Easton has one hand on the club B&F while Gene van den Broek has strung together three games since returning from injury.
Old Xaverians (2) vs Caulfield Grammarians (3)
Outside of SKOB, the Fields are the form side of the competition after they secured their seventh straight win against Brighton before the break and leapfrogged them into third spot on the ladder. They are hot to trot. They've scored more than any other team in the competition with an average of 98.4 points, while their midfield of Will Edwards, Dane Crognale and a rotating roster of contributors ensures constant delivery to said forwards. If there's one team that can bring about the downfall of the hot-to-trot Glenhuntly locals, it is the team that is in the finals sweet spot – ranked second for offence (94.6) and second for defence (56.9). They had two tough wins over their past two games against St Bernard's (21) and Collegians (12) whereby they posted their two lowest scores of the season. Marcus Stavrou, Dan Robinson, and Haydn Troiani have starred for Xavs and will lead them again as they try to get one back after falling to the Fields by six points earlier in the year.
Old Melburnians (6) vs Uni Blues (5)
Two teams sitting outside the top four, this matchup is as important as any with both sides trying to keep their finals hopes alive. For OM's a loss on Saturday will end any chance they have, while for the Blues, they need to reach into their bag of premiership credentials and find some consistency with a second straight win. The Blues snapped a two-game losing streak against Trinity in Round 12 and temporarily stopped the bleeding of consecutive 100+ scores against. Ayce Cordy returned from injury and made an immediate impact, while Jack Stephens continues to rack up B&F votes. OM's were not without their chances against the Snow Dogs but ultimately fell by 11 points. Similarly to Collegians, OM's have been hurt by injuries, but it hasn't stopped the sensational recent form of Gus Borthwick and Nick De Steiger.
Old Trinity (10) vs St Bernard's (7)
I care not how many years it's been because every time these two sides meet it is the 2015 Grand Final Rematch. What a day, what a game. Back to this decade and the Snow Dogs will look to continue their strong form (two wins from their past three) which included that 21-point loss to Xavs. A win for Bernard's will officially end any relegation discussion as they try to climb the ladder on the back of the incredible form of Jordan Farrell, Charlie Vague, Jarrad Walters and Ben Overman. Oh, and Adam Bentick who seemingly hasn't missed a trick since returning. The T's were valiant in their last match against Uni Blues, one week after winning their first of the year against Scotch. While they need to find avenues to goal (56.9ppg), the form of Tom Mason, Christos Manoussakis and Alex Emery has been a real highlight.