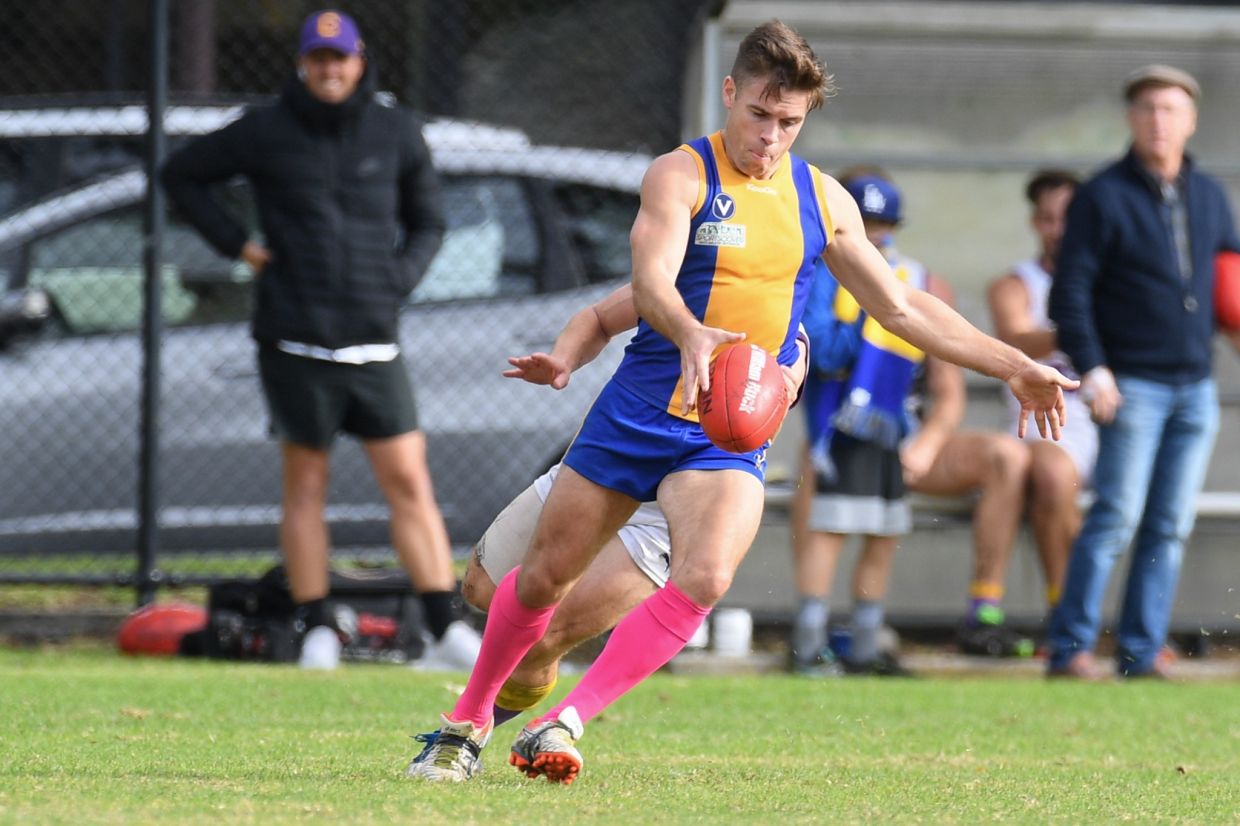 Nick Armistead
Old Trinity vs De La Salle
Arguably the most important match-up of Round 9, both sides desperately need to secure a win given they're currently in two of the bottom three spots on the ladder. De La, who have two wins on the board, will enter favourites given their Round 8 performance against SKOB where they ran out 10-point victors at Waverley Oval. It was their second consecutive triumph over SKOB at home after dismantling them in Round 15 last year, and unsurprisingly it was their star captain Tom Humphrey who led with a BOG display in his first game since suffering a calf injury in Round 4 against Old Xaverians. Young stars Aaron Trusler, Howie Persson and Geordie Nagle will each enter the game brimming with confidence after they starred for the Big V U19's on Saturday. Old Trinity fell away in stunning fashion during their 32-point loss to Old Melburnians after leading by 32 at half time. Once again it was Harry Tinney who led from the front for the T's with four goals, eight marks and 14 disposals, but they'll need to improve upon their second half where they gave up 11 goals to one, had 41 less disposals, 23 less marks and 13 less inside 50's.
Old Brighton vs Old Carey
Both sides require premiership points on Saturday but for two vastly different reasons. For Brighton, after their 22-point loss to St Bernard's, they now sit a game and a half outside of the top four. While there' still 10 games remaining this season, the teams above them – Old Melburnians, Collegians and the Snow Dogs – are simply looking more likely at this point. We know they rely heavily on the availability of their VFL-listed players and we also know they are half a game from flicking a switch and stringing a raft of wins together. Will Lewis and Hamish Dick were two standouts with four goals apiece and will look to replicate their output this weekend. As for Carey, any chance of avoiding a bottom two spot relies on winning games against teams around them, and as we look at the ladder, Brighton are sitting only three spots above. Henry Schade and Marc Lock are in serious form, while Bailey Wraith won the Spirit of the Big V Award on Saturday with a breakout rucking display.
University Blues vs Collegians
The Round 9 RSN Carnival Match of the Round features the ladder-leading Uni Blues and ever-improving Collegians. The Blues, who now sit on top of the William Buck Premier ladder, dished out the largest winning margin of the season when they defeated Old Carey by 106 points in Round 8, making it an average winning margin of 65 points over their past three games. Tim Harper and Josh Green were the main recipients in front of goal with five each. Despite suffering a valiant 15-point loss to Old Xaverians, Collegians will be disappointed with how they fell away from Xavs after leading by as much as 28 points during the second term. Sam Sofronidis was rewarded for his current form with representation in the Big U19's game, while teammate Oliver Jackson has put his hand up for selection following his own standout performance crashing packs up forward. With Kalem Post and Tom Penberthy 3-4 weeks away, the one area they will need to focus on is the ruck dual with Ayce Cordy posing the most serious danger.
St Kevin's OB vs Old Melburnians
If you selected SKOB to lose their Round 8 outing to De La Salle, you may just be the most prophetic tipster in William Buck Premier history. Despite missing Nick Wood, Gerard Gleeson and Lachie Sullivan, SKOB were bounced early and couldn't pin De La back as they kicked 8.12 (60) – their lowest score since playing De La at the same ground in Round 15 last year. It doesn't, however, bode all that well for Old Melburnians as SKOB will be on a warpath to secure their sixth win of the year and put distance between themselves and OM's. OM's will fancy their chances after having secured four of their past five – with last weekend's effort over Trinity their most impressive. Having beaten Collegians in Round 2, Carey, Bernard's, De La and now Trinity, the sceptics will want to see OM's defeat a top four side before creating serious hype.
Old Xaverians vs St Bernard's
After exploding onto the scene with 24 first-quarter goals to five over the first four rounds, Old Xavs slowed considerably with six to four from Rounds 5-7. However, last weekend was the first time the Xavs had trailed at quarter time when they gave up four goals to one and trailed an impressive Collegians outfit by 22 points. What they did then gave us another glimpse of their premiership credentials by coming from 28 points down and running over the Lions with seven goals to one in the fourth term. Jason Holmes and Rohan Bewick were the two standouts for Xavs, with Holmes' ruck work in the second half mitigating the influence of the elite Lions' mids by continually punching the ball and clearing it from the stoppage and allowing Xavs players to run onto it. It was an important win for the Snow Dogs over OM's as they broke a three-game losing streak. Jack McNamara and Michael Caven kicked three goals each while their number one ball-winner Chris Peart will return from suspension this weekend.