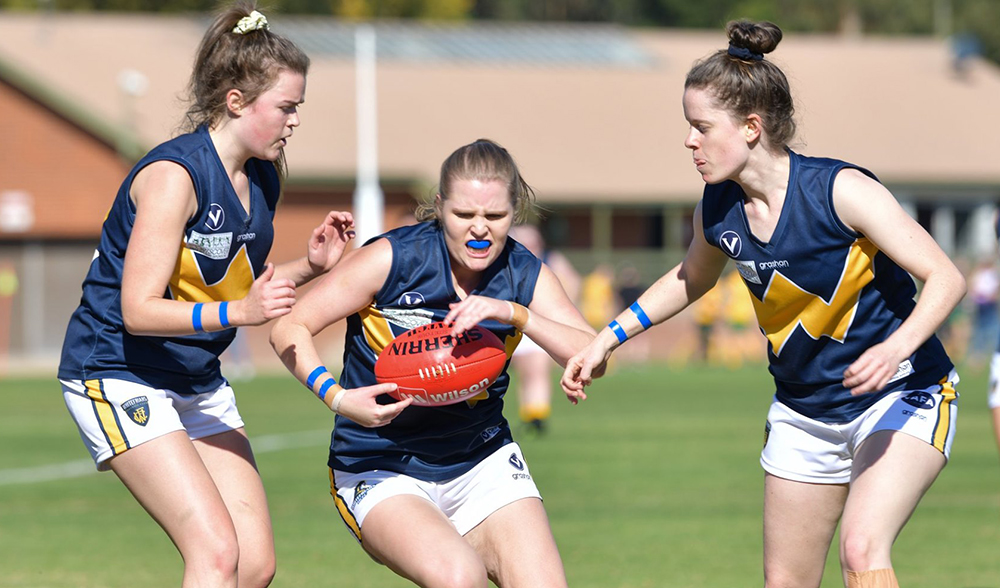 Zac Jennings
Nail-biters and heavyweight bouts were on the cards for what was an excellent Round 12 of football in Division 1 Women's.
Whitefriars OC have jumped to second on the ladder after holding on by the slimmest of margins in their win over Old Haileyburians. After restricting the Hearts to just one goal through the first three quarters, the Friars 13-point lead heading into the final break looked to be comfortable enough to ensure the win. However, a fast-finishing Old Haileyburians kicked the only two goals of the final term to get within a solitary point of Whitefriars, before the siren blew for full time with the Friars sneaking home for the one-point win. Mia Smith was the standout for Whitefriars, with Maeve Bohanna, Clare Fernandes and Smith kicking a goal apiece.
Whitefriars will head to Lofts Reserve to take on Williamstown in Round 13, while Old Haileyburians will host Old Brighton.
In the third instalment of the heavyweight battle between Old Scotch and Old Brighton, it was Old Scotch who again claimed bragging rights. While the Tonners led for most of the contest, the Cardinals were able to keep them scoreless in the final term, booting two goals to zip to come from behind and claim a seven-point victory. The win keeps Old Scotch's undefeated season intact, while Old Brighton fall back out of the top two. Rebekah Command and Sophie Anghie led the way for Old Scotch, while Alexandra Theodosi took her season tally to 30 goals after booting another on the weekend. Lily Tait kicked two goals for Old Brighton, with Annie Grant named best on ground.
Old Brighton will look to get back on the winners list when they travel to Princes Park Caulfield to take on Old Haileyburians, while Old Scotch have the bye.