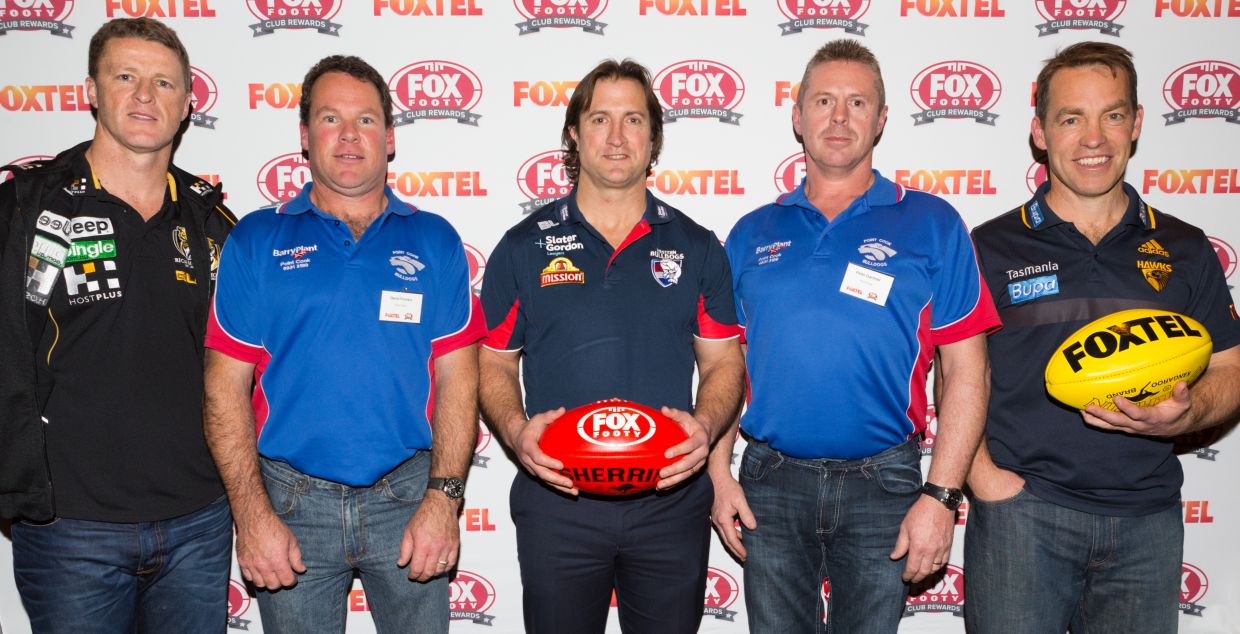 Point Cook Junior Football Club is celebrating after winning a coaching and marketing seminar with VAFA premiership coach Luke Beveridge, Alastair Clarkson and Damien Hardwick, thanks to the 2015 Fox Footy Club Rewards program.
Point Cook is one of 50 grassroots football clubs that will have two representatives from their club attend the seminar hosted by some of the game's greatest minds.
National Ambassador for the program, and ex-St Kilda captain, Danny Frawley, believes it will be the opportunity of a lifetime for each club that is involved as they will receive advice from some of the game's elite coaches.
"Local football clubs are the backbone of the community and it is refreshing to see an organisation like Foxtel genuinely investing in their growth and development," Frawley said.
"By giving them access to expert AFL coaching advice, as well as some best practices for how to grow their clubs off the field, the clubs will be better placed to further grow their presence in the local community."
Fox Footy Club Rewards is an initiative created by Foxtel whereby local football clubs are recognised for the benefits they have delivered to their  local  communities; be it through fundraising for a charitable cause, broader community development initiatives or helping out a club member in a time of need.
Point Cook spokesperson Nick Mullens was ecstatic the club's hard work, both on and off the field, had been acknowledged.
"Our club is incredibly lucky to have two representatives further their football education, by hearing from some of the smartest minds in the game," Mullens said.
"Thanks to Foxtel and Fox Footy for giving us the opportunity to be a part of the Club Rewards program."
In addition to the 50 clubs that receive the marketing seminar, an additional 17 grassroots clubs will be able to send eight members to visit an AFL club, receiving a full tour of their facility, plus have a detailed strategic meeting with the whole senior coaching panel, discussing customised tactics.
One lucky football club will soon also be announced as the "Fox Footy Community Club of the Year",  receiving a money-can't-buy experience where 40 members of their team will be run through an elite training session with the coaching staff and current playing list.
Foxtel's Executive Director of Sports and Content Partnerships, Ben Buckley, was pleased all successful clubs would be able to receive advice from three finals bound coaches.
"We're thrilled that these clubs are able to meet some of the biggest names in football as a result of telling their inspiring stories of assistance for their communities," said Buckley.
"It's important to recognise those clubs that go above and beyond to give back to their communities and both Foxtel and Fox Footy are proud to reward these clubs with what they hopefully see as a great opportunity to further grow their clubs."