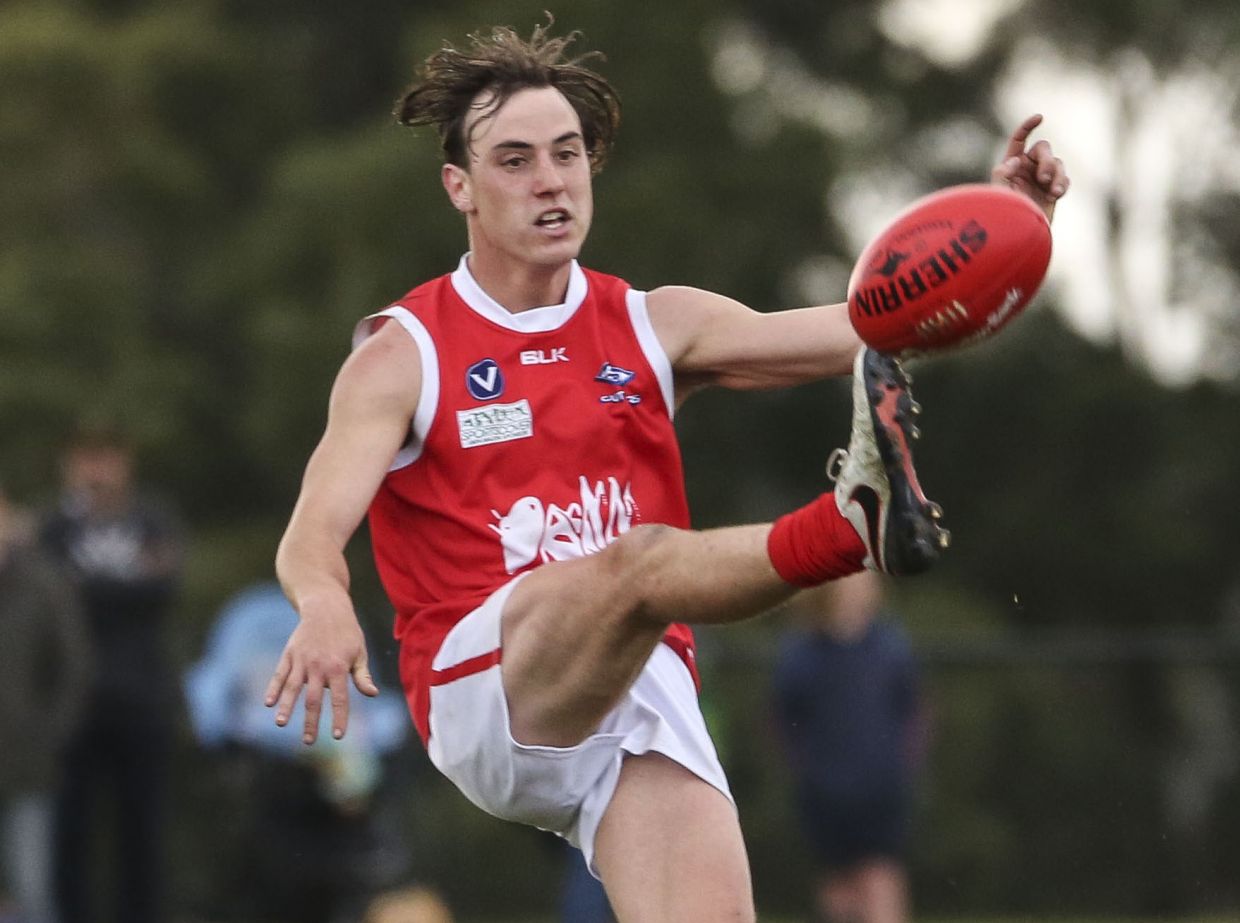 Alisha Min
Round 7 has come to pass in Division 1 and with it some compelling and hard fought contests, though no outcome could be more surprising then UHS-VU's loss at their Brens Oval fortress at the hands of a rampant Preston Bullants. In other results, each team ranked higher on the ladder going into the contest, including Therry Penola, St Mary's Salesian, Prahran Assumption and Kew all managed to notch premiership points over the course of the weekend.
It was hard to envisage UHS-VU failing to swoop on another bout of premiership points in Round 7, but that is exactly what went down as Preston Bullants managed a strong 33-point victory in what has been widely considered one of the more difficult feats in VAFA football – quelling the Vultures at Brens Oval. The games' momentum ebbed and flowed in the first half, with the Bullants squeezing a 12-point lead after the first quarter which switched to a seven-point buffer in the Vultures favour at the half. What really set up the game, however, was an incredible nine goal "premiership quarter", i.e. third quarter, from Preston's perspective which put the match well and truly beyond UHS's reach. A name not unfamiliar to the Division 1 spectator, Sean Calcedo was prolific in Preston's win, as were teammates Jack Sammartino with four goals and Thomas Hill, who chimed in with three. For the defeated, Esubalew Ramsey was named best for the first time this year whilst James Dimattina with one goal and Thomas Waters with three, where gallant. A big kudos is due for Preston in this compelling victory, which can be largely accredited to their defensive six who held UHS to their lowest total score of the year (62pts), and effectively minimised the influence of star goalkicker, Brandon Jackson, who was held goalless for the first time since Round 17, 2017.
St Mary's Salesian swept Peninsula OB aside to the tune of 27-points in front of a home crowd at Ferndale Park in Round 7. It was the constant application of scoreboard pressure from the opening siren to the final which enabled the victory for the Saints, who were only outscored in the third quarter with the Pirates seven majors to their four. Plenty of goalkicking avenues were accessed from both sides in this encounter, with the Saints having 10 individual goalkickers, Louis Holmes topped the lot with four majors, and the Pirates 11, four of which managed two. From featuring in the best last week, to BOG in Round 7, Nathan Evans was a standout for St Mary's, while Samuel Harrison (2) and Nicholas Fisher were prominent for the defeated Peninsula.
After succumbing to UHS-VU in Round 6, Therry Penola pounced on their next opponent in Old Paradians with a vengeance in Round 7, dominating from start to finish to emerge with a confidence boosting 118-point win. Booting a whopping 22.19 for the afternoon, their biggest scoreboard outing for 2019 so far, it was Jarrod Bannister who led the charge with seven majors, while the Egglestone's (Brock and Jarrod) held their own with four goals apiece. For a disheartened Parade side, who now sit in the unfavourable position of ninth following this, their third consecutive loss, Jesse Shea was a shining light as was Ross Licciardi. Jedd Taylor was named best afield for the triumphant Therry, while Daniel Tadinac was also influential.
That's six wins on the trot now for Kew after they handed Oakleigh a four-goal defeat at Victoria Park in Round 7. After a dead-even opening term, with both sides kicking 2.1, the Bears opened up in the second to take a 13-point lead into halftime – a lead which they proceeded to build upon for the match remainder. In what was a relatively low-scoring affair, considering we know what both sides can produce score-wise when push comes to shove, the importance of the Krusher's Aaron Cloke could not be understated as he extended his goalkicking tally to 33 after booting five of the visitors six goals for the afternoon. The multitude of goalkickers in the Kew line-up proved instrumental here, as Nathan Sambecski kicked away with three, and Andrew Brazzale and Jeremy Hannan followed suit with two majors apiece. In a day one side will cherish, and the other will quickly want to put to bed, Timothy Allman earnt the BOG honours for the victors while the aforementioned Cloke was irreplaceable for Oakleigh.
Prahran Assumption kept their winning momentum alive in Round 7 after accounting for tenth placed West Brunswick by six goals away from home at Ransford Oval. You would be forgiven as a Westies supporter if you assumed the worst was to come after a 0.3 to 4.5 first quarter kicked off the afternoon, but an impressive seven goal to three second quarter quickly followed this lull to make it just a two-point ball game at the half. Carrying their energy into the third, West Brunswick set up a four-point lead at 3QT, before the Two Blues well and truly fired with a seven goal to one final term to steal the victory. Though not an overly telling indication of the match's closeness for the afternoon, credit is very much due to the Prahran team, particularly Jonathon Simonetta (1), Callum Wilson (6) and Joel Hume, who spearheaded this come-from-behind victory. For the disappointed West Brunswick side, Cameron Weston and Samuel Devlin (2) were good all day.