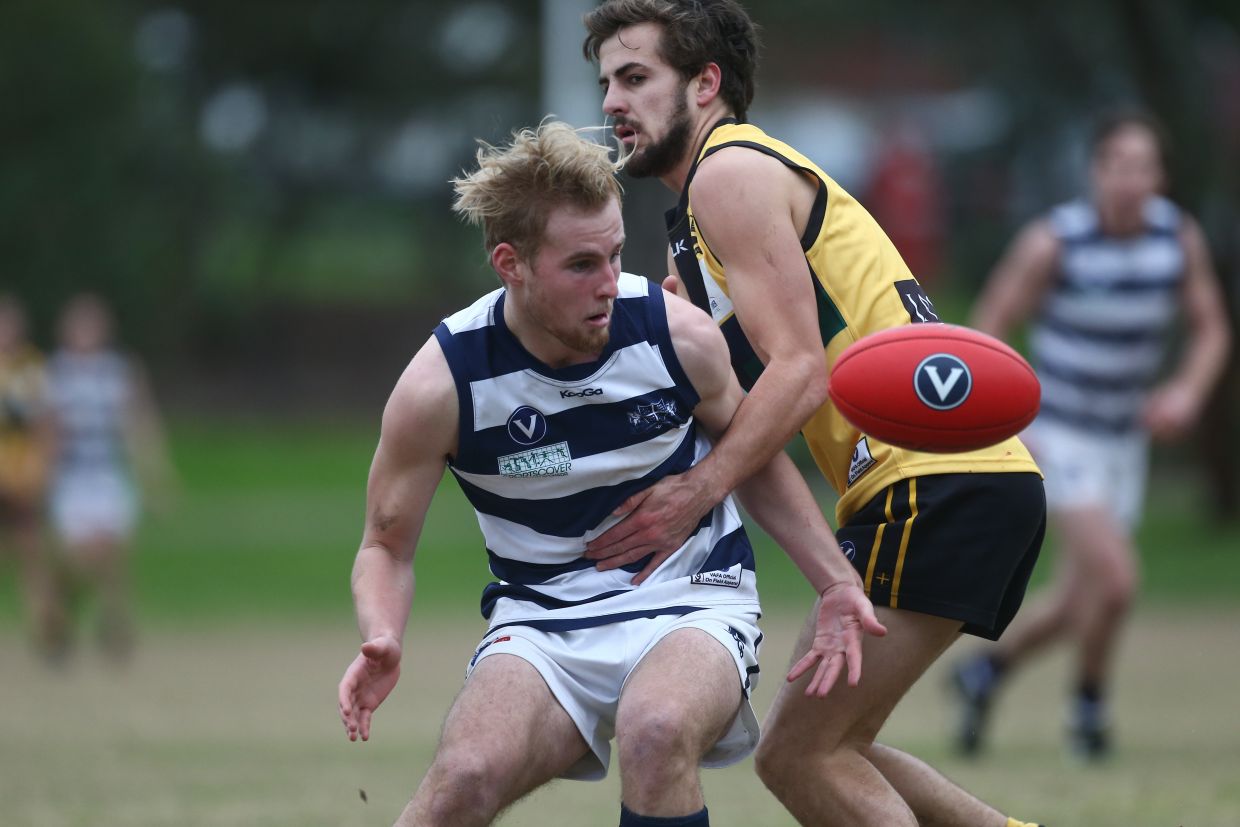 Old Mentonians ended a three-game losing streak when they defeated Brunswick NOBSPC by 23 points at Alec Gillon Oval. Billy Chapman starred as the Panthers kicked five goals to one in the opening term and rarely looked threatened for the remainder of the match. Danny King did his utmost for NOBS, who sit eighth on the Division 1 ladder and with the lowest percentage of any side at 60.34%.
St Mary's Salesian shot to the top of the ladder this week following their 59-point victory over Old Geelong at Ferndale Park. Leading by just 11 points at half time, the Saints booted another nine in the remaining two quarters and contained Ogs to just two. Cameron Butler dominated and Carston Strobel and Stefan Gusts combined for eight majors for the Saints, while Jock Grimshaw registered three and took his season tally to 17 from seven games.
Ivanhoe pulled off one of the biggest comebacks of the season, coming from 32 points down at half time and defeating PEGS by 14 points at Ford Park. An eight-goal to two third term was the catalyst for the run of goals, with Nathan Valkanis the main recipient with five. Keke Blackmore-Moore, Lewis Minney and Mitch Lovell also combined for nine for the Hoes, while Trent Skurrie bagged five for PEGS. PEGS fall from top spot to fourth following the shock loss and the Hoes move to fifth.
A nine-goal to one opening term has led Old Paradians to their first victory of the season, defeating Prahran Assumption by 66 points at Garvey Oval. David and Michael Boundy combined for seven in front of goal and Sean Miller earnt himself BOG honours. It was the Two Blues' eighth loss in a row and lowest score for the season.
Jarrod Bannister recorded his strongest performance this season and kicked 10 goals in Therry Penola's 69-point win against Whitefriars. Trailing by eight points at quarter time, the Lions piled on 17 of the next 23 goals thanks in large to the starring performance from their experienced forward. Chris McDonald played well for the Friars, who sit seventh and with the most points against in Division 1.