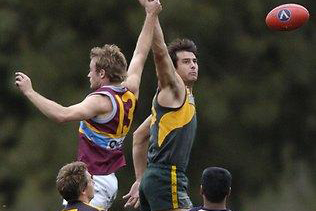 Your weekly dose of history brought to you by Holmesglen
Geoff Reilley
10 YEARS AGO – 2010
With Bruno Conti in his first year as VAFA President and Point Cook in their first season with the "Ammos" the season was under way. It was great to see Bruno taking up the head role following on from his outstanding service as a player and committeeman at NOBS and his exceptional record as a player as representative level.
In A Section Collegians made a real statement with a strong win over Old Xavs, 15.11 to 13.10. Collegians had led all day and James Jorgenson was a huge stumbling block for the Xavs. Winger Jack Bull also impressed on debut for the winners, Chris Smith was the leading forward for Xavs. Best – Jorgenson, Strachan, Ries, Harvey, Holst, Fry (Coll) and Smith (5), Purss, Darvell, Noonan, Ryan, Prowse (Coll).
In B Section, SKOBS were down at half time but won convincingly against St Bernard's 12.16 to 9.10. Best – Coughlan, Chard, Charles, Williams, Simpson, Tsindos (SKOBS) and Overman, Jones, O'Sullivan, Forder, Angel, Cook (StB).
15 YEARS AGO – 2005
Old Melburnians went straight to the top of the A Section ladder with a strong performance against Collegians 16.18 to 8.14. Best players – Lacey, Studham, O'Brien, J Berry, Kennon, Wilson and Moon, Rowston, Henebery, Couch, Hase, Holst (OM's).
Whitefriars started extremely well in B Section winning 16.19 to Caulfield Grammarians' 5.6. Best – M Power, A Carbone, Cunningham, Bird (6), Nunan, J Power (Whitefriars) and Lawson, Green, Winter, Strain, Knight, Widjaja (Caulfield Grammarians).
25 YEARS AGO – 1995
In A Section, the two promoted teams from 1994 Uni Blues and Old Trinity won convincingly. Old Trinity trounced Collegians 20.12 to 7.14 and really finished the Lions off with a 7 goal to 1 last quarter. The goals for Trinity were well spread and best players were Ramsden, Yargo, Sutcliffe, Oldfield (3), Norman, Hopkins (OT) and Wallace, Milat, Grigg (3), Pollack, Jefferson, Galbraith (Coll).
In B Section, Mazenod took on Old Brighton, held the upper hand for most of  the  afternoon  and  ran out winners 11.10 to 8.16. Best – Pickering (3), Morgan, O'Hara, Polan, Ballanger, Borg (M) and Oakley, Reid, Pryor, Pollock, O'Connor, Bradley (OB)
35 YEARS AGO – 1985
West Brunswick congratulated Rob Green on his 300th club game. Rob epitomised the finest attributes of an amateur footballer and clubman and had filled many committee positions.
Ian Chettle broke the UHSOB club record with his 232nd game, beating the previous record held by Robert Reid. Ian started in 1971.
A Section coaches were Mike Zemski (Bull-Temp), Bruce Ferguson (Collegians), John Pollard (De La Salle), Alan Salter (Ivanhoe), Jim Durnan (NOBS), Jack Clark (Old Xavs), Paul Daffey (St Bernards).
45 YEARS AGO – 1975
AJAX's three new leaders, Michael Ritterman (Captain), Daryl Cohen (Coach) and Ron Rogers (President) were all smiles after the club's 64-point win over St Pats Monivae.
A Section umpires were Brian Goodman, Trevor Rowe, Colin Wills, Phil Rowell and Ken Jorgenson. Barry Sheare and john Williams, both of Alphington and Ken Shaw recorded their 150th games.