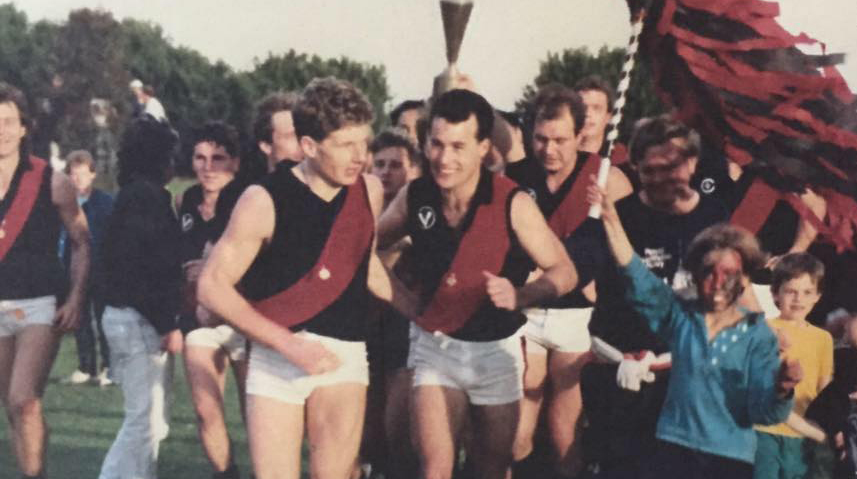 Your weekly dose of history brought to you by Holmesglen
Geoff Reilley
10 YEARS AGO – 2010
It was looking good for Powerhouse in Division 3, sitting on top of the ladder with two from two after demolishing West Brunswick at the McAlister Oval 13.5 to 3.11. It may have been poor shooting by the Westies but'The House' were far too strong. Best – Edwards (5), Burnside, Bowden, Macack, Elliott, Watson (PH) and Martin, Melican, Moore, Jane, Brown, Barclay (WB).
At Elgar Park, Box Hill North won their game against Eley Park after the siren. The talent of Dan Penny was again on display around the goals and he was the logical one to demonstrate the winning kick. Best – Summerfield, Penny (6), Harrison, Ball, Irvine, Marcakis (BHN) and Broadbear, Brown (3), Wignell, Bennett, Viola (EP).
Dan Noonan (Old Xavs) was awarded the Club Warehouse Rising Star Award. Daniel is the son of former Xavs ruckman John Noonan, who won five club best and fairest awards and played in four premierships in six seasons. Daniel spent most of the 2009 season in the U19's where he proved to be a huge handful for opposing defenders.
15 YEARS AGO – 2005
Aquinas had a resounding win in D1 Section over Glen Eira 24.13 to 12.12 to make up for their first round loss. Best – Whitehead, Wooden (8), Toomey, Williams, Olarenshaw, Tzoumenakas (Aquinas) and Conroy (5), Zagame, Tsirogiannis, Pryde, Emmett, Sheedy (GEira).
Old Geelong were being touted as early favourites in D2 section. They certainly demolished Peninsula OB 18.17 to 9.5 in this round. Best – McCarthy, White, Kimpton (4), Casboult, H Legoe, Lansdell (OG) and Day, S Parsons, Barron, Stainforth, Murphy, Pratt (Pen).
Ian Cave, 284 game player at Hampton Rovers and their reserves coach for 8 years, was acknowledged as a VAFA Certificate of Merit winner. An inaugural member of the Rovers' Hall of Fame, Ian had also served as a VAFA selector and member of the VAFA Permit Committee. Ormond congratulated Tim Stewart for playing 350 games for his club since 1985, a club record at OAFC. Tim had captained the reserves for 11 years and had enjoyed playing in 5 Reserves' premierships.
Elsternwick, the VAFA's oldest district club were celebrating their 100th VAFA season, had planned a number of celebratory functions including a Reunion Ball of grand proportions. As part of their special occasion they had arranged to play the only night game under lights at Elsternwick Park later in the season.
25 YEARS AGO – 1995
E Central Section saw North Brunswick on top after two rounds with a massive percentage. Their huge win over Eltham 29.11 to 5.4 was a major contribution to the 489.96%. Eleven goals in the third term was their best but Eltham fought the game out and kicked 3 goals to 6 in the final term. Best – Thompson, Dimarco, Keay, McClure, Miller (5), Marin (NthB) and Koster, Gasparotto, Mitchell (3), Weatherall, A Tucker, K Tucker (Eltham).
Old Carey just got over the line against a determined Richmond Central 8.16 to 6.9. The weather was atrocious and the ball became a lump of concrete after half time. The C's had just enough class to get the 4 points. Best – Everett, Vasilopoulos, Morrison, Anderson, Hughes, Hickey (OC) and Malcolm, Katelis (4), Sutherland, Bove, Holt, Bromley (RC).
Elsternwick thrashed Monash Gryphons in E South Section after an even first quarter. The Wicks had too much talent on each line running out victors 25.14 to 7.7. Best – Ward, Christie, Murphy, Andrew (10), Mussared (9), Cox (Elst) and Adams, White (3), Blandford, Kenyon, Lacy, Fuller (MG).
Geoff Ridd chalked up 150 games as a central umpire. 'Riddy' automatically fitted in to become a good umpire following his distinguished playing career with Kew and Parkside. He was adjudged Best on Ground in Parkside's D Grade premiership team in 1972. Anthony Damen also registered a milestone with the VAFAUA with 100 games with the whistle. Anthony had previously played with Powerhouse.
35 YEARS AGO – 1985
Rob Green played his 300th game for West Brunswick and along the way epitomised the finest attributes of an amateur footballer and clubman while fulfilling many committee positions.
In A Section, Ormond, fresh from a first up win over Uni Blues in round 1 played Old Xaverians whose first game resulted in a 85 point loss to Collegians. Well what a turn up, at Yarra Park, never a happy hunting ground for Ormond, Xavs won by 75 points with Steve Curtain kicking 10 goals. Peter Metzner, Nick Wilton and Brendon Ryan were best for the winners.
Ian Chettle broke the UHSOB club record with his 232nd game. The record had been previously held by Robert Reid. Ian started in 1971 and had been the club's press correspondent for 6 years and VAFA delegate for 7 years.
In a real thriller in B Section, Old Brighton held on to beat St Kilda CBC 21.15 to 20.18. Best – A Grant, Lade, Wilson (OB) and Riddell, Gilmore, Gillan (StKCBC).
45 YEARS AGO – 1975
AJAX's three new leaders, Michael Ritterman (Captain), Daryl Cohen (Coach) and Ron Rogers (President) were all smiles after the club's 64-point win over St Pat's-Monivae.
Highest scoring game in B Section was Uni Blues 19.18 defeating Ivanhoe 17.12. Best – Anderson, Pleydell, Church (UB) and Hughes (10), Steen, Rojo (Ivanhoe).
A Section umpires were Brian Goodman, Trevor Rowe, Colin Wills, Phil Rowell and Ken Jorgenson
55 YEARS AGO – 1965
In A Section Old Paradians were down by 2 goals against Commonwealth Bank at half  time but in the second half turned on a powerful display to finish ahead 13.12 to 8.7. In a great third term Parade kicked 7 goals in 16 minutes as Mount and Weyman each finished with 5 goals. Jones, Pivetta, P Booth and Parker were also strong for the winners. Tony Borrack was as usual strong for the Bank and was mainly aided by Radford, Dick, McQueen, Cleary and Rowley.