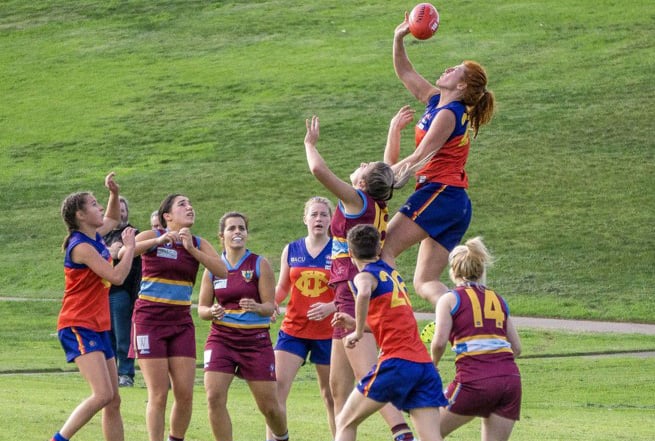 Fitzroy-ACU ruckman, Tash Ross-Harris, was crowned the first-ever William Buck Premier Women's Best & Fairest winner last night at the 2017 VAFA Wilson Women's Awards Night at The Park, Albert Park.
Ross-Harris, who also donned the inaugural Big V against AFL Goldfields in July, polled 27 votes from her 12 games this season; including, seven 3's in the first 10 games and eight for the year.
Old Trinity star and Big V captain, Claire Messent, finished second on 18 votes after starting the year on fire with four BOG's in the first five weeks, while Caulfield Grammarians' Irena Malliaras led for the first three grading games and finished equal-third with Marcellin's Taylor Padfield on 16. Padfield excelled in the back half of the season with three consecutive three-vote games between Rounds 11 and 13.
SKOB Saints pair, Eliza Straford and Sarah Cameron, rounded out the top six with 15 votes apiece, with one or the other polling the three votes in eight of the Saints' 14 games. The Saints had the highest number of individual vote-getters with 16 polling at least once.
The VAFA congratulates Tash on an outstanding season and thanks all those who attended last night's presentation. We now look forward to this weekend's five women's grand finals.
See below for a full list of votes:
| | | | |
| --- | --- | --- | --- |
| Tash | Ross-Harris | Fitzroy FC | 27 |
| Claire | Messent | Old Trinity | 18 |
| Irena | Malliaras | Caulfield Grammarians | 16 |
| Taylor | Padfield | Marcellin OC | 16 |
| Sarah | Cameron | St Kevins | 15 |
| Eliza | Straford | St Kevins | 15 |
| Emily | Archer | Old Xaverians | 14 |
| Abbie | McNamara | Marcellin OC | 11 |
| Grace | Buchan | Caulfield Grammarians | 10 |
| Gemma | Minuz | Fitzroy FC | 10 |
| Georgia | Cropley | St Kevins | 9 |
| Kelly | Dungate | Brunswick Renegades | 8 |
| Millie | Klingbeil | Caulfield Grammarians | 8 |
| Gabrielle | Golds | Old Xaverians | 8 |
| Ruby | Condon | Fitzroy FC | 7 |
| Erin | Gogerly | Fitzroy FC | 7 |
| Natalie | MacDonald | Marcellin OC | 7 |
| Vicky | Tan | Melbourne University | 7 |
| Amy | Dumas | Caulfield Grammarians | 6 |
| Clare | Woodhouse | Brunswick Renegades | 5 |
| Lucy | Aitken | Old Trinity | 5 |
| Breanna | Doyle | St Kevins | 5 |
| Samantha | Viti | St Kevins | 5 |
| Annabel | Watson | Fitzroy FC | 4 |
| Lorraine | Jaffer | Melbourne University | 4 |
| Imogen | Barnett | Old Trinity | 4 |
| Grace | Dillon | Old Trinity | 4 |
| Lily | Mulcahy | Old Trinity | 4 |
| Jodie-Lee | Pirak-Murphy | Old Trinity | 4 |
| Riley | Christgoergl | Old Xaverians | 4 |
| Ruby | Lucas | Old Xaverians | 4 |
| Madison | Sorrenti | Old Xaverians | 4 |
| Melissa | Backhouse | Brunswick Renegades | 3 |
| Niamh | Moynihan | Brunswick Renegades | 3 |
| Grace | Beasley | Caulfield Grammarians | 3 |
| Hillary | Grubb | Fitzroy FC | 3 |
| Alexa | Madden | Fitzroy FC | 3 |
| Magdelene | Antypas | Marcellin OC | 3 |
| Claudia | Piva | Marcellin OC | 3 |
| Ebony | Clark | Melbourne University | 3 |
| Lauren | Phillips | Melbourne University | 3 |
| Lily | Lachal | Old Trinity | 3 |
| Lauren | Sanft | Old Trinity | 3 |
| Audrey | Rhodes | Old Xaverians | 3 |
| Alexandra | Hynes | St Kevins | 3 |
| Lauren | Palombi | Brunswick Renegades | 2 |
| Amelia | Phipps | Brunswick Renegades | 2 |
| Brooke | Robinson | Brunswick Renegades | 2 |
| Kate | Sullivan | Brunswick Renegades | 2 |
| Hannah | Fosbrooke | Fitzroy FC | 2 |
| Jackie | Greaves | Marcellin OC | 2 |
| Georgina | Robertson | Marcellin OC | 2 |
| Laura | Robertson | Marcellin OC | 2 |
| Eliza | Roughead | Marcellin OC | 2 |
| Angie | Wang-Hartman | Marcellin OC | 2 |
| Sarah | Catterwell | Melbourne University | 2 |
| Lauren | Munday | Melbourne University | 2 |
| Kobi | van Rossum | Melbourne University | 2 |
| Ruby | Anderson | Old Trinity | 2 |
| Eliza | Brebner Griffin | St Kevins | 2 |
| Chloe | Brown | St Kevins | 2 |
| Georgi | Conlan | St Kevins | 2 |
| Ellie | McLinden | St Kevins | 2 |
| Isabella | Rapson-Staropoli | St Kevins | 2 |
| Elizabeth | Wardlaw | St Kevins | 2 |
| Monica | Gray | Brunswick Renegades | 1 |
| Hannah | Musil | Brunswick Renegades | 1 |
| Felicity | Smith | Brunswick Renegades | 1 |
| Julia | Cowell | Caulfield Grammarians | 1 |
| Alexandra | Monacella | Fitzroy FC | 1 |
| Georgina | Steggall | Fitzroy FC | 1 |
| Brianne | Keogh | Marcellin OC | 1 |
| Alana | Pane | Marcellin OC | 1 |
| Ebony | Spencer | Marcellin OC | 1 |
| Brittni | Donaldson | Melbourne University | 1 |
| Femke | Russell | Melbourne University | 1 |
| Stephanie | Bull | Old Trinity | 1 |
| Vanessa | Murphy | Old Trinity | 1 |
| Melissa Victoria | Poulton | Old Trinity | 1 |
| Scarlett | Dunell | St Kevins | 1 |
| Georgie | Lupson | St Kevins | 1 |
| Catherine | McBeth Jephcott | St Kevins | 1 |
| Sophie | Straford | St Kevins | 1 |
*Feature photo: Fitzroy Football Club